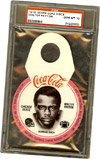 Walter Payton - Searching for "Sweetness"

Walter Payton, the Chicago Bears legend, is one of those athletes that was revered not just for his athletic ability but also for his likable personality. Payton, who passed away at such a young age, has legions of fans who collect anything they can find featuring "Sweetness." The Hall of Fame running back was pictured on many different trading cards during his illustrious career but, in the following article, we asked collectors which issues they find most desirable and challenging. More...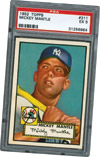 Batting a Thousand

The 1952 Topps Mickey Mantle is, arguably, the most iconic trading card in the hobby...even more so than the T206 Honus Wagner. Mantle was the hero for so many young boys during the 1950s and 1960s. As a result, there are many collectors today who still collect because of the impact Mantle has on them decades ago. Since PSA's inception in 1991, PSA has graded a lot of 1952 Mantle cards. In the following article, we explore some interesting aspects of the card and just how many has PSA graded in the last 20 years? More...

Set Registry Spotlight

mcholke Tony Perez Master Set - The Number One Current Finest Tony Perez Master Set
Tony Perez, while a member of the Hall of Fame, was one of the most overlooked members of Cincinnati's Big Red Machine during the 1970s. When you look at their lineup and consider that it was one of the best teams ever assembled, it is easy to see why. That said, Perez was adored by his teammates and he consistently delivered clutch hits. Perez had such a long career that, technically, his cards start in the vintage era (1964) but extend all the way to 1987. His toughest card, the 1968 Topps 3-D issue, is also the most valuable from his career. Currently, you need 248 total cards to complete and this year's winner carries a GPA of 8.47. Click here to view this award winning set complete with images.

Want List Feature Launched in the PSA Set Registry
Now you can create a list and keep track of items that you are looking to purchase. You can add items one at a time, in large groups, or add missing items from your set in "My Set Registry." We look forward to any feedback you may have about "My Want List" and any other function you would like to see added to the Registry.

Set Registry Special Ends 9/30!
All Sports and Non-Sports - $14 Per Card/No Minimum - Cards Valued Under $500 Each. Click here for details.