SportsCardLink's August 2011 Summer Auction Is Live and Ends August 31, 2011

This auction features important sports cards from the late 1800s to the mid 1980s, with a tremendous range of low, middle and high grade cards that will be sure to excite any sportscard collector. Click here to read more!


Legendary Auctions' August 24-25 Auction Is Live!

It features over 1,800 offerings of the finest Sports Memorabilia and Americana the hobby has to offer. Click here for more!


Sirius Sports Cards Auctions #36 Is Now Open for Bidding and Ends Thursday, August 25, 2011

There are 921 lots for auction that will end on Thursday, August 25, 2011 at 11 PM EST using the 15 minute rule. Click here to read more!


Gem Mint Auctions, Inc., Summer Auction Ends August 27, 2011

Auction highlights include: Outstanding Babe Ruth Single Signed Baseball Authenticated by PSA/DNA, 2010 Topps Sterling Babe Ruth/Lou Gehrig Quad Relic Cut Auto 1/1, Spectacular Ty Cobb 1925 Single Signed Baseball PSA/DNA 5.5, Super Rare Honus Wagner Single Signed Mini Baseball PSA/DNA 5.5, One of a Kind Ed Cicotte Black Sox 1917-1919 Type I Photo PSA/DNA, 1965 Topps Steve Carlton PSA 10, and more. Register and bid at www.GemMintAuctions.com. Read more here.


Sterling Sports Auctions August Auction: Ends Thursday, August 25, 2011

Individual card highlights include a stunning 1963 Topps Willie Mays PSA 9, a difficult 1952 Red Man Tobacco Ted Williams PSA 7 and a 1909-11 T206 Broadleaf Joe Kelley PSA 3 that provides a powerful combination of Hall of Fame star power and advertising back rarity. Click here to read more!



---
Upcoming PSA Shows
View Full Calendar »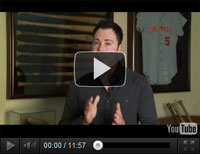 Sports Memorabilia Expert Joe Orlando Talks Collecting Bats, from Babe Ruth to Barry Bonds - Part 1