Sirius Sports Cards Auctions #33 Open for Bidding; Closes July 14

There are 1321 lots for auction that will end on Thursday July 14, 2011, at 11 PM EST using the 15 minute rule. This auction features many high-grade and low-pop cards for collectors to complete their sets from the 1950s through the 1970s. There are nice runs of 1949 Bowman, 1953 Topps, 1954 Bowman, 1955 Topps, 1956 Topps, 1960 Topps, 1962 Topps, 1966 Topps, 1968, 1969 Topps, 1970 Topps, and 1972 Topps baseball. Click here to read more!


Imperial Sports Auctions' Vintage Rarities Auction Is Live: Ends July 14

Click here to bid.


Greg Bussineau Sports Rarities Announces Its Summer 2011 Vintage Trading Cards and Memorabilia Auction: Auction Now Open, Ends July 21

The sale features 588 lots of complete PSA graded Registry Sets, important trading card rarities, and legendary Hall-of-Famer issues. Bidding will end on July 21st, 2011. Click here to read more!


Memory Lane's "I Own It Now" Sale Generates Over $560,000
Quality and scarcity were again big winners in the sports card world as Memory Lane Inc. closed out its recent I Own it Now catalog event. Ultra high-grade cards holding an iconic place in the market drew strong interest again with a PSA 10 (gem mint) 1956 Topps Mickey Mantle leading the way at a selling price of $115,000. Click here to read more.


Heritage Auctions' Greatest Sports Auction Ever Coming August 4!

Click here to find out more!


Just Collect Runs Boys of Summer Sale on 3,000 Baseball Cards

Click here read more about this sale!


---
Upcoming PSA Shows
View Full Calendar »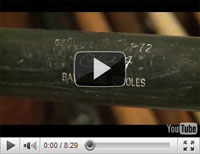 Sports Memorabilia Expert Joe Orlando Talks Collecting Bats, from Babe Ruth to Barry Bonds - Part 2