Taking My Hacks: Preserving History

Hobbyists have many different motivations for collecting. Some do it for the challenge, while others do it for the love of either history, sports, a particular team or player. Those are just some of the driving forces behind the mind of the collector. In addition to those, and many more, one motivation that is sometimes overlooked is the desire to preserve history and pass it on to future generations. In the following piece, Joe Orlando explores this topic and how another collector motivated him to do so. More...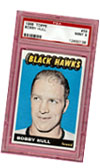 SMR Registry Sets - Bobby Hull - Collecting "The Golden Jet"
Bobby Hull is not only one of the greatest names in Chicago sports history, he is also one of the most legendary names in hockey. As a result, his collectibles are extremely popular. In fact, his 1958 Topps rookie card is one of the top rookie cards in all of sports. Positioned on the far corner of the uncut sheet, this card is almost impossible to find centered. In the following article, we take an in-depth look at this card and all the others that Hull finds himself on.
More...
Set Registry Spotlight

Northern Lights - The Number One Current Finest 1933-34 O-Pee-Chee (V304) Master Hockey Set
If nothing else, most vintage hockey sets - especially pre-war issues - are incredibly tough. This early O-Pee-Chee is no exception. In fact, this was the first set ever produced by OPC. The Master set, which combines the first and second series from 1933, contains 72 total cards and they all share the same black and white design. The first series contains a bit more clout in terms of star power, with rookie cards of Eddie Shore, Nels Stewart, Charlie Conacher and key cards of Howie Morenz and King Clancy. The big card from second series is Aurel Joliat. This award-winning set carries a GPA of 6.35, making it the finest on the All-Time list. Click here to view this set.

Set Registry Special
All Sports and Non-Sports - $10 Per Card/10 Card Minimum - Cards Valued Under $250 Each. Click here for details.