Lelands.com Fall Catalogue Auciton Is Open for Bidding and Ends December 16

Lelands.com specializes in Sports and American Memorabilia and includes The Sal Larocca Collection (third installment), Raelee Frazier Hitters Hand Collection, Robert Riger Collection, Cooperstown Collection and more! For more, click here.


Goodwin & Company - Masterpieces and Uncommon Commons XXXVII. Ends Thursday, December 15, 2011

There is something for everyone whether it be high grade Topps and Bowman stars, rare back T206s, complete sets or rookie cards of Hall of Fame greats. Click here for more!


Iconic Players, Sets Focus of Memory Lane Auction. Ends Saturday, December 17, 2011

From the first pro team to the tobacco card era, the arrival of bubble gum cards and even modern rarities, Memory Lane's upcoming Winter Classics Auction will have a little something for everyone. Click here to read more.


Sirius Sports Cards Auctions #44 Is Now Open for Bidding and Ends Thursday, December 15

There are 652 lots for auction that will end on Thursday, December 15, 2011, at 11 PM EST using the 15 minute rule. This auction features many high grade and low pop cards for collectors to complete their sets from the 1950s through the 1970s. Rookies include Michael Jordan, Satchell Paige, Ernie Banks, Johnny Bench, and much more. There is a very nice offering of 1951 Topps Ringside Boxing in PSA 6, 7, and 8. Click here for more!


Auction Offers Rare Butter Krust Wagner Card, Tommy John Jerseys and Munson Bat. Ends December 15

Click here to read more!


Steve Novella, PSA Dealer Is Breaking a Near Complete, High Grade, PSA Graded 1958 Topps Baseball Set; Auctions Ending Tuesday 12/13 and Wednesday 12/14 on eBay

Read more here!


Greg Bussineau Sports Rarities Announces Successful Completion of Its Fall 2011 Auction

Click here for more!



---
Upcoming PSA Shows
View Full Calendar »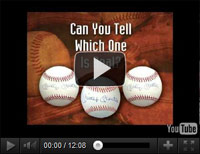 PSA/DNA's Steve Grad Tackles The Big Three: DiMaggio, Mantle and Williams Autographs