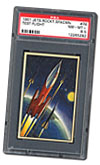 The 1951 Bowman Jets, Rockets, Spacemen

In the world of fantasy trading cards, science fiction is a dominant theme. Of course, the set that receives the most attention from that genre is the ultra-popular 1962 Topps Mars Attacks set. While this set will always remain a classic, there was a science fiction-based set that pre-dated the Mars Attacks issue - the 1951 Bowman Jets, Rockets and Spacemen. Featuring terrific artwork, colorful images are provided throughout this 108-card production. In the following article, we take a look at this groundbreaking issue. More...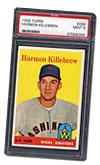 Harmon Killebrew, Hall of Fame Player, Hall of Fame Guy
Harmon Killebrew was one of the most feared sluggers in the history of baseball, capable of changing a game with one swing of the bat. While Killebrew was such a feared hitter, he was also one of the game's nicest players. As a result, Killebrew collectibles remain popular with fans and collectors. This past year, the mighty "Killer" passed away but admiration for this man continues to grow. In the following article, we look at the powerful Killebrew through his most popular cards.
More...
Set Registry Spotlight

Sarah Verno - The Number One Current Finest 1950 Bowman Football Set
This 144-card set is home to several HOF rookies; Otto Graham, Lou Groza, and Elroy Hirsch to name a few. This collector's set is 100% complete and contains several top pop cards. With a Set Rating of 8.89, not too far from the Finest Possible of 9.08, it's no wonder this set is a multi-award winning one. Click here to view this set.

New! Exclusive to Set Registry Members
The Want List Connection allows you to list your want list to buy or trade with other Registry members. You'll find a link to the WLC from My Want List in My Set Registry.

Hurry - Set Registry Special Ends 11/30!
All Sports and Non-Sports - $14 Per Card/No Minimum - Cards Valued Under $500 Each. Click here for details.