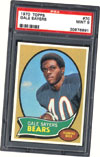 Collecting The Kansas Comet, Gale Sayers

Gale Sayers, one of the most dazzling running backs in football history, has a strong following in the hobby. This Chicago Bears legend, one who made his mark long before fellow Bears legend Walter Payton did, is featured on some fantastic cards from the 1960s and 1970s. Which ones are the toughest or most popular? In the following article, we ask collectors to share their thoughts. More...




The Things I Get Tired of in the Hobby
The hobby, for the most part, is a fun endeavor and filled with a lot of great collectibles and great people. It can be one of the most rewarding hobbies a person can choose to participate in. Once in a while, just like in everyday life, we are reminded that the hobby has its pitfalls. In the following article, Joe Orlando talks about some of the things that leave him perplexed, the things he gets tired of in the hobby.
More...
Set Registry Spotlight

Paul's NHL Hart Trophy Winners - The Number One Current Finest Hart Trophy Winners Set
In the world of hockey, the Hart Memorial Trophy is known as the oldest and most prestigious individual award in the sport. This 53-card set consists of rookie cards of some of the greatest names in hockey: Howie Morenz, Gordie Howe, and Wayne Gretzky (a record 9-time winner), just to name a few. This set is 100% complete and a Best of the Registry award winner for three years running. Click here to view this set..

New! Exclusive to Set Registry Members
The Want List Connection allows you to list your want list to buy or trade with other Registry members. You'll find a link to the WLC from My Want List in My Set Registry.

Set Registry Special Extended!
All Sports and Non-Sports - $14 Per Card/No Minimum - Cards Valued Under $500 Each. Click here for details.