Collecting 500 Home Run Club Autographs

There are certain clubs in sports that contain the elite within a particular sport. In baseball, membership into one of these prestigious clubs can elevate a player's status to an entirely different level. Just this summer, Derek Jeter joined the 3,000 Hit Club, one of the most exclusive clubs in the game. There is one club that still generates more excitement than any other - The 500 Home Run Club. The biggest names are here such as Mays, Mantle, Williams, Aaron and Ruth but which one of their autographs is the toughest? In the following article, we talk to the collectors who pursue autographs from baseball's elite sluggers. More...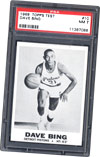 Collecting the Tough 1968 Topps Test Basketball Set

For vintage basketball collectors, there are not too many sets to choose from. You have the classic 1948 Bowman set led by the George Mikan rookie card. There is the 1957 Topps basketball set, one of the toughest vintage trading cards sets to assemble in high grade. The 1960s produced a couple of great issues like the star-studded 1961 Fleer set and the 1969 Topps Tall Boys. Of all of the vintage issues, the one that is clearly the most challenging is the 1968 Topps Test set. Filled with stars and as scarce as you can get, this set is one of the Holy Grails in hoops collecting. In the following piece, collectors share their experience tackling the tough issue. More...

Set Registry Spotlight

The DC Sum Collection - The Number One Current Finest All-Time Great Quarterbacks Set
This 29-card set consists of some of the NFL's finest quarterbacks the sport has to offer. From Sid Luckman to Tom Brady, they're all here. This 2011 Best of the Registry award winning set, with a set rating of 8.40, has taken the top spot since the previous number 1 set was retired. Click here to view this set.

Set Registry Special Extended!
All Sports and Non-Sports - $14 Per Card/No Minimum - Cards Valued Under $500 Each. Click here for details.


Fun, informative, and sometimes controversial, the PSA Set Registry Messageboard is the place to get involved with other collectors who are currently participating in the Set Registry program or are just beginning. Click here to chat on the Set Registry Messageboard.

The PSA Set Registry is a work in progress and we invite your comments and ideas. Send your suggestions to

[email protected]

.