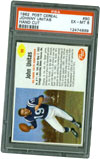 The 1962 Post Cereal Football Set: A Challenge to Collect in High-Grade

The 1962 Post Cereal football set is one of the most comprehensive card productions from the 1960s despite not being produced by a mainstream manufacturer like Fleer or Topps. This hand-cut issue contained 200 cards and each card had to be removed from a box of cereal. Included were many of the top gridiron stars of the day, including the likes of Johnny Unitas, but which card is the toughest to find? In the following article, collectors of this football issue answer that very question and more. More...




Authentic Deception

There are moments in the hobby when you want to exclaim, "Now, I have seen it all." In recent times, PSA President Joe Orlando had one of those moments. Just when he thought he had seen it all, Orlando was presented with something part sinister and part bizarre. In the following piece, Orlando discusses a strange practice from the world of autographs where the autographs are genuine but something else is fraudulent. More...

Set Registry Spotlight

Three for the Ages - The Number One Current Finest The Big Three Basketball Mega Set
In the world of basketball cards, there are no more important sets than the three that make up this mega-set. From the classic 1948 Bowman set to the defect-plagued 1957 Topps issue to the ultra-bright 1961 Fleer cards, three different manufacturers are part of this 218-card run. The three-set run includes classic rookies from some of the biggest names in the sport including but not limited to George Mikan, Bob Cousy, Bill Russell, Wilt Chamberlain, Oscar Robertson, Elgin Baylor and Jerry West. The three sets carry individual GPAs of 8.97 (1948 Bowman), 8.35 (1957 Topps) and 9.34 (1961 Fleer) - all three being the finest on the All-Time list. It is hard to imagine a collection ever eclipsing this group. Click here to view this multi-award winning set..

New! Exclusive to Set Registry Members
The Want List Connection allows you to list your want list to buy or trade with other Registry members. You'll find a link to the WLC from My Want List in My Set Registry.

Set Registry Special Extended!
All Sports and Non-Sports - $14 Per Card/No Minimum - Cards Valued Under $500 Each. Click here for details.