Funny pages Command Serious Respect: $71,951 Peanuts Strip Sets new Auction Record at R&R
They may seem small on the page -- Charlie Brown, Snoopy, and pals -- but serious collectors pony up big money for outstanding original artwork from Charles Schulz's beloved comic strip Peanuts. Click here for more details.
Just Collect's Consignors Consistently Realize Top Money for Their PSA Cards
Just Collect, Inc. (eBay ID: just_collect) is eBay's largest consignment seller of PSA-graded sports and non sports cards and memorabilia. A hallmark of the firm is its ability to sell its consignors' collections for more than private auction houses by selling all the graded cards individually, instead of in groups and sets. Each week, Just Collect sells tens of thousands of dollars of graded cards, and would welcome the opportunity to work with you. Click here to learn more about why consigning to Just Collect and selling your cards individually returns a higher bottom line than selling them in groups through a private auction house, or call Just Collect today at (732) 828-2261 or email [email protected] to discuss your collection with a specialist.
R&R Is Buying Autographs; High Quality Collections Wanted
R&R Auctions is actively buying big collections and single quality items. Get an immediate response on your vintage material including oversized vintage signed photographs, letters, documents and clip signatures. Click here to learn more.

The Batting Cage: Graded Bats of Vintage and Current Players
As authenticators of game-used bats, John Taube and Vince Malta receive many questions from collectors who are looking for advice on what bats to buy. As these experts know, the criteria for selecting a game-used bat to purchase vary depending on such factors as condition, grade, and whether the hardware is current or vintage. Click here to read some of their buying tips.

Ballplayers on the Tube: The Story of the 1955 Bowman Baseball Set
Throughout the 1950s and '60s, television brought baseball into American homes, making icons out of players such Mickey Mantle, Ted Williams and Hank Aaron. One year after the first color TV models rolled into department store showrooms, Bowman printed its new baseball cards for 1955... and they looked like little color TVs. Click here to read more about this classic set.
Lambert Collection - The Number One Current Finest Hank Greenberg Basic Set
Steve Lambert's Greenberg Basic set won the "Best of the Registry" award for 2007. This 12-card set contains issues from some great sets like Goudey and Play Ball. Steve's set is 100% complete and has a set rating of 6.89. The Lambert master set was an award winner as well, lacking only three issues in this 28-card set. Congratulations! Click here to enjoy!
PSA Set Registry Award Winners Announced
To view the entire list of award winners, click here. To view the Hall of Fame inductees, click here.
Changes to Modern Basic Player Sets
We are in the process of developing a universal basic card list for baseball player sets which will include only the very mainstream companies. We are currently working with those members who have modern baseball player sets registered and will soon begin working on the other sports player sets. If you are working on a modern basic set in Basketball, Football and Hockey, you will receive an email in the next few weeks asking for your feedback. In most cases, the current basic sets will become "Basic & Collector Issues" sets and new basic set composites will be added. For more information, visit the Set Request page.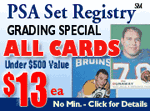 Set Registry Special!
$13 per card/5 business days (approx.) - cards valued under $500, Sports and Non-Sports Cards. No Minimum. Click here for details.
Visit the Set Registry News page and learn which set composites have been recently added to the Registry and other Set Registry news. The following are new set composites added to the Registry:
Frank Thomas Rookie Set
Kobe Bryant Rookie Set
John Elway Topps Basic Set
John Elway Topps Master Set
Abe Attell Master Set
Bookmark these important links!
To request a new set:
http://www.psacard.com/set_registry/set_request.chtml
To request a card addition to an established player set:
http://www.psacard.com/set_registry/player_additions.chtml
To delete a card from all sets at once: http://user.collectors.com/psa/set_registry/delete_items.chtml
To update your email address:
http://www.psacard.com/join/update.chtml
Fun, informative, and sometimes controversial, the PSA Set Registry Messageboard is the place to get involved with other collectors who are currently participating in the Set Registry program or are just beginning. Click here to chat on the Set Registry Messageboard.
The PSA Set Registry is a work in progress and we invite your comments and ideas. Send your suggestions to [email protected].
Question: I have heard that there are counterfeit signed checks making their way around the hobby. Is that true?
Answer: Yes. Checks have been a very popular form of autograph collecting and one of the attractions of them was that they were virtually rock-solid when it came to authenticity. While the vast majority of checks appear to be valid, in recent times, counterfeits have started to emerge. We have seen counterfeit Ruth, Mathewson and even Al Capone checks surface. They are usually made out to the player and endorsed by the alleged celebrity. This further illustrates the importance of third-party experts.
| | | |
| --- | --- | --- |
| Have your sports autographs authenticated by PSA/DNA. Submission forms are available online at the PSADNA web site. Just click here. | Find out what your cards are really worth. Subscribe to the Sports Market Report and have it delivered to your door every month. Click here. | Join the PSA Collectors Club today! Just click here to learn about the many benefits of membership. |
See PSA at These Upcoming Shows!
East Coast National

Location:
Westchester County Center
198 Central Ave.
White Plains, NY

August 16-19, 2007

Show Details:

PSA representatives will be available to answer questions and accept submissions for all levels of service.


PSA/DNA autograph experts will be available to authenticate your previously signed autographs on-site at the PSA Booth.
PSA/DNA at Bergie's

Location:
Bergie's Sports Card Dugout
474 Central Ave. #1
Highland Park, IL 60035

Aug. 23, 2007

Show Details:

PSA/DNA autograph experts will be available to authenticate your previously signed autographs 9:30-3 p.m. or by appointment.
Note: Items submitted for grading must be mailed directly to PSA/DNA; please visit www.psadna.com for details on how to submit.
For more information about PSA services,
call PSA Customer Service at (800) 325-1121 or visit www.psacard.com.

Advertise with PSA and PSA/DNA
We offer a wealth of advertising opportunities both online and print.
Please contact Rebecca Tran, Director of Advertising at [email protected], 800-447-8848 ext. 356 or directly at: 949-892-8604.

© 1999 - 2007 Collectors Universe. All Rights Reserved.