From Hot Wax to Cold Cash: Signed Beatles EP Takes Top Spot at R&R's August Auction
Attaining the top result among some 1,500 items was the early Beatles EP The Beatles' Hits, signed on the pictorial jacket by all four, which sold for a princely $15,654. Click here for additional highlights from the auction.
BLOCKBUSTER! Memory Lane Inc. Offers High Grade Cards and Some Great Surprises in its Upcoming September 15th Auction!
Vintage sports card collectors take note of Memory Lane Inc.'s September 15th Auction. It's brimming with high-quality graded cards, proving once more that Memory Lane continues to be the place for high-quality graded cards. Click here to see what's being offered in the sale.
Heritage Sports Collectibles Announces Extended Bidding Format!
The Sports Collectibles division of Heritage Auction Galleries will offer an "extended bidding" component for the first session of its Fall Signature Auction, closing October 26, 2007. Click here for more details.
$250,000 to Spend in Seven Days
R&R is Buying Autographs. High Quality Collections Wanted. They've got $250,000 to spend... in only seven days! Click here to learn more.
PSA Unveils New Custom Disk Holder and Re-Holder Special
PSA has been working hard to increase our number of custom holders during the past several months, and the latest addition to the PSA holder family is one that can house collectible disks. Click here for more information.
Sotheby's/SCP Auctions Internet Auction of Important Sports Memorabilia & Cards Set to Open Online August 28, 2007
Over 1200 lots will be offered, highlighted by Barry Bonds's HR No. 755 Ball, property from the estate of Casey Stengel, The Allan Schwartz Collection, and "The New York City Find" of high-grade T206s. Click here for more.

The Battle for Football Card Supremacy Begins: A Look at the 1950 Bowman Football Set
The 1950 Bowman Football set finds itself sandwiched in between some of the hobby's greatest gridiron issues such as the late-1940's Bowman and Leaf sets and the 1952 Bowman Large and Small sets. Not to be overlooked, this great set offers fantastic artwork and a great selection of star cards. Click here to read on.

Catching Up With The Ninth Inning's Bob Krawetz
Bob Krawetz has been in the hobby for a long time, watching the vintage market go from an ungraded to a graded card world. In this next piece, Krawetz shares his insights on the hobby and how he got started as a dealer, something he thoroughly enjoys. Click here to read more.

Baltimore Colts are World Champions!!! - The Number One Current Finest 1958 Topps Football Set
This collector, who won the "Best of the Registry" certificate for 2007, is obviously a fan! Take a peek at his set and you will see that he has bolded every Colts player in his card description. In addition, he has added some great images. The set, with a rating of 8.42, has a large number of "Top Pops." Within that group are 13 cards that are the single finest graded. Congratulations! Click here to view.
Basic Player Sets
After a vote from those who have modern baseball player sets registered, we now have the final list for the basic baseball sets. The list includes BOWMAN, DONRUSS, FINEST, FLAIR, FLEER, LEAF, PINNACLE, SCORE, SELECT, SP/SP AUTHENTIC, STADIUM CLUB, STUDIO, TOPPS, ULTRA, UPPER DECK. Pre-war vintage sets may also include issues from CRACKER JACK, GOUDEY, SPORTING LIFE & NEWS, T202, T205, T206, and US CARAMEL. We are in the process of either updating the basic sets or will be adding new basic sets. This week, a poll will go out to those members who have modern football player sets registered. In coming weeks we will also be polling for the basketball and hockey basic sets. For more information, visit the Set Request page.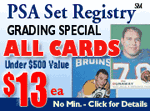 Set Registry Special Ends Friday!
$13 per card/5 business days (approx.) - cards valued under $500, Sports and Non-Sports Cards. No Minimum. Click here for details.
Visit the Set Registry News page and learn which set composites have been recently added to the Registry and other Set Registry news. The following are new set composites added to the Registry:
Tony Gwynn Rookie Set
Felix Hernandez Rookie Set
Derek Jeter Rookie Set
Darryl Strawberry Rookie Set
Matt Williams Rookie Set
Kevin Youkilis Rookie Set
1992-93 Topps Basketball
1991 Pacific Football
1995 Bowmans Best Football
1997 Topps Chrome Football
2005 Topps Heritage Felt Back Flashback Football
2005 Topps Turn Back the Clock Football
2006 SP Authentic Football
2006 SP Authentic Rookie Exclusives Jerseys Football
Tony Boselli Rookie Set
Mark Brunell Rookie Set
Brett Favre Rookie Set
Emmitt Smith Rookie Set
Fred Taylor Rookie Set
1977 Topps Seattle Seahawks
1933 Planters Hunted Animals R71
1961 Primrose Confectionary Popeye Series 3
1992 Victoria Gallery Uniforms of the Civil War
Bookmark these important links!
To request a new set:
http://www.psacard.com/set_registry/set_request.chtml
To request a card addition to an established player set:
http://www.psacard.com/set_registry/player_additions.chtml
To delete a card from all sets at once: http://user.collectors.com/psa/set_registry/delete_items.chtml
To update your email address:
http://www.psacard.com/join/update.chtml
Fun, informative, and sometimes controversial, the PSA Set Registry Messageboard is the place to get involved with other collectors who are currently participating in the Set Registry program or are just beginning. Click here to chat on the Set Registry Messageboard.
The PSA Set Registry is a work in progress and we invite your comments and ideas. Send your suggestions to [email protected].
Question: I have been arguing with a friend of mine about which card is technically Babe Ruth's rookie. Is it the 1914 Baltimore News or the 1916 Sporting News card?
Answer: That's a great question. They are both great cards, rare and important. The 1914 Baltimore News card is one of the great rarities in the hobby and technically the first card Ruth appeared on as a professional. On the other hand, Ruth is pictured on the 1916 Sporting News cards as a major leaguer for the first time. He is also pictured as a pitcher for the Boston Red Sox, which collectors seem to like. If there were ever a case of beauty being in the eye of the beholder, this would be it. If we were to be technical about it, the Baltimore News card is a minor league issue and not a MLB rookie card but it is a scarcer card overall. As an example, in the modern era, Cal Ripken's rookie cards are found in his 1982 Donruss, Fleer, Topps and Topps Traded sets, not his 1981 TCMA Rochester card. In terms of hobby importance, you can't go wrong with either Ruth card, but the debate will rage on.
| | | |
| --- | --- | --- |
| Have your sports autographs authenticated by PSA/DNA. Submission forms are available online at the PSADNA web site. Just click here. | Find out what your cards are really worth. Subscribe to the Sports Market Report and have it delivered to your door every month. Click here. | Join the PSA Collectors Club today! Just click here to learn about the many benefits of membership. |
See PSA at These Upcoming Shows!
Tri-Star Show

Location:
Concourse Center
San Francisco, CA

Sept. 7-9, 2007

Show Details:

PSA representatives will be available to answer questions and accept submissions for all levels of service.


PSA/DNA autograph experts will be available to authenticate your previously signed autographs on-site at the PSA Booth Friday through Sunday.

More Information:
Visit the Tri Star website at www.tristarproductions.com for more information.
PSA Public Friday

Location:
Collectors Universe Lobby Area
1921 East Alton Avenue
Santa Ana, CA 92705

Sept. 14, 2007

Show Details:

PSA and PCGS representatives will be available to answer questions and accept submissions for all levels of service.

Public Hours:
10am - 4pm

More Information:
For more information on PSA Public Friday, call PSA Customer Service at (800) 325-1121.
GTSM

Location:
San Jose Convention
Center - South Hall
435 South Market Street
San Jose, CA 95119

Oct. 5-7, 2007

Show Details:

PSA representatives will be available to answer questions and accept submissions for all levels of service.
PSA/DNA autograph experts will be available to authenticate your previously signed autographs on-site at the PSA Booth.

More Information:
For more information on the GTSM show, visit www.gtsm.net.
For more information about PSA services,
call PSA Customer Service at (800) 325-1121 or visit www.psacard.com.

Advertise with PSA and PSA/DNA
We offer a wealth of advertising opportunities both online and print.
Please contact Rebecca Tran, Director of Advertising at [email protected], 800-447-8848 ext. 356 or directly at: 949-892-8604.

© 1999 - 2007 Collectors Universe. All Rights Reserved.