An Early October Payoff Is Still Available!
You can still take advantage of an early October consignor payoff from R&R Auctions. Have your October consignments delivered to R&R by Friday, August 17, and deposit your auction payoff two weeks sooner. Click here for more details.
Sotheby's & SCP Auctions to Sell Barry Bonds's Record-Tying No. 755 Home Run Ball at Auction
Sotheby's and SCP Auctions will offer Barry Bonds's No. 755 home run ball, which tied one of the most cherished records in sports history, as part of their approximately 1300-lot Internet auction. The auction begins August 28 and concludes September 14. Click here to learn more.

The World of Yaz: Collecting Cards of Red Sox Legend Carl Yastrzemski
Carl Yastrzemski had one of the toughest jobs in baseball history. He had to replace the legendary Ted Williams in left field for the Boston Red Sox but, in the process, became a legend himself. Today, collectors seek out Yaz cards, cards that span three decades of production. Click here to read on.

Card Grading and Urban Legend
Over the years, 16 to be exact, hobbyists around the country have come up with some interesting theories about the card grading process since PSA opened its doors in 1991. In this installment of Taking My Hacks, Joe Orlando explores 5 of the most popular myths about card grading. Click here to read more.
On August 3rd we hosted 140 collectors and friends at the PSA Set Registry luncheon in Cleveland. It was good to see so many of our Registry members turn out for the event. PSA President, Joe Orlando, presented awards to those winners who were in attendance and then held a lively question and answer session. We look forward to another great event next year when we host the awards luncheon in Chicago. To view pictures from the luncheon, please click here.
Changes to Modern Basic Player Sets
We are in the process of developing a universal basic card list for baseball player sets which will include only the very mainstream companies. We are currently working with those members who have modern baseball player sets registered and will soon begin working on the other sports player sets. If you are working on a modern basic set in Basketball, Football and Hockey, you will receive an email in the next few weeks asking for your feedback. In most cases, the current basic sets will become "Basic & Collector Issues" sets and new basic set composites will be added. For more information, visit the Set Request page.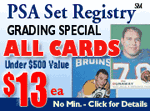 Set Registry Special!
$13 per card/5 business days (approx.) - cards valued under $500, Sports and Non-Sports Cards. No Minimum. Click here for details.
Visit the Set Registry News page and learn which set composites have been recently added to the Registry and other Set Registry news. The following are new set composites added to the Registry:
Dan Marino Topps Basic Set
Dan Marino Topps Master Set
Bookmark these important links!
To request a new set:
http://www.psacard.com/set_registry/set_request.chtml
To request a card addition to an established player set:
http://www.psacard.com/set_registry/player_additions.chtml
To delete a card from all sets at once: http://user.collectors.com/psa/set_registry/delete_items.chtml
To update your email address:
http://www.psacard.com/join/update.chtml
Fun, informative, and sometimes controversial, the PSA Set Registry Messageboard is the place to get involved with other collectors who are currently participating in the Set Registry program or are just beginning. Click here to chat on the Set Registry Messageboard.
The PSA Set Registry is a work in progress and we invite your comments and ideas. Send your suggestions to [email protected].
Question: I heard the sad news that Phil Rizzuto passed away the other day and was wondering if that will have a big effect on the values of his collectibles?
Answer: It was certainly sad to see such a great baseball legend pass away. In a situation like this, there is usually a short period where things like autographs experience a small surge in price after the news spreads but most autographs of players who lived through the hobby boom of the 1980s are not affected much by this type of news. There are players who have not been prolific signers during these times, like Sandy Koufax, but many retired players were... leaving enough supply to satisfy the hobby in the event of their passing. Rizzuto did sign frequently so I would expect a minor surge in market price for his autographed collectibles.
| | | |
| --- | --- | --- |
| Have your sports autographs authenticated by PSA/DNA. Submission forms are available online at the PSADNA web site. Just click here. | Find out what your cards are really worth. Subscribe to the Sports Market Report and have it delivered to your door every month. Click here. | Join the PSA Collectors Club today! Just click here to learn about the many benefits of membership. |
See PSA at These Upcoming Shows!
East Coast National

Location:
Westchester County Center
198 Central Ave.
White Plains, NY

August 16-19, 2007

Show Details:

PSA representatives will be available to answer questions and accept submissions for all levels of service.


PSA/DNA autograph experts will be available to authenticate your previously signed autographs on-site at the PSA Booth.
PSA/DNA at Bergie's

Location:
Bergie's Sports Card Dugout
474 Central Ave. #1
Highland Park, IL 60035

Aug. 23, 2007

Show Details:

PSA/DNA autograph experts will be available to authenticate your previously signed autographs 9:30-3 p.m. or by appointment.
Note: Items submitted for grading must be mailed directly to PSA/DNA; please visit www.psadna.com for details on how to submit.
For more information about PSA services,
call PSA Customer Service at (800) 325-1121 or visit www.psacard.com.

Advertise with PSA and PSA/DNA
We offer a wealth of advertising opportunities both online and print.
Please contact Rebecca Tran, Director of Advertising at [email protected], 800-447-8848 ext. 356 or directly at: 949-892-8604.

© 1999 - 2007 Collectors Universe. All Rights Reserved.