Have your sports autographs authenticated by PSA/DNA, this country's foremost autograph authentication service. Submission forms are available online at the
PSADNA web site.
Just click here.


Find out what
your cards are
really worth.
Subscribe to the
Sports Market Report and have it delivered to your door every month. Click here.


Join the PSA
Collectors Club
today! Just
click here to learn about the many benefits of membership.



PSA/DNA Update: New Certificate of Authenticity
PSA/DNA has unveiled a new Certificate of Authenticity for autographs eligible for that service. The new version is more compact and fits neatly inside the new custom PSA/DNA ball cube manufactured by Ultra-Pro. Click here for more details.

NAXCOM introduces the $4,000 Grand Opening of an Industry First - MultiMarketLister.com
A powerful tool allowing online sellers to sell and manage their items on multiple marketplaces through one central account! Click here to learn more.

Just Collect Maximizes Consignor Payments for PSA Cards
Just Collect, Inc. (eBay ID: just_collect) is eBay's largest consignment seller of vintage cards and memorabilia. Each week, the firm sells tens of thousands of dollars of high-end graded cards and memorabilia on consignment for collectors, dealers, and investors across the country. Just Collect has built its reputation around professionally maximizing the value of its clients' consignments and providing a higher bottom line payment than any other auction house. Just Collect will be appearing at the 2007 National Sports Collectors Convention in Booth #1100 in Cleveland, OH. Click here to learn more about consigning to Just Collect.
PSA/DNA and Famous Relievers Make "A Save" for KinderVision®
As a public service and to help a worthy cause, officials at PSA/DNA have donated their services to authenticate 15 autographed baseballs. Each was signed by eight of the greatest relief pitchers of the game, including three Hall of Fame members. Click here to read on.

Jerry Rice: The True San Francisco Treat
Jerry Rice has been called the greatest receiver in NFL history. In his 20-year career, he caught over 1,500 balls to rack up an amazing 22,895 receiving yards. He scored over 200 career touchdowns. And he may never have done any of this had it not been for his ability to catch bricks, and the time he ditched a high school class and ran away from his principal. Click here to read on.

Going Up the Wall
Space... the Final Obstacle. Space is a serious problem for most collectors. Even if you live in a large home, you never seem to have enough room to display all your stuff! In this article, Joe Orlando shares his tips for the space-starved collector. Click here to read more.
Donman's Team Canada Set - The Number One Current Finest 1972-73 O-Pee-Chee Team Canada Set
Don Johnson has put together a compete set of these interesting cards which feature only the player's head. The 28 players were those who represented Team Canada against Russia in the 1972 Summit Series. Don's weighted GPA is 8.26 which places him in the number one position and he will receive the "Best of the Registry" award for 2007. Don has provided images for nearly every card in the set. Click here to enjoy!
PSA Set Registry Award Winners Announced!
Congratulations to all of the 2007 winners and Hall of Fame Inductees. Please click here to see a list of the winners. Click here for the Hall of Fame.
Luncheon Invitations Emailed
If you are a PSA Set Registry member, you are invited to the PSA Set Registry Luncheon on August 3rd in Cleveland. If you did not receive your invitation, please contact [email protected].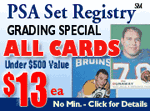 Set Registry Special!
$13 per card/5 business days (approx.) - cards valued under $500, Sports and Non-Sports Cards. No Minimum. Click here for details.
Visit the Set Registry News page and learn which set composites have been recently added to the Registry and other Set Registry news. The following are new set composites added to the Registry:
1986 Topps Green Bay Packers
1979-80 Topps Team Inserts Hockey
1923 W580 Hand Cut Boxing
1971 Fleer Official Drag Champs Canadian Racing
1888 State Cards/Governors/Coat of Arms Etc. N133
1911 Flags of All Nations T59
1911 Philadelphia Caramel Zoo Cards E28
1957 R.L. Jones & Company Jet Aircraft of the World
1965 Donruss Freddie and the Dreamers
1974 Topps Evel Knievel
1976 Topps Happy Days
1978 O-Pee-Chee Superman The Movie
1978 Topps Grease
1983 Topps Star Wars Return of the Jedi Stickers
1997 Magic The Gathering Portal
Angels Tickets 1961-Present
Green Bay Packers Post-Season Game Tickets 1936-Present
Kentucky Derby 1875-Present Tickets
Bookmark these important links!
To request a new set:
http://www.psacard.com/set_registry/set_request.chtml
To request a card addition to an established player set:
http://www.psacard.com/set_registry/player_additions.chtml
To delete a card from all sets at once: http://user.collectors.com/psa/set_registry/delete_items.chtml
To update your email address:
http://www.psacard.com/join/update.chtml
Fun, informative, and sometimes controversial, the PSA Set Registry Messageboard is the place to get involved with other collectors who are currently participating in the Set Registry program or are just beginning. Click here to chat on the Set Registry Messageboard.
The PSA Set Registry is a work in progress and we invite your comments and ideas. Send your suggestions to [email protected].
Question: I heard that vintage game-used bats can be altered. Is that true and what does that mean?
Answer: Yes... it is true. Some people have tried to doctor baseball bats in an attempt to make them seem like the real deal. Some doctors will take old baseball bats, even professional model bats, and alter the name area/brand by inserting another name -- a more valuable name. They have done this by either placing a name where there was no name to begin with or by having a wood specialist replace an existing name. In other cases, people will try to take real professional model bats and fabricate usage characteristics on them such as ball marks and the like. The good news is that experts are very aware of these bat doctors and do their best to detect these kinds of alterations. That is why the experts are so valuable. They can often detect what the average person cannot.
See PSA at These Upcoming Shows!
Collectors Showcase of America

Location:
Dulles Expo Center - South Hall
Chantilly, VA

July 6-8, 2007

Show Details:

PSA representatives will be available to answer questions and accept submissions for all levels of service.


PSA/DNA autograph experts will be available to authenticate your previously signed autographs on-site at the PSA Booth.

More Information:
For more information on the Collectors Showcase of America, please visit www.csashows.com.
PSA Public Friday

Location:
Collectors Universe
1921 E. Alton Ave.
Santa Ana, CA 92705

July 27, 2007

Show Details:

PSA representatives will be available to answer all your questions and accept submissions for all levels of service for PSA and PSA/DNA.

Public Hours:
10am - 4pm

More Information:
For more information on PSA Public Friday, call PSA Customer Service at (800) 325-1121.
The 28th National Sports Collectors Convention

Location:
I-X Center
Cleveland, OH

Aug. 1-5, 2007

Show Details:

PSA will be offering on-site grading -- please see the booth for pricing details.


PSA representatives will be available to answer all questions and accept submissions for all levels of service.


PSA/DNA autograph experts will be available to authenticate your previously signed autographs on-site.

More Information:
For more information on The National, please visit www.nsccshow.com.
For more information about PSA services,
call PSA Customer Service at (800) 325-1121 or visit www.psacard.com.

Advertise with PSA and PSA/DNA
We offer a wealth of advertising opportunities both online and print.
Please contact Rebecca Tran, Director of Advertising at [email protected], 800-447-8848 ext. 356 or directly at: 949-892-8604.

© 1999 - 2007 Collectors Universe. All Rights Reserved.