Memory Lane Inc. Extends Auction Closing
The new closing date for Memory Lane's latest auction is Saturday, December 15th, at 8 p.m. ET. The sale features rare Christy Mathewson items including his rookie contract, a near-complete PSA graded T206 set, and much more. Click here to see what else is being offered.
Mastro Auctions December Premier Sale Unveils More Incredible Hobby Finds
Famous retired numbers of Ruth and Gehrig from Yankee Stadium and rare Ted Williams items are being offered. Bidding in the 1,500-plus lot auction concludes on Thursday, December 13. Click here for more highlights from the sale.

Collecting 1964 Topps Stand-Ups
The 1964 Topps Stand-Ups have always been very collectible. The bright colors and plethora of stars make the set a popular choice. Since these cards were actually meant to be popped open and propped up, how difficult are they to assemble in high-grade? Click here for more.

Manufacturers and Autographs - The Reality
Autographed trading cards that come direct from the manufacturer have become more and more popular over the years. When they are packaged by a big card company, no one seems to question whether or not the autographs are authentic but is there a good reason collectors should question them? Click here to read on.
Ray Millette - NHL 500 Goal Scorers
The Number One Current Finest All-Time NHL 500 Goal Scorers Set
Not only has this collector compiled a complete All-Time NHL 500 Goal Scorers set, he has also managed to dominate this category by receiving "Best of the Registry" honors in 2003, 2004, 2006, and 2007. At first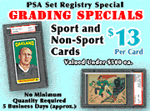 glance, one can see this set is teeming with 'Top Pop' cards, many of which are also PSA 10's! As if that isn't enough, this collector has chosen to further share his collection by adding images for each item. Of the 14 collectors participating in this category, the Ray Millette set, with a respectable set rating of 8.91, is the only one to have 100% completion. Congratulations! Click here to enjoy.
Set Registry Special!
$13 per card/No minimum - Cards valued under $500. Click here for details.
Visit the Set Registry News page and learn which set composites have been recently added to the Registry and other Set Registry news. The following are new set composites added to the Registry:
Ozzie Smith Basic Set
Robin Yount Topps Basic Set
Brian Sipe Master Set
Anquan Boldin Rookie Set
Steve Yzerman Basic Set
Bookmark these important links!
To request a new set:
http://www.psacard.com/set_registry/set_request.chtml
To request a card addition to an established player set:
http://www.psacard.com/set_registry/player_additions.chtml
To delete a card from all sets at once: http://user.collectors.com/psa/set_registry/delete_items.chtml
To update your email address:
http://www.psacard.com/join/update.chtml
Fun, informative, and sometimes controversial, the PSA Set Registry Messageboard is the place to get involved with other collectors who are currently participating in the Set Registry program or are just beginning. Click here to chat on the Set Registry Messageboard.
The PSA Set Registry is a work in progress and we invite your comments and ideas. Send your suggestions to [email protected].
Question: I just noticed that a Josh Gibson original photograph just sold for over $18,000 at auction but it wasn't even signed. Why did it go for so much?
Answer: First of all, original photographs can have great value regardless if they are signed or not. In recent years, more and more collectors have been adding original photos to their collections so the prices have reflected that increased demand. In addition, there are very few original Josh Gibson photos known. Many of the images you see of Gibson are reprints but the originals are very hard to come by. With his other collectibles equally as scarce, such as autographs and trading cards, collectors are eager to add anything related to Gibson from his playing days.
| | | |
| --- | --- | --- |
| Have your sports autographs authenticated by PSA/DNA. Submission forms are available online at the PSADNA web site. Just click here. | Find out what your cards are really worth. Subscribe to the Sports Market Report and have it delivered to your door every month. Click here. | Join the PSA Collectors Club today! Just click here to learn about the many benefits of membership. |
PSA Public Friday

Location:
Collectors Universe Lobby Area
1921 East Alton Avenue
Santa Ana, CA 92705

Dec. 14, 2007

Show Details:

PSA and PCGS representatives will be available to answer questions and accept submissions for all levels of service from 10am to 4pm.
Please call Customer Service at 888-469-2646 for more details.
Tri Star Show

Location:
George R. Brown Convention Center
1001 Avenida de las Americas
Houston, TX 71010

Jan. 18-20, 2008

Show Details:

PSA representatives will be available to answer questions and accept submissions for all levels of service.


PSA/DNA autograph experts will be available to authenticate your previously signed autographs on-site at the PSA Booth.

More Information:
Visit the Tri Star website at www.tristarproductions.com for more information.
For more information about PSA services,
call PSA Customer Service at (800) 325-1121 or visit www.psacard.com.

Advertise with PSA and PSA/DNA
We offer a wealth of advertising opportunities both online and print.
Please contact Rebecca Tran, Director of Advertising at [email protected], 800-447-8848 ext. 356 or directly at: 949-892-8604.

© 1999 - 2007 Collectors Universe. All Rights Reserved.