TheClosingPrice.com Has Given Away Over $4,000 And Keeps Going!!
TheClosingPrice.com, a weekly contest where players guess The Closing Price of auctions on eBay to win cash, has awarded over $4,000 in the last 3 months! Every week, TheClosingPrice.com gives away an additional $300 in cash and prizes. Featuring Pre-War, Vintage, and Modern Cards, along with Unopened Packs and Autographs, there is something for everyone. If you are reading this newsletter, you would enjoy this weekly contest... and it's free to everyone! Click here to learn more about TheClosingPrice.com.
R&R's December Auction - Last Two Days
December Auction on-line NOW! Don't forget to bid. Click here for details.

Collecting 1975 Topps Minis
The 1975 Topps Mini baseball set has been on fire in recent months. Released in more limited quantities than its full-sized sister set, collectors are intrigued by their relative scarcity of colorful design. Chocked full of great rookie cards and stars, this set is considered by many to be one of the greats of the modern era and it is, arguably, the most interesting set of the 1970's. Click here for more.

A Modern Hockey Gem: A Look at the 1990-1 O-Pee-Chee Premier Set
The 1990-91 OPC Premier hockey set remains one of the most popular hockey productions of the modern card era. For those who were active during the initial release, many can remember the extreme hype behind the issue. While the hype has died down a bit over time, collectors have continued to give attention to this special set. Click here to read on.
Kirk H. Taniguchi - The Number One All Time Finest 1960 Dodgers Bell Brand Baseball Set
This collector, who won "Best of the Registry" certificates for 2002, 2006 & 2007, has not only compiled a complete set, but has managed to do so with a 7.41 set rating. Take a look at this set and you will see 14 'Top Pops.' Within that bunch are 7 cards that are the single finest graded examples.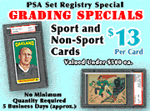 This set is condition sensitive as the cards come packaged in Bell Brand potato chip bags, and although sealed in cellophane, these cards were still subject to grease stains. There are 4 other sets registered in this category, but they all have a ways to go before coming close to this set. Congratulations! Click here to enjoy.
The staff of the Set Registry would like to wish all of our members and their loved ones a very Merry Christmas and a safe and Happy New Year.
Set Registry Special!
$13 per card/No minimum - Cards valued under $500. Click here for details.
Visit the Set Registry News page and learn which set composites have been recently added to the Registry and other Set Registry news. The following are new set composites added to the Registry:
1955-1964 Topps Decade of Athletics
1970-1979 Topps Decade of Royals
1972-1981 Topps Decade of Rangers
1982-1991 Topps Decade of Rangers
2002-2006 Topps eTopps Classics Football Mega Set
2006 Topps New England Patriots
O-Pee-Chee 1960's Run Hockey Mega Set
1959 Topps Wacky Plaks
1962 Stancraft 52 American Beauties Pink
1962 Stancraft 52 American Beauties Green
Super Bowl Passes Basic Ticket Set
Hall of Fame Football Autographs (Any Medium)
Bookmark these important links!
To request a new set:
http://www.psacard.com/set_registry/set_request.chtml
To request a card addition to an established player set:
http://www.psacard.com/set_registry/player_additions.chtml
To delete a card from all sets at once: http://user.collectors.com/psa/set_registry/delete_items.chtml
To update your email address:
http://www.psacard.com/join/update.chtml
Fun, informative, and sometimes controversial, the PSA Set Registry Messageboard is the place to get involved with other collectors who are currently participating in the Set Registry program or are just beginning. Click here to chat on the Set Registry Messageboard.
The PSA Set Registry is a work in progress and we invite your comments and ideas. Send your suggestions to [email protected].
Question: I have noticed that Honus Wagner cards, in general, have been escalating in value in the past year. What is the main reason for this surge?
Answer: Well, we all know that the most famous of all Honus Wagner cards sold for $2,800,000 this summer in a private sale. That was, of course, the 1909-11 T206 PSA NM-MT 8 card. It seems as if collectors are starting to appreciate Wagner more as a player as a result of the increased attention given to his name. What many people forget is how good a player Wagner was. He is not just a guy on a scarce card. Wagner is considered by many to be one of the greatest players of his generation and of all-time. He combined great offense with solid defense, which was and still is uncommon at the shortstop position. Many of his cards have started to creep in value towards cards of Ty Cobb in the same sets. I guess the theory is... if you can't own a T206 Wagner card, there are other great Wagner cards to own like some terrific E-cards, Cracker Jacks and the like.
| | | |
| --- | --- | --- |
| Have your sports autographs authenticated by PSA/DNA. Submission forms are available online at the PSADNA web site. Just click here. | Find out what your cards are really worth. Subscribe to the Sports Market Report and have it delivered to your door every month. Click here. | Join the PSA Collectors Club today! Just click here to learn about the many benefits of membership. |
Tri Star Show

Location:
George R. Brown Convention Center
1001 Avenida de las Americas
Houston, TX 71010

Jan. 18-20, 2008

Show Details:

PSA representatives will be available to answer questions and accept submissions for all levels of service.


PSA/DNA autograph experts will be available to authenticate your previously signed autographs on-site at the PSA Booth.

More Information:
Visit the Tri Star website at www.tristarproductions.com for more information.
For more information about PSA services,
call PSA Customer Service at (800) 325-1121 or visit www.psacard.com.

Advertise with PSA and PSA/DNA
We offer a wealth of advertising opportunities both online and print.
Please contact Rebecca Tran, Director of Advertising at [email protected], 800-447-8848 ext. 356 or directly at: 949-892-8604.

© 1999 - 2007 Collectors Universe. All Rights Reserved.