Just Collect's Consignors Sell Their PSA Cards for the Most
Just Collect, Inc. (eBay ID: just_collect) is eBay's largest consignment seller of PSA-graded sports and non sports cards and memorabilia. Just Collect consistently delivers the highest bottom line payment for its consignors by selling their graded cards individually, instead of in sets and groups like private auction houses. Just Collect sells hundreds of graded cards for tens of thousands of dollars every week and would like the opportunity to work with you. Call Just Collect today at (732) 828-2261 or click here to read more about the process by which Just Collect will maximize the value of your consignment.

Andy Madec Auction #22 Now Open for Bidding!
Online bidding is available at www.amsportscards.com and phone bids may be placed between 9:00am and 5:00pm PST by calling (805) 987-3055. All bidders must register prior to bidding. You may register at www.amsportscards.com or by calling (805) 987-3055. Look for Andy Madec's auction preview in the inside back cover of your December issue of Sports Market Report (SMR). Catalogs are now available! Call (805) 987-3055 to request your copy. Bidding will close on November 20th, 2007, at 7:00pm PST.
Heritage Sports Collectibles Auction Posts Tremendous Results
Heritage Auction Galleries held its latest Sports Collectibles Signature Auction on Friday and Saturday, October 26th and 27th, 2007, in Dallas, Texas. The auction realized $2,752,208 for 966 lots, although after-auction sales could push the total even higher. Click here for auction highlights.
Mastro Auctions' October Classic Collector Sale Surpasses $2.1 Million
The hobby-favorite Classic Collector Sale keeps collectors coming back for more high-quality sports and Americana items. The results indicate there is no let up of excitement surrounding these much anticipated sales that are packed with diversity. Click here to read on.
R&R's December Auction Accepting Consignments
December consignments are still being accepted! Pack and ship your quality signatures NOW so they can be packed and shipped to the highest bidder in R&R's December auction! Click here for more details.
NAXCOM.com Sports & Collectibles Marketplace to Launch "No Listing Fees" Auctions - Wednesday 11/7!
After many years of NAXCOM's 200,000 users' requesting NAXCOM to add auctions to give them a better alternative -- NAXCOM is now launching No Listing Fee Auctions! Click here to learn more.

Catching Up With Chris Ivy of Heritage Auction Galleries
Heritage Auctions is fast becoming a force to be reckoned with in the competitive world of auctions, and at the helm of the successful company is longtime collector Chris Ivy. In the following piece, Chris shares his thoughts about the sports collectibles industry and gives us a glimpse into his personal life. Click here to read on.

Tough Cards - Tough Decisions
As collectors, we are faced with many tough decisions when it comes to buying or not buying the collectibles we find. How much should I pay? Should I put in another bid? When will this item become available again? In the following piece, Joe Orlando addresses this common dilemma. Click here to read more.
Showtime and More - The Number One Current Finest All-Time Lakers Set
This collector has managed to assemble a complete All-Time Lakers set and win the "Best of the Registry" award for 2004, 2006, and 2007. This set does require specific cards, however this collector has chosen popular cards for the players and has populated his set with a large number of top pops. His set rating is 9.23, which places in him in good standing above the next ranked set. Of the 10 members participating in this set, only 2 have 100% completion. Congratulations! Click here to enjoy.
Basic Player Sets
The results of the poll to determine the cards that will be listed in the basic basketball player sets are as follows: BOWMAN, FINEST, FLEER/FLEER TRADITION, HOOPS, SKYBOX, SP/SP AUTHENTIC, STADIUM CLUB, TOPPS, ULTRA, and UPPER DECK. All basketball player sets have been updated or reclassified as Basic & Collector Issues where applicable. If you would like to see a basic set with just the cards listed above, please send in your set request. New basic sets will have priority and we will get them online quickly. Click here for the online set request form. A poll for the hockey basic player sets is in process and the results will be announced next week. For more information, visit the Set Request page.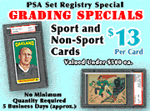 Set Registry Special!
$13 per card/No minimum - Cards valued under $500. Click here for details.
Visit the Set Registry News page and learn which set composites have been recently added to the Registry and other Set Registry news. The following are new set composites added to the Registry:
1995-96 Metal Metal Force Basketball
Joe Dumars Basic Set
Grant Hill Rookie Set
1969-70 Topps New York Knicks
1996 Select Certified Red Football
1997 Topps Mystery Finest Gold Refractors Football
Michael Irvin Basic Set
Michael Irvin Master Set
Stump Mitchell Basic Set
Stump Mitchell Master Set
Jerry Rice Basic Topps Set
Jerry Rice Master Topps Set
Marshall Faulk Rookie Set
Peyton Manning Rookie Set
1960 Topps Pittsburgh Steelers
1977 Topps Mexican Cleveland Browns
1977 Topps Mexican New York Jets
2004-05 SP Authentic Rookie Redemptions Hockey
1968-69 Topps Pittsburgh Penguins
1902 W.D. & H.O. Wills Football Series
1910 Champion Pugilists T219
1888 Allen & Ginter Flags of States & Territory
1889 W.S. Kimball & Co. Dancing Women N186
1889 W.S. Kimball & Co. Fancy Bathers N187
1930 New England Confectionary Real Airplane Pictures
1934 Carreras Believe It or Not
1954 Red Man Indian Chiefs T129
1961 B.T. Limited British Locomotives
1963 Primrose Confectionary The Flintstones
1965 A & BC Girl From U.N.C.L.E.
1968 Primrose Confectionary Laurel & Hardy
1975 Topps Wacky Packages Wonder Bread Series 3
1979 Supersisters
1991 Marvel Universe Holograms
1992 Marvel Masterpieces Lost Marvel Bonus Cards
1992 Marvel Masterpieces Spectra
1992 Marvel Universe Holograms
1992 Mothers Cookies United States Presidents
1993 Skybox X-Men 2 Holithogram
1994 Marvel Universe 3-D Holograms
1994 Ultra X-Men Blue Team/Gold Team
1994 Ultra X-Men Greatest Battles
1995 DC vs. Marvel Mirage Cards
1995 Marvel Masterpieces Mirage
1996 Marvel Motion Promos
1996 Marvel Motion Virtual Vision
1996 Marvel Ultra Onslaught Autograph
1996 Ultra X-Men Wolverine Mirage Cards
Bookmark these important links!
To request a new set:
http://www.psacard.com/set_registry/set_request.chtml
To request a card addition to an established player set:
http://www.psacard.com/set_registry/player_additions.chtml
To delete a card from all sets at once: http://user.collectors.com/psa/set_registry/delete_items.chtml
To update your email address:
http://www.psacard.com/join/update.chtml
Fun, informative, and sometimes controversial, the PSA Set Registry Messageboard is the place to get involved with other collectors who are currently participating in the Set Registry program or are just beginning. Click here to chat on the Set Registry Messageboard.
The PSA Set Registry is a work in progress and we invite your comments and ideas. Send your suggestions to [email protected].
Question: When a grader looks at a card, do they always use a magnifying glass or loupe?
Answer: This may surprise many people but the answer is: no. The vast majority of the cards are reviewed with the naked eye. Grading tools are available to each grader but they use the tools as they see fit. For example, if a graders see a tiny defect on a corner, they may use the loupe to get a closer look at the paper damage.
| | | |
| --- | --- | --- |
| Have your sports autographs authenticated by PSA/DNA. Submission forms are available online at the PSADNA web site. Just click here. | Find out what your cards are really worth. Subscribe to the Sports Market Report and have it delivered to your door every month. Click here. | Join the PSA Collectors Club today! Just click here to learn about the many benefits of membership. |
PSA Public Friday

Location:
Collectors Universe Lobby Area
1921 East Alton Avenue
Santa Ana, CA 92705

Nov. 9, 2007

Show Details:

PSA and PCGS representatives will be available to answer questions and accept submissions for all levels of service from 10am to 4pm.
Please call Customer Service at 888-469-2646 for more details.
PSA/DNA at Bergie's

Location:
Bergie's Sports Card Dugout
474 Central Ave. #1
Highland Park, IL 60035

Nov. 14, 2007

Show Details:

PSA/DNA autograph experts will be available to authenticate your previously signed autographs 10am-4pm.


Note: Items submitted for grading must be mailed directly to PSA/DNA, please visit www.psadna.com for details on how to submit.
Chicago Sun-Times Card Show

Location:
Donald E. Stephens Convention Center
5555 North River Road
Rosemont, IL 60018
(630) 663-1975

Nov. 16-18, 2007

Show Details:

Customer Service representatives will be available to answer questions and accept submissions for all levels of service.


PSA will offer on-site grading and PSA/DNA autograph experts will be available to authenticate your previously signed autographs on-site at the PSA Booth.

More Information:
Visit the Chicago Sun-Times web site for more information.
Yesterday's Legends Show

Location:
Sturbridge, MA

Nov. 30 - Dec. 2, 2007

Show Details:

PSA representatives will be available to answer questions and accept submissions for all levels of service.
PSA/DNA autograph experts will be available to authenticate your previously signed autographs on-site at the PSA Booth.
For more information about PSA services,
call PSA Customer Service at (800) 325-1121 or visit www.psacard.com.

Advertise with PSA and PSA/DNA
We offer a wealth of advertising opportunities both online and print.
Please contact Rebecca Tran, Director of Advertising at [email protected], 800-447-8848 ext. 356 or directly at: 949-892-8604.

© 1999 - 2007 Collectors Universe. All Rights Reserved.