Andy Madec November Auction: Last Day to Bid!
Last Day to bid in the Andy Madec Auction! Bidding will close on November 20th, 2007 at 7:00 p.m. PST. On-Line bidding is available at www.amsportscards.com and phone bids may be placed between 9:00 a.m. and 5:00 p.m. PST by calling (805) 987-3055. Highlights from the auction include: Incredible Babe Ruth Signed 8×10 Original Photograph w/Signature grade of PSA 9 Mint, Babe Ruth Signed Color newspaper Photo, 1952 Topps #311 Mickey Mantle PSA 5 EX, and much more. Click here to check out all of the items now!

4Star Sports, Inc. Launches State-of-the-Art Online Consignment Division
4Star Sports has announced the launch of their vintage and modern consignment division, 4Star Consignments, which specializes in showcasing the nation's finest vintage PSA and other certified collections. Click here for more details.

Goodwin's Masterpieces and Uncommon Commons XV Auction Now Open
Goodwin & Co. is proud to announce that Masterpieces and Uncommon Commons XV Is now open for bidding. The auction closes on Thursday, November 29. There is something for every hobbyist and every budget. Over 1,000 lots are featured including 19th Century, Pre-war, 1950s, 1960s and 1970s, Regionals, and more. We are also taking consignments for our next auction at 0% commission to the consignor. If you have already registered, you will need your Bidder Number or User Name and Password to bid. You can easily retrieve your information by clicking on "Forgot Password" at login. For assistance, you can also contact Bill Goodwin directly by e-mail at [email protected] or by telephone (314-849-9798).

"Connoisseur" Event Live at Mastro Auctions this December
Mastro Auctions is launching the "Connoisseur" auction at 10:00 a.m. on Saturday, December 15th, to be held live at Mastro headquarters in Burr Ridge, Illinois. The inaugural event includes objects as diverse as an ancient Egyptian statuette to a Royal Hawaiian quilt, and private collections of decorative and fine arts of extraordinary diversity. Click here for more highlights from the auction.

1953 Topps: Works of Fine Art
The 1953 Topps baseball set has always been a collector favorite. The tough black and red bottom borders, coupled with the excellent key card selection and eye-appeal, make this one set that many of us can only dream of owning. In the following article, we go inside the set to find out what makes it so special. Click here to read on.

The 1968 Topps 3-D Set
The 1968 Topps 3-D set was a test issue and, today, only a limited amount of cards still exist. From Tony Perez to Roberto Clemente, this small set featured some terrific players but the design is what captivates most collectors. This test set broke new ground as nothing like it had ever been seen before. So, what collectors think about this set? Click here to find out.
TSM Bengals Collection - The Number One Current Finest All-Time Bengals Set
This collector has compiled a complete All-Time Bengals set and has surpassed the 2007 "Best of the Registry" award winning set. The set is populated with ten "Top Pops," three of which -- 1974 Topps Isaac Curtis #315, 1988 Topps Tim Krumrie #347, and 1996 Topps Willie Anderson #431 -- are PSA 10's and are the finest single card graded! The TSM set rating is 9.25, which places this collector well above the 2007 award winning set. Of the six members participating in this set, only two have 100% completion. Congratulations! Click here to enjoy.
Basic Player Sets
The results of the poll to determine the cards that will be listed in the basic hockey player sets are as follows: BOWMAN, DONRUSS, FLEER/FLEER TRADIITION, LEAF, OPC, OPC PREMIER, PARKHURST, PINNACLE, PRO SET, SCORE, SP/SP AUTHENTIC, STADIUM CLUB, TOPPS, and UPPER DECK. All hockey player sets have been updated or reclassified as Basic & Collector Issues where applicable. If you would like to see a basic set with just the cards listed above, please send in your set request. New basic sets will have priority and we will get them online quickly. Click here for the online set request form. For more information, visit the Set Request page.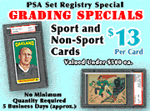 Set Registry Special!
$13 per card/No minimum - Cards valued under $500. Click here for details.
Visit the Set Registry News page and learn which set composites have been recently added to the Registry and other Set Registry news. The following are new set composites added to the Registry:
1979 Topps St. Louis Cardinals
1983 Topps St. Louis Cardinals
1998 SP Authentic Maximum Impact Football
2006 SP Authentic Authentic Autographs Football
Wayne Gretzky Basic Set
Bookmark these important links!
To request a new set:
http://www.psacard.com/set_registry/set_request.chtml
To request a card addition to an established player set:
http://www.psacard.com/set_registry/player_additions.chtml
To delete a card from all sets at once: http://user.collectors.com/psa/set_registry/delete_items.chtml
To update your email address:
http://www.psacard.com/join/update.chtml
Fun, informative, and sometimes controversial, the PSA Set Registry Messageboard is the place to get involved with other collectors who are currently participating in the Set Registry program or are just beginning. Click here to chat on the Set Registry Messageboard.
The PSA Set Registry is a work in progress and we invite your comments and ideas. Send your suggestions to [email protected].
Question: I am collecting 1948 Leaf baseball cards and I noticed there are wide variances in color. Are these cards variations?
Answer: While the 1948 Leaf set exhibits extremely wide ranges in color, they are not considered variations. It is important that you look for examples that carry excellent eye-appeal if you can locate them. Some of the cards, like the Bob Feller Short Print, are always found with poor registration and print quality but some other cards can be found with bold background colors.
| | | |
| --- | --- | --- |
| Have your sports autographs authenticated by PSA/DNA. Submission forms are available online at the PSADNA web site. Just click here. | Find out what your cards are really worth. Subscribe to the Sports Market Report and have it delivered to your door every month. Click here. | Join the PSA Collectors Club today! Just click here to learn about the many benefits of membership. |
PSA Public Friday

Location:
Collectors Universe Lobby Area
1921 East Alton Avenue
Santa Ana, CA 92705

Dec. 14, 2007

Show Details:

PSA and PCGS representatives will be available to answer questions and accept submissions for all levels of service from 10am to 4pm.
Please call Customer Service at 888-469-2646 for more details.
Tri Star Show

Location:
George R. Brown Convention Center
1001 Avenida de las Americas
Houston, TX 71010

Jan. 18-20, 2008

Show Details:

PSA representatives will be available to answer questions and accept submissions for all levels of service.


PSA/DNA autograph experts will be available to authenticate your previously signed autographs on-site at the PSA Booth.

More Information:
Visit the Tri Star website at www.tristarproductions.com for more information.
For more information about PSA services,
call PSA Customer Service at (800) 325-1121 or visit www.psacard.com.

Advertise with PSA and PSA/DNA
We offer a wealth of advertising opportunities both online and print.
Please contact Rebecca Tran, Director of Advertising at [email protected], 800-447-8848 ext. 356 or directly at: 949-892-8604.

© 1999 - 2007 Collectors Universe. All Rights Reserved.