Just Collect's TheClosingPrice.com Has Given Away Over $1,200 In The Last 30 Days And Continues At $300 Per Week!!
TheClosingPrice.com, sponsored by Just Collect, has given away over $1,200 in cash and prizes in the last month. Every week players guess The Closing Price of three auctions on eBay - a Pre-War card, a Vintage card, and an Autographed item, and the closest 3 guesses to the actual closing price of each auction without going over win! Free to play and open to all, with 9 places winning over $300 in cash and prizes weekly! Click here for details.
Andy Madec Auction #22 Opens for Bidding on Nov. 1st, 2007, 9:00am PST
Online bidding is available at www.amsportscards.com and phone bids may be placed between 9:00am and 5:00pm PST by calling (805) 987-3055. All bidders must register prior to bidding. You may register at www.amsportscards.com or by calling (805) 987-5033. Look for Andy Madec's auction preview in the inside back cover of your December issue of Sports Market Report (SMR). Catalogs were mailed out on 10-19-07; call (805) 987-5033 to request your copy. Bidding will close on November 20th, 2007, at 7:00pm PST.
War Hero, Horror Icon: Washington, Poe Letters Lead R&R Auction Results
"Better security of the frontiers and protection of our magazines" -- that was the rationale for General George Washington's move to consolidate army regiments as outlined in a 1779 letter to New York Governor George Clinton. The letter, one of more than 1,500 lots in R&R Enterprises' October auction, passed into the hands of a collector for the princely sum of $32,071, the sale's top result. Click here for more auction highlights.
Collectors Finance Corp. Says Fed Rate Cut Brings Savings on Collectibles' Loans
The Federal Reserve Board's reduction in the prime lending rate, September 16, now is saving collectors and dealers money on loans based on certified collectibles -- coins, stamps, paper money, sports memorabilia and gem stones -- as collateral. Click here for more details.

Bazooka, Hostess, Kraft and Drakes: Hand Cut Panels from the '60s, '70s and '80s
Hand-cut cards have become more and more popular over the past few years after PSA started grading them. Many of these treasures are very hard to find and, if you do find them, they tend to be in battered condition. While the individual cards are tough, entire uncut panels are tougher. In this article, the author discusses the appeal of these rare collectibles. Click here to read on.

The Batting Cage: What Bats Have the Best Investment Value
As the game-used bat hobby advances, many collectors try to differentiate between mediocre bats and investment quality bats. How much game-used should it show? What characteristics make it high-end? Which bats should I collect? In this piece, our resident bat experts discuss what makes some bats special, elevating them to investment grade. Click here to read more.

Capecards Hall Of Famers - The Number One Current Finest Hall of Fame Players Set
This collector has managed to assemble a complete HOF baseball player set and win the "Best of the Registry" award for 2007. This set does not require specific cards, but Capecards has populated his set with a large number of vintage cards and has provided images of nearly every player in the 218-card set. His set rating is 8.75, which puts him well above the next ranked set. Of the 76 members participating in this set, only 2 have 100% completion. Congratulations! Click here to enjoy.
Basic Player Sets
The results of the poll to determine the cards that will be listed in the basic football player sets are as follows: BOWMAN, BOWMAN CHROME, DONRUSS, FINEST, FLAIR/FLAIR SHOWCASE, FLEER/FLEER TRADITION, PINNACLE, PHILADELPHIA, PRO SET, SCORE, SELECT, SP/SP AUTHENTIC, SPX, STADIUM CLUB, TOPPS, TOPPS CHROME, ULTRA, and UPPER DECK. All football player sets have been updated or reclassified as Basic & Collector Issues where applicable. If you would like to see a basic set with just the cards listed above, please send in your set request. New basic sets will have priority and we will get them online quickly. Click here for the online set request form. A poll for the basketball basic player sets is in process and the results will be announced next week. Hockey will be polled in the next week. For more information, visit the Set Request page.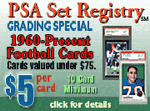 Set Registry Special!
1960 - Present football cards. $5 per card/10 card minimum - Cards valued under $75. Click here for details.
Visit the Set Registry News page and learn which set composites have been recently added to the Registry and other Set Registry news. The following are new set composites added to the Registry:
1950 Bowman Detroit Lions
1950 Bowman Los Angeles Rams
1950 Bowman New York Yanks
1976 Topps Seattle Seahawks
1977 Topps Chicago Bears
1978 Topps Seattle Seahawks
1985-86 Boston Bruins Home Games Season Tickets Hockey
1980-81 Philadelphia Flyers Home Games Season Tickets Hockey
1993-94 Toronto Maple Leafs Home Games Season Tickets Hockey
Wayne Gretzky Basic O-Pee-Chee Set
Wayne Gretzky Master O-Pee-Chee Set
1909 Cowboy Series T53
1888 Allen & Ginter Worlds Smokers N33
1966 Hitchman's Dairies Buses & Trams
1966 Topps Get Smart
1973 Topps You'll Die Laughing Test Issue
500 Home Run Club (Any Medium) Autographs
500 Home Run Club Photographs Autographs
The All-Century Baseball Team (Any Medium) Autographs
1989 Perez-Steele Celebration Postcard Baseball Autographs
Bookmark these important links!
To request a new set:
http://www.psacard.com/set_registry/set_request.chtml
To request a card addition to an established player set:
http://www.psacard.com/set_registry/player_additions.chtml
To delete a card from all sets at once: http://user.collectors.com/psa/set_registry/delete_items.chtml
To update your email address:
http://www.psacard.com/join/update.chtml
Fun, informative, and sometimes controversial, the PSA Set Registry Messageboard is the place to get involved with other collectors who are currently participating in the Set Registry program or are just beginning. Click here to chat on the Set Registry Messageboard.
The PSA Set Registry is a work in progress and we invite your comments and ideas. Send your suggestions to [email protected].
Question: Why is it that commons from teams like the Yankees and Dodgers sell for more than players from other teams?
Answer: Well, love them or hate them, franchises like these two have larger followings than most others, resulting in more demand for the cards. Usually, teams that have rich histories or winning traditions tend to get the most attention. For example, there are more collectors of Cincinnati's Big Red Machine of the 1970s than the Tampa Bay Devil Rays of the 2000s. The more a team wins... the more fans... the more collectors... resulting in higher prices and so on. In other words, even backup players for the New York Yankees get more airtime and attention than the starters for a struggling team.
| | | |
| --- | --- | --- |
| Have your sports autographs authenticated by PSA/DNA. Submission forms are available online at the PSADNA web site. Just click here. | Find out what your cards are really worth. Subscribe to the Sports Market Report and have it delivered to your door every month. Click here. | Join the PSA Collectors Club today! Just click here to learn about the many benefits of membership. |
JP's Sports & Rock Solid Promotions

Location:
Hofstra University Gymnasium
1000 Fulton
Hempstead, NY 11549

Oct. 27-28, 2007

Show Details:

PSA representatives will be available to answer questions and accept submissions for all levels of service.


PSA/DNA autograph experts will be available to authenticate your previously signed autographs on-site at the PSA Booth.
Greater Boston Sports Collectors Club

Location:
Shriner's Auditorium
99 Fordham Road
Wilmington, MA 01887

Nov. 2-4, 2007

Show Details:

PSA representatives will be available to answer questions and accept submissions for all levels of service.


PSA/DNA autograph experts will be available to authenticate your previously signed autographs on-site at the PSA Booth.
Brigandi Coin Co. and PSA/DNA

Location:
Brigandi Coin Company
60 West 44th Street
New York, NY 10036

Nov. 6, 2007

Show Details:

PSA/DNA autograph experts will be available to authenticate your previously signed autographs 10:00am - 6:00pm or by appointment.
Note: Items submitted for grading must be mailed directly to PSA/DNA, please visit http://www.psadna.com for details on how to submit.
PSA Public Friday

Location:
Collectors Universe Lobby Area
1921 East Alton Avenue
Santa Ana, CA 92705

Nov. 9, 2007

Show Details:

PSA and PCGS representatives will be available to answer questions and accept submissions for all levels of service from 10am to 4pm.
Please call Customer Service at 888-469-2646 for more details.
For more information about PSA services,
call PSA Customer Service at (800) 325-1121 or visit www.psacard.com.

Advertise with PSA and PSA/DNA
We offer a wealth of advertising opportunities both online and print.
Please contact Rebecca Tran, Director of Advertising at [email protected], 800-447-8848 ext. 356 or directly at: 949-892-8604.

© 1999 - 2007 Collectors Universe. All Rights Reserved.