Just Collect Launches TheClosingPrice.com and Gives Away $300 in Cash and Prizes Weekly!
TheClosingPrice.com, sponsored by Just Collect, is a new website that gives away over $300 each week in cash and prizes! Like The Price Is Right, each week players guess the closing prices for three auctions on eBay -- a pre-war card, a vintage card, and an autographed item. The closest guess to the actual closing price of each auction (without going over) wins! Free to play and open to all, with $300 in cash and prizes weekly! Click here for details.

Memory Lane Inc. Proves Themselves Again! The Company's September Auction Pulls in Over $2.7 Million!
Outstanding vintage card values marked this auction all the way as star cards and commons alike exploded with book busting values! Click here to read more.

Game Used Treasures from Baseball's Greatest Legends Anchor Heritage Sports Signature Auction!
Heritage Auction Galleries' Sports Collectibles division will present a fabulous array of vintage sports memorabilia and trading cards in their upcoming October 26 & 27, 2007 Signature Auction to be held in Dallas, Texas. Click here for highlights from the auction.

REA Discovers Incredible Knickerbockers Team Photo!!!
The photograph, still housed in its original frame, is an original large format salt print display photo taken in December 1862. Pictured (with all players identified on the reverse) is literally an All-Star team of great early Knickerbockers, all key members of the club from 1845 to 1850. Click here to learn more.

R&R Just Paid $115,000 for a Collection - What's Yours Worth?
R&R Auctions just traveled to the Chicago area and purchased a $115,000 collection -- and they can do the same for you. R&R offers immediate payment for your collection or individual items. Click here for more details.

Mastro Auctions' October Sale Wraps Up Year of Classic Events
The final Classic Collector auction of 2007 will feature a broad assortment of high-quality Sports and Americana items. Click here to see some of the sale's nearly 1,800 lots.

HIGH GRADE T206 Set to be Broken Up
PSA Dealer Steve Novella is please to announce he will be Breaking Up a High Grade T206 set -- the 5th Current Finest T206 Set on the PSA Set Registry -- with an overall 6.70 rating. Each card will be sold individually over the next several weeks. Click here for more information.

The Story of the 1971 Topps Greatest Moments Set
The 1971 Topps Greatest Moments set is one of the more difficult sets of the era. The set, which is filled with great players and highlights from the season, was produced in limited numbers and is surrounded by pesky black borders. In the following piece, we break down this popular 1970's issue. Click here to read on.

The Beginning of an Era: The Story of the 1989 Upper Deck Baseball Set
The 1989 Upper Deck baseball set was a groundbreaking one. Using enhanced technology to prevent counterfeiting and a higher quality presentation, Upper Deck helped raise the bar for manufacturers across the hobby. In the following piece, we explore why so many collectors cherish this inaugural issue. Click here to continue.
Johnny's Elvis Set - The Number One 1956 Elvis Presley Set
The popular 1956 Elvis Presley set was dominated by John Branca from 2002-2004. Then Mighty's Graded Sets reached the top spot in 2005. In 2006, along came Johnny who tied Mighty's set. This year Johnny skipped ahead to the top spot winning the Best of the Registry award with a weighted GPA of 8.53... impressive since the best you can do is 8.79. A glance at the set shows a number of "Top Pops" with Record Collector's Checklists #2, American Singing Idol #10, Facing the Cameras #29, At the Keyboard #31, Chow Time on the Movie Set #36, Lights Camera Action! #39, Radio Broadcast #42, and Bad News #56, the single finest cards graded. Congratulations! Click here to enjoy.
Basic Player Sets
The results of the poll to determine the cards that will be listed in the basic football player sets are as follows: BOWMAN, BOWMAN CHROME, DONRUSS, FINEST, FLAIR, FLEER, FLEER TRADITION, PINNACLE, PHILADELPHIA, PRO SET, SCORE, SELECT, SP, SP AUTHENTIC, SPX, STADIUM CLUB, TOPPS, TOPPS CHROME, ULTRA, and UPPER DECK. In the next few weeks, depending on the content of the current sets online, we will either be updating the basic sets to concur with the cards listed above or renaming the sets to the Basic & Collector Issues set. At that point, if a set is reclassified as a Basic & Collector Issues set and you would like to see a basic set with just the cards listed above, please send in your set request. New basic sets will have priority and we will get them online quickly. Click here for the online set request form. A poll will be sent this week for the basketball basic player sets. Hockey will be polled in the next few weeks. For more information, visit the Set Request page.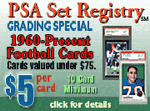 Set Registry Special!
1960 - Present football cards. $5 per card/10 card minimum - Cards valued under $75. Click here for details.
Visit the Set Registry News page and learn which set composites have been recently added to the Registry and other Set Registry news. The following are new set composites added to the Registry:
Tony Dorsett Basic Topps Set
Tony Dorsett Master Topps Set
Howie Long Basic Set
Howie Long Master Set
Lee Roy Selmon Basic Set
Lee Roy Selmon Master Set
Bookmark these important links!
To request a new set:
http://www.psacard.com/set_registry/set_request.chtml
To request a card addition to an established player set:
http://www.psacard.com/set_registry/player_additions.chtml
To delete a card from all sets at once: http://user.collectors.com/psa/set_registry/delete_items.chtml
To update your email address:
http://www.psacard.com/join/update.chtml
Fun, informative, and sometimes controversial, the PSA Set Registry Messageboard is the place to get involved with other collectors who are currently participating in the Set Registry program or are just beginning. Click here to chat on the Set Registry Messageboard.
The PSA Set Registry is a work in progress and we invite your comments and ideas. Send your suggestions to [email protected].
Question: What is the most difficult signed check to find of all the original five HOF inductees of 1936?
Answer: That class was a great one. Babe Ruth, Ty Cobb, Walter Johnson and Honus Wagner are all legends and these are great checks but the most difficult of the group, and most valuable, is Christy Mathewson. Some of his checks have sold for $25,000-$35,000-plus in high-grade.
| | | |
| --- | --- | --- |
| Have your sports autographs authenticated by PSA/DNA. Submission forms are available online at the PSADNA web site. Just click here. | Find out what your cards are really worth. Subscribe to the Sports Market Report and have it delivered to your door every month. Click here. | Join the PSA Collectors Club today! Just click here to learn about the many benefits of membership. |
Philadelphia Sports Card and Memorabilia Show

Location:
Greater Reading Expo Center
Reading, PA

Oct. 12-14, 2007

Show Details:

PSA representatives will be available to answer questions and accept submissions for all levels of service.


PSA/DNA autograph experts will be available to authenticate your previously signed autographs on-site at the PSA Booth.

More Information:
Visit the Philadelphia Sports Card & Memorabilia website at www.phillyshow.org for more information.
The Baseball Card Store & PSA/DNA

Location:
The Baseball Card Store
7431 Quivira Rd
Shawnee Mission, KS 66216

Oct. 13, 2007

Show Details:

PSA/DNA autograph experts will be available to authenticate your previously signed autographs 11:00 am - 4:30 pm.
Note: Items submitted for grading must be mailed directly to PSA/DNA. Please visit www.psadna.com for details on how to submit.
WrestleFanFest National Pro Wrestling Convention

Location:
Cow Palace
2600 Geneva Avenue
Daly City, CA 94014

Oct. 19-21, 2007

Show Details:

PSA representatives will be available to answer questions and accept submissions for all levels of service.


PSA/DNA autograph experts will be available to authenticate your previously signed autographs on-site at the PSA Booth.
For more information about PSA services,
call PSA Customer Service at (800) 325-1121 or visit www.psacard.com.

Advertise with PSA and PSA/DNA
We offer a wealth of advertising opportunities both online and print.
Please contact Rebecca Tran, Director of Advertising at [email protected], 800-447-8848 ext. 356 or directly at: 949-892-8604.

© 1999 - 2007 Collectors Universe. All Rights Reserved.