The Kaufman Collection - The Number One Current Finest 1910 Mecca Champions Boxing (T220) Set
A PSA Set Registry "Best of the Registry" winner in 2003 and 2004, the owner of the Kaufman collection maintains a substantial lead with a 6.82 GPA on this tough tobacco card set. Click here to enjoy. This collector has also completed another tough set, the 1926 Lambert & Butler Who is Who in Sports.
July Set Registry Luncheon Invitations Emailed
This year's PSA Set RegistrySM luncheon will be held on Friday, July 29, 2005 at the Donald E. Stephens Convention Center in Rosemont, Illinois, during the National Sports Collectible Show. Invitations were emailed out to you on May 25th. Please send your RSVP by July 15th. We look forward to seeing old friends and new members this July.
Set Registry Policy Reminder
In order to add a card to your set, you must own and have possession of the card. Do not add cards after you have purchased them in auction until you have the card in hand. Many eBay sellers, for example, do not image the actual card you purchase. This means, there is a high probability the card imaged belongs to another member. Your cooperation in this matter is greatly appreciated.
Player Set Card Additions
Before attempting to add a card to a player set, please take a moment to check the set composition to make certain that the card is listed. You will find the link to the set composition under the Current Set listing. Attempting to add cards that are not in the set generates an email to Set Registry customer service regardless if the card is in the set or not. These emails must be researched, thus causing a slow-down in the update of specs for members attempting to add cards that are listed in the sets. If you have cards that need to be added to the set composite, then please use our online form for New Player Cards which is located on the Set Request page. Thank you for your courtesy and cooperation.
24 Hours Wait After Grades are Posted
There is a lag time between the posting of grades online and the time the PSA database is updated with your certification numbers. If you attempt to add cards before your certification numbers have been updated in the database, you will get an error message. Therefore, please allow 24 hours after your grades are posted before attempting to add new cards to your sets.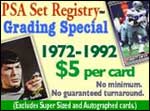 Set Registry Special!
1972-1992 $5 per card. No minimum. No guaranteed turnaround. (Excludes Super Sized and Autographed cards.) Click here for details.
Change in Free Grading Policy
We will no longer be issuing free grading codes by email. Should you qualify for free grading, email your name, address and phone number to [email protected] and you will be mailed a submission form to be used exclusively for your free gradings. For more information, click on the BENEFITS link which is at the top of every web page in the Set Registry.
Visit the Set Registry News page and learn which set composites have been recently added to the Registry and other Set Registry news. The following are new set composites added to the Registry:
1965 Topps Presidents and Famous Americans
1966 Batman B Series
1967 Topps Disgusting Disguises Stickers
Fun, informative, and sometimes controversial, the PSA Set RegistrySM Messageboard is the place to get involved with other collectors who are currently participating in the Set Registry program or are just beginning. Click here to chat on the Set Registry Messageboard.
The PSA Set RegistrySM is a work in progress and we invite your comments and ideas. Send your suggestions to [email protected].