T. Allan Bergquist - The Number One Current Finest 1975 Topps Mini Set
The 1975 mini set was issued by Topps as a test issue to see if collectors would embrace the smaller version. Although Topps did issue a few more mini sets in later years, the 1975 was the most significant in that it cultivated some very enthusiastic collectors! Last year Allan Bergquist won the 2004 "Best of the Registry" award for his great "little" set. This year he continues to maintain a strong lead as the only member with a complete set and a very high GPA of 8.84. Click here to enjoy.
July Set Registry Luncheon Invitations Emailed
This year's PSA Set RegistrySM luncheon will be held on Friday, July 29, 2005 at the Donald E. Stephens Convention Center in Rosemont, Illinois, during the National Sports Collectible Show. Invitations were emailed out to you on May 25th. Please send your RSVP by July 15th. We look forward to seeing old friends and new members this July.
Player Set Card Additions
Before attempting to add a card to a player set, please take a moment to check the set composition to make certain that the card is listed. You will find the link to the set composition under the Current Set listing. Attempting to add cards that are not in the set generates an email to Set Registry customer service regardless if the card is in the set or not. These emails must be researched, thus causing a slow-down in the update of specs for members attempting to add cards that are listed in the sets. If you have cards that need to be added to the set composite, then please use our online form for New Player Cards which is located on the Set Request page. Thank you for your courtesy and cooperation.
24 Hours Wait After Grades are Posted
There is a lag time between the posting of grades online and the time the PSA database is updated with your certification numbers. If you attempt to add cards before your certification numbers have been updated in the database, you will get an error message. Therefore, please allow 24 hours after your grades are posted before attempting to add new cards to your sets.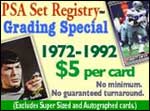 Set Registry Special!
1972-1992 $5 per card. No minimum. No guaranteed turnaround. (Excludes Super Sized and Autographed cards.) Click here for details.
Change in Free Grading Policy
We will no longer be issuing free grading codes by email. Should you qualify for free grading, email your name, address and phone number to [email protected] and you will be mailed a submission form to be used exclusively for your free gradings. For more information, click on the BENEFITS link which is at the top of every web page in the Set Registry.
Visit the Set Registry News page and learn which set composites have been recently added to the Registry and other Set Registry news. The following are new set composites added to the Registry:
1973 Topps Boston Red Sox
1973 Topps Texas Rangers
1977 Topps Cincinnati Reds
1981 Topps California Angels
1983 Topps Texas Rangers
1985 Topps Texas Rangers
1987 Topps Texas Rangers
1961-62 Kahn's Basketball
1976-77 Topps Cleveland Cavaliers
1962 Post Cereal Football
1962 Topps Bucks Inserts Football
1998 Finest Football
1999 Press Pass X's and O's Football
2003 Donruss Elite Football
2004 Donruss Elite Football
1969 Topps San Francisco 49ers
1972-73 OPC Player Crests Hockey
1991-92 OPC Hockey
1993 Sporting Profiles The Greatest Boxing
1937 Shelby Gum Hollywood Screen Stars
1945 Mutoscope Artist Pin-Up
1977 Scanlens Star Wars Stickers
1988 Topps Dinosaur Attack Stickers
1998 Beanie Babies Series I
Fun, informative, and sometimes controversial, the PSA Set RegistrySM Messageboard is the place to get involved with other collectors who are currently participating in the Set Registry program or are just beginning. Click here to chat on the Set Registry Messageboard.
The PSA Set RegistrySM is a work in progress and we invite your comments and ideas. Send your suggestions to [email protected].