Have your sports autographs authenticated by Jimmy Spence, this country's foremost sports autograph expert. Submission forms are available online at the
PSADNA web site.
Just click here.


Find out what
your cards are
really worth.
Subscribe to the
Sports Market Report and have it delivered to your door every month. Click here.


MastroNet Exceeds $9 Million in August Auction; PSA Grades First Gem Mint 10 Clemente Rookie
High-end Sports and Americana items fueled vigorous bidding from collectors of all genres at MastroNet's August auction. Also, after 12 years and nearly 7,000,000 cards, PSA has graded its first Gem Mint 10 Roberto Clemente rookie! Click here to read all about it.

Nomar Garciaparra, A "Hit" Off the Field
In Boston, "Nomar" is as famous a name as "Yaz" or even "The Babe." But Nomar Garciaparra's fame doesn't come solely from his exploits on the field. His charitable organization, the Nomar 5 Fund, and his continued support of charities such as Adopt-A-Classroom, have earned him a special place in Boston and surrounding communities. Click here to read about Nomar's inspiring work.

The Major League Leaders for 2003: The Offensive Champs in Nine Categories
There was no Triple Crown winner, but Albert Pujols came close. Carlos Delgado knocked in 145 runs for Toronto to lead both leagues. Cristian Guzman was the leaders in triples while Juan Pierre stole 66 bases to set the pace in that department. The slugging percentage winner? You won't believe the number! Click here to read more.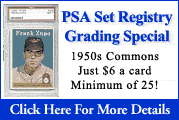 Luke's 77 Cloth - The Number One Current Finest 1977 Topps Cloth Stickers Set
One of the coolest things about collecting cards is the wide variety of sets available. Specialty sets, like the 1977 Topps Cloth Stickers, is perfect for someone who likes to veer from the norm. Luke, who is also an avid collector of Pete Rose cards, has assembled a complete set of 77T Cloth Stickers and has a second set in the works. Click here to enjoy his set and some wonderful images he has provided.
Set Registry Grading Special! If you are collecting 1950s baseball cards, you can submit your commons for $6 a card with a 25-card minimum. Click here for details.
The 2003 PSA Set Registry Awards deadline is only 30 days away. Be certain to get your sets updated before October 31st. Click here for details.
Visit the Set Registry News page and learn which set composites have been recently added to the Registry and other Set Registry news.
To see what new sets are soon to be added, visit the Set Request List. If your set is not listed, send us your request using the Set Request Form. Note: The request list at the present time is quite long. If you intend to list a set for consideration in this year's awards and your set composite is not in the Registry, please submit your request by October 15th to insure that the composite is added with plenty of time for you to enter your set. We cannot guarantee that requests submitted after October 15th will be added prior to the awards deadline.
New composites recently added include:
2001 Upper Deck Legends Legendary Floor Basketball
2001 Upper Deck Legends Legendary Floor Autographs Basketball
2001 Upper Deck Legends Record Producers Basketball
2001 Upper Deck Legends UD Yearbook Basketball
2002-03 Topps Autographs Special Edition Redemption Basketball
2002-03 Upper Deck Ovation Basketball
2003 UD Top Prospects LeBron James Promos Basketball
Wilt Chamberlain Basic Set
Wilt Chamberlain Master Set
2002 Donruss Elite Football
Dan Fouts Basic Set
Dan Fouts Master Set
Steve Largent Basic Set
Steve Largent Master Set
1961 Topps San Diego Chargers
1962 Fleer San Diego Chargers
1966 Topps San Diego Chargers
1967 Topps San Diego Chargers
1971 Topps San Diego Chargers
1909 James Jeffries Playing Cards Boxing
1938 Ogdens Actors Natural and Character Studies
1950 Bowman Wild Man
1950 Topps Bring 'Em Back Alive
1950 Topps Freedoms War
1950 Topps Sgt. Preston Challenge of the Yukon Dog Cards
1951 Topps Animals of the World
1952 Bowman U.S. Presidents
1953 Topps License Plates
1953 Topps Tarzan and the She-Devil
1953 Topps Tarzans Savage Fury
1958 Topps TV Westerns
1966 Batman Series A
Fun, informative, and sometimes controversial, the PSA Set Registry Messageboard is the place to get involved with other collectors who are currently participating in the Set Registry program or are just beginning. Click here to chat on the Set Registry Messageboard.

The PSA Set RegistryTM is a work in progress and we invite your comments and ideas. Send your suggestions to [email protected].
Question: Does an autograph add authenticity to a game-used bat?
Answer: Great question. Many people believe it does but, in reality, it will not for the most part. Many game-used bats need to be authenticated on their own merit (labeling, shipping records, model numbers, usage, etc.) and an autograph will only add to the authenticity if the autograph pertains to the authenticity. For example, if Harmon Killebrew signs, "This is my gamer" or "Game-used 1965" it will enhance the value and the authenticity but, even in those cases, the bat must be examined by experts. One example that comes to mind is when Mickey Mantle signed a bat "Gamer" when it was merely a store model bat. Mickey simply made a mistake. Maybe Mick was partying the night before? Most vintage bats are signed years later so, again, an autograph is nice and visually appealing but usually will not enhance authenticity at all.
See PSA at These Upcoming Shows!
PSA Saturday

Date: October 4, 2003
Time: 10am - 2pm

Location:
Collectors Universe
1921 E. Alton Ave.
Santa Ana, CA 92705

Show Info:
For more information on the PSA Saturday Show or PSA services, call PSA Customer Service at (800) 325-1121 or visit www.psacard.com.

PSA SATURDAY SPECIAL SERVICE - NO SHIPPING COSTS!!

$10 per card - Submit your cards at PSA Saturday on October 4th for pick-up at the next PSA Saturday Show, November 1st.

You may also have your cards mailed to you. Return shipping fees will apply. Please refer to the shipping chart located on the reverse side of all PSA invoices.

Admission is free! PSA representatives are available to answer questions and accept submissions for all levels of service.
The 18th Annual GBSCC Sports Card & Memorabilia Show

Location:
Shriner's Auditorium
Exit 39 off Rt. 93
Wilmington, MA

October 31 - November 2, 2003

Show Info:
For more information on the 18th Annual GBSCC Show, visit www.gbscc.com.

For more information about PSA services, call PSA Customer Service at (800) 325-1121 or visit www.psacard.com.

PSA Special $10/10 Day Show Service offer:

$10 per card - 10 business day turnaround

PSA representatives will be available to answer all questions and accept submissions for all levels of service through Sunday.

PSA/DNA autograph experts, James Spence and Steve Grad, will be available to authenticate your previously signed autographs on-site.

© 1999 - 2005 Collectors Universe Inc. All Rights Reserved.