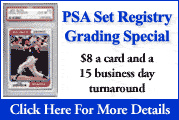 Wheels1313 Collection - The Number One Current Finest 1961 Golden Press Set
Wheels1313 leads the pack in this 33-card baseball set. Although there are two other collectors with 100% completion in the current category, Wheels1313 ranks far above with a 8.74 set rating. Three of the four key cards in the set, i.e. #8 Dizzy Dean, #16 Lou Gehrig, and #22 Jimmy Foxx are all PSA 9! Click here to view this great #1 set.
Buy your Raffle Tickets and Contribute to a Great Cause!
Everyone at PSA and all of the forum members who know Carlos Aponte have rallied together in support of Carlos and his family in their time of need. Purchase a raffle ticket for a chance to win 10 PSA gradings at the Regular Service level. Tickets are just $5 each. 100% of the money received will go to Carlos Aponte and his family to help pay medical bills. The raffle will be held on August 20th. To purchase your ticket(s), click here or e-mail [email protected].
Set Registry Grading Special! If you are collecting Vintage cards (pre-1975), you can submit your commons for $8 a card with a 15-day turnaround! There is NO MINIMUM required. Click here for details.
Visit the Set Registry News page and learn which set composites have been recently added to the Registry and other Set Registry news.
To see what new sets are soon to be added, visit the Set Request List. If your set is not listed, send us your request using the Set Request Form.
New composites recently added include:
2001 Playoff Contenders Championship Ticket Football
1908 Ogdens Pugilists and Wrestlers
1939 John Player & Sons Golf
2002 Yu-Gi-Oh McDonald's Promo Series 1
2002 Yu-Gi-Oh Tournament Series 1
2002 Yu-Gi-Oh Playstation Promo
2003 Yu-Gi-Oh English Game Boy Advance Promo
2003 Yu-Gi-Oh Labyrinth of Nightmare 1st Edition
2003 Yu-Gi-Oh Legacy of Darkness 1st Edition
Fun, informative, and sometimes controversial, the PSA Set Registry Messageboard is the place to get involved with other collectors who are currently participating in the Set Registry program or are just beginning. Click here to chat on the Set Registry Messageboard.

The PSA Set RegistryTM is a work in progress and we invite your comments and ideas. Send your suggestions to [email protected].