Have your sports autographs authenticated by Jimmy Spence, this country's foremost sports autograph expert. Submission forms are available online at the
PSADNA web site.
Just click here.


Find out what
your cards are
really worth.
Subscribe to the
Sports Market Report and have it delivered to your door every month. Click here.


The History of Goudey Gum Company
In a turbulent part of the 20th century, darkened by political trouble and economic hardships, the Goudey Gum Company brought gum and baseball cards together to create something fun and enjoyable. By introducing gum baseball cards to the marketplace, this Boston-based company made history before fading into it. In this article, Marshall Fogel takes a detailed look at the life of the Goudey Gum Company. Click here to read more.

All Bats are Not Created Equal: How Photos and Player Characteristics Come Into Play
Game used bat collecting is an aspect of the hobby that's still in its infancy, but one that's beginning to mature thanks to increased interest and better authentication methods. In this article, PSA President Joe Orlando takes a detailed look at bat collecting and lets you know what to look for in game used lumber. Click here to read on.

All-Star Game Trivia: Looking Back at 70 Years of Records from the Summer Classic
Did you know...? There are dozens of All-Star records listed here, from the famous ones to the most obscure. Who is the only player to steal home in an All-Star game? The only player to hit two triples in one game? Who hit the first home run? Who was the winning pitcher the most often? It's all here! Click here to read on.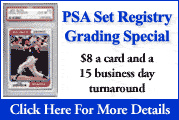 Whip's 4192 Rose Collection - The Number One Current Finest Pete Rose Basic Set
There are three other current Pete Rose basic sets that are 100%, but none has the high GPA that Whip's set has. With the exception of just two PSA 8s, the set is filled with PSA 9s and 10s. But Whip needs to watch his back as there is plenty of update activity in this category! Click here to view.
New Set Registry Grading Special! If you are collecting Vintage cards (pre-1975), you can submit your commons for $8 a card with a 15-day turnaround! There is NO MINIMUM required. Click here for details.
Lunch is on Us!
If you are a PSA Set Registrant you are invited to attend a luncheon to be held in your honor on Friday, July 25th from 1-3 p.m. at the Sheraton Hotel in conjunction with the National convention in Atlantic City. E-mail invitations were sent out June 23rd. RSVP by Wednesday, July 9th! If you did not receive your email invitation, please contact [email protected].
Visit the Set Registry News page and learn which set composites have been recently added to the Registry and other Set Registry news.
To see what new sets are soon to be added, visit the Set Request List. If your set is not listed, send us your request using the Set Request Form.
New composites recently added include:
Connie Hawkins Master Set (Updated)
Phil Jackson Basic Set
Phil Jackson Master Set
Hakeem Olajuwon Basic Set
Hakeem Olajuwon Master Set
David Robinson Master Set (Updated)
Harold Carmichael Basic Set
Harold Carmichael Master Set
Garrison Hearst Basic Set
Garrison Hearst Master Set
1961 Fleer San Diego Chargers
1933-34 Hamilton Gum (V288) Hockey
1935-36 O-Pee-Chee Series C Hockey
Bernie Parent Basic Set
Bernie Parent Master Set
Chris Pronger Master Set
1993 Cardz Tales From the Crypt Chrome
1993 Dynamic Marketing Escape of the Dinosaurs Chrome
1996 Duocards Abbott & Costello Chrome
1996 Duocards Gone with the Wind Chrome
1996 Duocards It's a Wonderful Life Chrome
1996 Duocards The Wizard of Oz Chrome
1996 Kitchen Sink Universal Monsters Bio-Chrome
2001 Upper Deck Golf Gallery
2001 Upper Deck Golf Promos
Fun, informative, and sometimes controversial, the PSA Set Registry Messageboard is the place to get involved with other collectors who are currently participating in the Set Registry program or are just beginning. Click here to chat on the Set Registry Messageboard.

The PSA Set RegistryTM is a work in progress and we invite your comments and ideas. Send your suggestions to [email protected].




Question: I have a Mike Schmidt game used bat from the late 1970s. It is a H&B model bat with his name in block letters on the barrel. There is a piece of red tape on the middle of the bat -- it's just one clean strip. What is this for? Should I remove it?

Answer: Mike Schmidt actually had a signature contract with the Adirondack bat company -- a competitor to H&B. Mike probably placed the tape on his H&B bat to make it look like an Adirondack on television and from afar. This is something that I have seen before, even with a couple of Willie Mays bats! I would not remove it because the existence of the tape actually gives the bat character and a story -- a story that may add evidence to the authenticity.




Superior Sports' National Sports Auction Is Now Online!

Superior Sports welcomes you its July 2003 Catalog and Auction, which will conclude, one lot at a time, LIVE at the National Sports Collectors Convention on the evenings of Thursday, July 24th and Friday, July 25th. This auction offers something for EVERY collector out there, and every collector is invited to participate. Bidding can be accomplished in many ways: at the Live Auction; through live bidding on EBAY Live; via telephone, mail or fax; through a phone agent; or you may bid on Superior's web site by clicking here. Online bids may be placed any time up until 24 hours before the beginning of the Live portion. With so many amazing cards and unique memorabilia items up for sale, this will be an auction event to remember!

See PSA at These Upcoming Shows!
The 24th National Sports Collectors Convention

Location:
Atlantic City Convention Center
One Ocean Way
Atlantic City, NJ 08401
July 21-27, 2003

Show Info:
For more information about the 24th National Sports Collectors Convention call 1-877-5-NATIONAL (1-877-562-8466) or visit www.natlconv.com.

For more information about PSA services, call PSA Customer Service at (800) 325-1121.

PSA will be offering on-site grading at the following prices:

$35 per card for the same or next day service
$50 per card for two hour service guaranteed

Cut-off time for same day/next day service is 12 noon on Sunday 7/25.

PSA representatives will be available to answer all questions and accept submissions for all levels of service through Sunday.

PSA/DNA autograph experts, James Spence and Steve Grad, will be available to authenticate your previously signed autographs on-site. Added bonus! Game used bat authentication will also be available.
PSA Saturday

Date: August 2, 2003

Time: 10am - 2pm

Location:
Collectors Universe
1921 E. Alton Ave.
Santa Ana, CA 92705

Show Info:
For more information on the PSA Saturday Show or PSA services, call PSA Customer Service at (800) 325-1121 or visit www.psacard.com




PSA SATURDAY SPECIAL SERVICE
NO SHIPPING COSTS!!

$10 per card - Submit your cards at PSA Saturday on August 2nd for pick-up at the West Coast Collectors Convention at Hollywood Park September 4th-7th.

You may also have your cards mailed to you. Return shipping fees will apply. Please refer to the shipping chart located on the reverse side of all PSA invoices.

Admission is free! PSA representatives are available to answer questions and accept submissions for all levels of service.

© 1999 - 2005 Collectors Universe Inc. All Rights Reserved.