Have your sports autographs authenticated by Jimmy Spence, this country's foremost sports autograph expert. Submission forms are available online at the
PSADNA web site.
Just click here.


Find out what
your cards are
really worth.
Subscribe to the
Sports Market Report and have it delivered to your door every month. Click here.


Join the PSA Collectors Club!
For continued PSA grading & benefits... Membership required by Sept. 1, 2003. Click here for more information.


PSA wants you to meet Anna Kournikova!
It's this summer's contest of contests in which three lucky winners and their guests will have the rare opportunity to meet Anna Kournikova for a photo and autograph session August 22-23, 2003 in New York City. One of the three winners will also receive a bonus prize of two tickets to the Women's Final for one of the biggest events in tennis to be held Saturday, September 6.
For every NetPro Premier Edition Trading Card you submit to PSA for grading between July 22 and August 20, 2003, you are automatically entered to win the Anna Kournikova Sweepstakes. Submit 5 cards and get 5 entries; submit 10, get 10 entries; submit 15 -- you get the idea. To submit your NetPro cards for grading in time for the drawing, visit www.psacard.com and click on submission center or call toll free 800-325-1121.
You also receive an entry for every box of 2003 NetPro Premier Edition Trading Cards you purchase prior to August 20. If you order a 10-box case, you receive 11 entries! To order call the Maven Group at 866-562-4520 or purchase online at www.MavenAuthentic.com. (All boxes ordered during this promotion period receive free shipping and insurance when you mention the Kournikova Sweepstakes.)
The Kournikova Sweepstakes is sponsored by the Maven Group L.L.C., sole distributor of the 2003 NetPro Premier Edition Tennis Trading Cards. For Maven Group's complete contest rules, click here.

Auction News: "Honus Wagner Collection" and T206 Wagner to Highlight SportsCards Plus's August 14th Auction
Highlights of the sale include one-of-a-kind Honus Wagner items, several top-ranking PSA Set Registry sets, rings, awards, press pins, game used material, and more. Click here for more details.

Autograph Analysis and Signing Habits of Hall of Fame Pitcher Jay Hanna "Dizzy" Dean
"The good Lord," Dizzy Dean once said, "gave me a strong body, a good right arm, and a weak mind." And Dizzy Dean gave America some comic relief at a time when the nation really needed it. Few ballplayers have captured the public's attention like "Diz." Autograph expert James Spence, Jr. takes a look at Dizzy's life, career, and autograph habits. Click here to read on.

Alexander Korittnig - The Number One Current Finest 1959 Fleer Three Stooges
Attention all knuckleheads! Alexander Korittnig has achieved 100% completion and is now sitting in the number one spot with a GPA of 7.90 for his wonderful Three Stooges set. This collector treats us with some great images from his set, which brings back memories (for some of us!) of our childhood. Click here to put a smile on your face. Nyuk! Nyuk!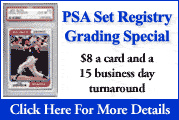 Set Registry Grading Special! If you are collecting Vintage cards (pre-1975), you can submit your commons for $8 a card with a 15-day turnaround! There is NO MINIMUM required. Click here for details.
Lunch is on Us!
We have had a great response to our invitation to join us for lunch and we are looking forward to seeing all of you who will be in Atlantic City this week for the National Sports Collectors show. As a reminder, lunch will be on Friday, July 25th from 1-3 p.m. at the Sheraton Hotel. We'll see you there!
Two Hall of Fame collections from the PSA Set Registry will be on display at the PSA booth this week at the National convention. Stop by booth #1361 and enjoy John Branca's 1951 Bowman baseball set and Joe & Wes Verno's 1955 Topps All American football set.
Visit the Set Registry News page and learn which set composites have been recently added to the Registry and other Set Registry news.
To see what new sets are soon to be added, visit the Set Request List. If your set is not listed, send us your request using the Set Request Form.
New composites recently added include:
Eddie Mathews Master Set
Hall of Fame Complete Baseball Set
1948 Bowman New York Yankees
1951 Bowman New York Yankees
1952 Bowman New York Yankees
1954 Topps New York Yankees
1956 Topps Baseball Master Set
1957 Topps Kansas City Athletics
Magic Johnson Basic Set
Michael Jordan Basic Set
Michael Jordan Master Set (Updated)
1979 Saints Coke Football
Drew Brees Basic Set
Drew Brees Master Set
John Riggins Basic Set
John Riggins Master Set
1963 York Peanut Butter White Back Hockey
1978 Battlestar Galactica
2001 Upper Deck Golf National Heroes
Tiger Woods Basic Set
Tiger Woods Master Set
Fun, informative, and sometimes controversial, the PSA Set Registry Messageboard is the place to get involved with other collectors who are currently participating in the Set Registry program or are just beginning. Click here to chat on the Set Registry Messageboard.

The PSA Set RegistryTM is a work in progress and we invite your comments and ideas. Send your suggestions to [email protected].




Question: I heard about your ticket grading service recently and I had this question: Can a submitter request authentication only instead of having it graded?

Answer: Yes. PSA is going to give the submitter the option of having the ticket graded and holdered or just authenticated and holdered. The reasoning behind this option is that many vintage ticket stubs, due to the way they were torn at the gate, are technically 1's and 2's -- even tough they present much better than that. After polling collectors and dealers, most people seemed to think having "Authentic" placed on the holder instead of a very low grade may be the better option -- the more appealing option. This way, the person who submits the ticket can choose. This way, the ticket is still authenticated and protected in the holder. It must be clearly marked on the submission form. Keep in mind that there will be no difference in price.




Superior Sports' National Sports Auction Is Now Online!

Superior Sports welcomes you its July 2003 Catalog and Auction, which will conclude, one lot at a time, LIVE at the National Sports Collectors Convention on the evenings of Thursday, July 24th and Friday, July 25th. This auction offers something for EVERY collector out there, and every collector is invited to participate. Bidding can be accomplished in many ways: at the Live Auction; through live bidding on EBAY Live; via telephone, mail or fax; through a phone agent; or you may bid on Superior's web site by clicking here. Online bids may be placed any time up until 24 hours before the beginning of the Live portion. With so many amazing cards and unique memorabilia items up for sale, this will be an auction event to remember!

See PSA at These Upcoming Shows!
The 24th National Sports Collectors Convention

Location:
Atlantic City Convention Center
One Ocean Way
Atlantic City, NJ 08401
July 21-27, 2003

Show Info:
For more information about the 24th National Sports Collectors Convention call 1-877-5-NATIONAL (1-877-562-8466) or visit www.natlconv.com.

For more information about PSA services, call PSA Customer Service at (800) 325-1121.

PSA will be offering on-site grading at the following prices:

$35 per card for the same or next day service
$50 per card for two hour service guaranteed

Cut-off time for same day/next day service is 12 noon on Sunday 7/25.

PSA representatives will be available to answer all questions and accept submissions for all levels of service through Sunday.

PSA/DNA autograph experts, James Spence and Steve Grad, will be available to authenticate your previously signed autographs on-site. Added bonus! Game used bat authentication will also be available.
PSA Saturday

Date: August 2, 2003

Time: 10am - 2pm

Location:
Collectors Universe
1921 E. Alton Ave.
Santa Ana, CA 92705

Show Info:
For more information on the PSA Saturday Show or PSA services, call PSA Customer Service at (800) 325-1121 or visit www.psacard.com




PSA SATURDAY SPECIAL SERVICE
NO SHIPPING COSTS!!

$10 per card - Submit your cards at PSA Saturday on August 2nd for pick-up at the West Coast Collectors Convention at Hollywood Park September 4th-7th.

You may also have your cards mailed to you. Return shipping fees will apply. Please refer to the shipping chart located on the reverse side of all PSA invoices.

Admission is free! PSA representatives are available to answer questions and accept submissions for all levels of service.

© 1999 - 2005 Collectors Universe Inc. All Rights Reserved.