Have your sports autographs authenticated by Jimmy Spence, this country's foremost sports autograph expert. Submission forms are available online at the
PSADNA web site.
Just click here.


Find out what
your cards are
really worth.
Subscribe to the
Sports Market Report and have it delivered to your door every month. Click here.


The Cycle Continues
In virtually every collectible field, a cycle exists. There are cycles based in values, cycles on collector focus, cycles on sports and cycles on eras. PSA President Joe Orlando examines some current cyclical trends in the sportscard collecting hobby. Click here to read more.

Back in the Majors? For Rickey Henderson, it's Just a Matter of Time
Rickey Henderson played in four different decades. His major league records include the most stolen bases and the most runs scored in a career. He started out with Oakland in 1979, then played for the Yankees and many other teams. Over 3,000 games played, over 3,000 hits! Click here to read more.

The Passion and Prudence of Charlie Merkel
Charlie Merkel is truly a big leaguer in the sportscard collecting world. His Set Registry Award-winning '52 Topps set is already a legend and he owns THE 1915 Cracker Jack set. Merkel knows the value and investment potential of his sets, but his passion for collecting stems from a true love for sportscards -- one he's had since childhood. He still owns the cards he collected as a kid! Click here to read on.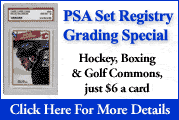 The Chow/Fair Collection - The Number One Current Finest 1980-81 Topps Basketball Set
The Chow/Fair Collection was the PSA Set Registry award winner for 2002. This year the collection is still in the number one spot with a field of seven other competitors. There are 176 cards in this set and Chow/Fair lists every one of them in high grade. The next closest set is less than 50% complete. Our guess is that Chow/Fair will remain #1 for the 2003 awards! Click here to view.
Set Registry Grading Special! If you are collecting Hockey, Boxing or Golf cards you can submit your commons for $6 a card! There is NO MINIMUM required. Your submissions must be postmarked by June 30, 2003. Click here for details.
If you are a PSA Set Registrant you are invited to attend a luncheon to be held in your honor on Friday, July 25th from 1-3 p.m. at the Sheraton Hotel in conjunction with the National convention in Atlantic City. E-mail reservations will be sent out prior to the event. Make sure your e-mail account is up-to-date!
Visit the Set Registry News page and learn which set composites have been recently added to the Registry and other Set Registry news.
To see what new sets are soon to be added, visit the Set Request List. If your set is not listed, send us your request using the Set Request Form.
New composites recently added include:
Shaquille O'Neal Basic Set
Shaquille O'Neal Master Set
David Robinson Basic Set
2001 Playoff Contenders Football
Emmitt Smith Basic Set
Emmitt Smith Master Set
1950 Bowman New York Giants
1950 Bowman Philadelphia Eagles
1956 Topps Green Bay Packers
1957 Topps Green Bay Packers
1968-69 Topps Hockey
1974-75 O-Pee-Chee WHA Hockey
1975-76 O-Pee-Chee WHA Hockey
1975-76 O-Pee-Chee NHL - Basic Hockey
1975-76 O-Pee-Chee NHL - Master Hockey
1888 Allen & Ginter Pirates of the Spanish Main (N19)
Fun, informative, and sometimes controversial, the PSA Set Registry Messageboard is the place to get involved with other collectors who are currently participating in the Set Registry program or are just beginning. Click here to chat on the Set Registry Messageboard.

The PSA Set RegistryTM is a work in progress and we invite your comments and ideas. Send your suggestions to [email protected].
Question: I have a Babe Ruth baseball signed with a notation from 1948. Does the notation add value or take away from the value?
Answer: Great question. Some notations may indeed add value in situations where the notation either dates the ball or if the inscription is meaningful (maybe it was made out to a famous person). The danger here is that, during the later part of Ruth's life, his secretary signed a lot of items on his behalf. As the most popular player, if not person, in the U.S., Ruth received tons of autograph requests. These secretarial versions appear on the market all the time so beware. You often see this "innocent" forgery on photo postcards, photos and baseballs near the end of his life. Ruth did sign items all the way up until his death and the signature retains the basic overall look from his earlier signature -- the secretarial version has different characteristics but is still difficult to differentiate if you are not an expert or advanced collector.
See PSA at These Upcoming Shows!
SportsFest

Location:
Donald E. Stephens Convention Center
5555 N. River Road
Rosemont, IL 60018
June 26-29, 2003

Show Info:
For more information on the SportsFest Show, call 715-445-2214 or click here.

For more information about PSA services, call PSA Customer Service at (800) 325-1121.

FIRST TIME EVER! - NEW! SHOW SERVICE SPECIAL $25

Submit your cards at SportsFest Thursday, June 26, by 5:00 p.m. for pick-up on Saturday, June 28.

PRE-SHOW SERVICES - NO SHIPPING COSTS!!

$20/2 day - Submit your cards to PSA by June 23 for Pick-up at SportsFest.
$15/5 day - Submit your cards to PSA by June 19 for Pick-up at SportsFest.
$10/10 day - Submit your cards to PSA by June 12 for Pick-up at SportsFest.

Make sure to mark your submission form and the outside of your package "SportsFest Special"

Bonus! Autograph Experts James Spence and Steve Grad will be on-site to offer authentication for previously signed memorabilia.
The 24th National Sports Collectors Convention

Location:
Atlantic City Convention Center
One Ocean Way
Atlantic City, NJ 08401
July 21-27, 2003

Show Info:
For more information about the 24th National Sports Collectors Convention call 1-877-5-NATIONAL (1-877-562-8466) or visit www.natlconv.com.

For more information about PSA services, call PSA Customer Service at (800) 325-1121.

PSA will be offering on-site grading at the following prices:

$35 per card for the same or next day service
$50 per card for two hour service guaranteed

PSA representatives will be available to answer all questions and accept submissions for all levels of service through Sunday.

PSA/DNA autograph experts, James Spence and Steve Grad, will be available to authenticate your previously signed autographs on-site. Added bonus! Game used bat authentication will also be available.

© 1999 - 2005 Collectors Universe Inc. All Rights Reserved.