Have your sports autographs authenticated by Jimmy Spence, this country's foremost sports autograph expert. Submission forms are available online at the
PSADNA web site.
Just click here.


Find out what
your cards are
really worth.
Subscribe to the
Sports Market Report and have it delivered to your door every month. Click here.


One Set, One Man: A Tribute to Teddy Ballgame
There's no question that Ted Williams was one of the greatest players in baseball history. And there's no question that the 1959 Fleer set is one of the greatest vintage issues featuring Williams, especially in terms of availability and affordability. This set, produced during Teddy's playing days, features many interesting and exciting cards, most of which can be found in high-grade at affordable prices. Click here to read more about it.

Rafael Palmeiro Joins the 500 Home Run Club
Palmeiro becomes the 19th player in history to reach the 500 home run mark. He made his major league debut with the Chicago Cubs in 1986. Palmeiro has hit 40+ homers in four of the past five seasons. The other 18 members of the club include Aaron, the Babe, Willie Mays, and... read the story! Click here to read on.

Sandy Koufax - Baseball's Enigmatic Participant
Sandy Koufax came out of nowhere. A basketball player who strongarmed his way into baseball, he had six respectable seasons before suddenly exploding, setting new strikeout and no-hitter records before quietly exiting the game comparatively early in his career. He was a gracious but unwilling celebrity, friendly to the fans and the press but always preferring to listen to Mendelsshon in the privacy of his hotel room. Koufax the legend is familiar to all baseball fans, but Koufax the man is harder to know. Click here to read more.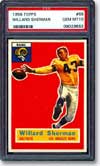 Greenhornet Collection #1 - The Number One Current Finest 1956 Topps Football
Last year we highlighted the SW collection of 1956 Topps football. Since then, SW retired his set and now another collector has taken the spotlight. Sprinkled with PSA 8s, 9s and 10s, nearly every card in this high-grade set has an image for all to enjoy. Click here to view!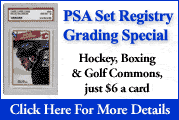 New Set Registry Grading Special! If you are collecting Hockey, Boxing or Golf cards you can submit your commons for $6 a card! There is NO MINIMUM required. Click here for details.
Visit the Set Registry News page and learn which set composites have been recently added to the Registry and other Set Registry news.
To see what new sets are soon to be added, visit the Set Request List. If your set is not listed, send us your request using the Set Request Form.
New composites recently added include:
1956 Topps New York Yankees
1980 Topps Pittsburgh Pirates
1989 Converse Basketball
2002-03 SPx Spectrum Basketball
2002-03 Topps Chrome Basketball
2000 Collector's Edge Supreme Update Football
1959 Topps Green Bay Packers
1972-73 O-Pee-Chee Hockey Basic Set
1972-73 O-Pee-Chee Hockey Master Set
1935 Gallaher Ltd. Film Partners
1961 Topps Sports Cars
1964 Donruss Voyage to the Bottom of the Sea
Fun, informative, and sometimes controversial, the PSA Set Registry Messageboard is the place to get involved with other collectors who are currently participating in the Set Registry program or are just beginning. Click here to chat on the Set Registry Messageboard.

The PSA Set RegistryTM is a work in progress and we invite your comments and ideas. Send your suggestions to [email protected].
Question: I noticed that the 1933 Goudey Babe Ruth #144 is a double print (DP) yet the value of that card in higher grades is about the same or more than the #181 Ruth. How can that be?
Answer: Very good question. While there is no doubt that the #144 was double printed, the card is actually considered tougher to find in nice shape than is the #181 Ruth. It may be more plentiful overall but it is more challenging in high-grade. There are a couple of main reasons for that including the fact that the #144 has problems with focus quality and the fact that, apparently, there was a small find of nice #181 Ruth cards in the past. There's not a huge difference but you might notice that PSA has graded more Mint 9 specimens on the #181 cards than the #144 Ruth, which is pretty solid evidence.
See PSA at These Upcoming Shows!
The West Coast Sports Memorabilia & Collectibles Convention
3883 W. Century Blvd.
Inglewood, Ca. 90303
May 30 - June 2, 2003
Long Beach Coin and Collectibles Expo
100 S. Pine Ave
Long Beach, CA
May 28 - June 1, 2003
SportsFest
Donald E. Stephens Convention Center
5555 N. River Road
Rosemont, IL 60018
June 27-29, 2003
PSA will be accepting cards for all PSA grading levels at the shows. Cards submitted will be graded at PSA and returned via mail.
Special $10/10 Day Show Service: $10 per card for 10 business day turnaround.
For more information on the West Coast Sports Card Collectors Convention, call 909-592-1357 or go to www.halloffamesports.com.
For more information on the Long Beach Coin and Collectibles Expo, call 562-436-3636 or go to www.longbeachshow.com.
For more information on the SportsFest Show, call 715-445-2214 or click here.
Bonus! Autograph Experts James Spence and Steve Grad will be on-site to offer authentication at the West Coast Sports Memorabilia & Collectibles Convention and SportsFest for previously signed memorabilia.
For more information about PSA services, call PSA Customer Service at (800) 325-1121.

© 1999 - 2005 Collectors Universe Inc. All Rights Reserved.