Have your sports autographs authenticated by Jimmy Spence, this country's foremost sports autograph expert. Submission forms are available online at the
PSADNA web site.
Just click here.


Find out what
your cards are
really worth.
Subscribe to the
Sports Market Report and have it delivered to your door every month. Click here.


Auction Action
It's a strong sportscard market as recent auction prices show. High quality memorabilia such as the Amon Carter collection of tickets and press pins pushes Superior auction bidding over $860,000. Bidders are ''optimistic and confident'' and set builders are going after the obscure issues. More sales from Superior Sports and Andy Madec Auctions are on the way. Click here to read more.

Here Comes Roger! The 300-Win Club is Only a Few Games Away
Roger Clemens will become the 21st member of the 300-win club. The man with the most wins is Cy Young, but what two greats are tied for third? Warren Spahn is the all-time winning lefty with 363 career wins. What pitcher won 30 or more games seven times? Nolan Ryan and Don Sutton are tied with 324 wins. Click here to read more.

The Emotions and Magnificence of the John Branca Collection
John Branca is an internationally known entertainment attorney, and the nephew of All-Star Dodger pitcher Ralph Branca. He also owns one of the most impressive, high-grade PSA card collections in existence. Baseball has always had a special meaning for John, and his emotions regarding the game and its cards reverberate with those of serious collectors everywhere. Click here to read more.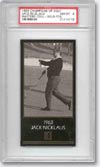 1998 GSV Gold - The Number One Current Finest 1998 Champions of Golf Masters - Gold Foil
Whenever possible we like to spotlight sets that contain images. Images greatly enhance the pleasure of viewing the set and really give the set that extra edge! The 1998 GSV Gold set is an excellent example. This collector, who won a "Best of the Registry" certificate in last year's Set Registry Awards, has loaded high quality images for every one of his cards. Click here to view and enjoy!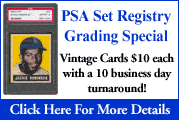 Tomorrow is the last day for the pre-1972 Vintage cards Grading Special! It's only $10 a card and you receive your grades within 10 business days! Normally, this is a $15 per card service. There is no minimum required. But you must hurry! Your packages must be postmarked no later than tomorrow, April 30, 2003. Click here for details.

Visit the Set Registry News page and learn which set composites have been recently added to the Registry and other Set Registry news.

To see what new sets are soon to be added, visit the Set Request List. If your set is not listed, send us your request using the Set Request Form.

New composites recently added include:
Ozzie Smith Master Set
1960 Topps San Francisco Giants
Kareem Abdul-Jabbar Basic Set
Kareem Abdul-Jabbar Master Set
1971 Topps Game Inserts Football
1967 Philadelphia New Orleans Saints
1970 Topps New Orleans Saints
1971 Topps New Orleans Saints
1972 Topps New Orleans Saints
1973 Topps New Orleans Saints
1974 Topps New Orleans Saints
1975 Topps New Orleans Saints
1936-37 O-Pee-Chee Series D Hockey
1963 Topps Astronauts
1963 Topps Valentine Foldees
Fun, informative, and sometimes controversial, the PSA Set Registry Messageboard is the place to get involved with other collectors who are currently participating in the Set Registry program or are just beginning. Click here to chat on the Set Registry Messageboard.

The PSA Set RegistryTM is a work in progress and we invite your comments and ideas. Send your suggestions to [email protected].
Question: What is a clubhouse signature?
Answer: Good question. Many times, a person in the clubhouse of a major league team (whether it be an attendant or a batboy) would sign on behalf of athletes. It was due to a number of factors -- perhaps it was a time problem, the athlete did not want to sign, or the athlete was not available at the time. While the autographs are certainly not genuine, they do have some sentimental and some marginal value due to the fact that the autographs or forgeries were not signed for profit and they are actually from the era.
April Collectors Club Grading Special
(Special for Gold & Platinum Members)
Express Service for only $10 per card.
5 Business Days - Guaranteed*
Hurry! All orders must be postmarked between 04/01/03 - 04/31/03.
Submit any card through the Express service for only $10 per card during the month of April. Turnaround time is five business days -- GUARANTEED*. This offer is open to all Gold or Platinum Collectors Club members only.
To download a submission form, click here.
To join the PSA Collectors Club, click here.
Your order must be postmarked between April 1st and April 30th 2003.
Please mark the outside of your package APRIL CC SPECIAL
Unmarked packages may not qualify for guaranteed service.
Offer expires April 30, 2003.
* PSA's turnaround guarantee assures you that PSA will have grades available
in the number of business days specified.

See PSA at These Upcoming Shows!
83rd Philadelphia Sports Card Show
Ft. Washington Expo Center
1100 Virginia Drive
Ft. Washington, PA 19034
May 2 - 4, 2003
Long Beach Coin and Collectibles Expo
100 S. Pine Ave
Long Beach, CA
May 28 - June 1
SportsFest
Donald E. Stephens Convention Center
5555 N. River Road
Rosemont, IL 60018
June 27-29, 2003
83rd Philadelphia Sports Card Show and SportsFest Shows: PSA will be accepting cards for all PSA grading levels at the shows. Cards submitted will be graded at PSA and returned via mail.



Special $10/10 Day Show Service: $10 per card for 10 business day turnaround.
For more information on the 83rd Philadelphia Sports Card Show, call 215-643-0910 or go to www.phillyshow.org.
For more information on the Long Beach Coin and Collectibles Expo, call 562-436-3636 or go to www.longbeachshow.com.
For more information on the SportsFest Show, call 715-445-2214 or click here.
Bonus! Autograph Experts James Spence and Steve Grad will be on-site to offer authentication at the 83rd Philadelphia Sports Card Show & SportsFest for previously signed memorabilia.
For more information about PSA services, call PSA Customer Service at (800) 325-1121.

© 1999 - 2005 Collectors Universe Inc. All Rights Reserved.