Have your sports autographs authenticated by Jimmy Spence, this country's foremost sports autograph expert. Submission forms are available online at the
PSADNA web site.
Just click here.


Find out what
your cards are
really worth.
Subscribe to the
Sports Market Report and have it delivered to your door every month. Click here.


Autograph Analysis and Signing Habits of Hall of Fame Outfielder Lewis Robert "Hack" Wilson
"Hack" Wilson was a baseball great. In 1930 he set a home run record that stood for 68 years and an RBI record that may never fall. Sadly, alcohol abuse cut his career short. He was an obliging signer, but difficult to locate after his retirement, and his autograph is much sought after today. In this article, autograph expert James Spence, Jr. explores the life and signing habits of this Hall of Famer. Click here to read it.

Topps Baseball in the 1970s (Part II): 1975-1979 Sportscards and More
Topps releases the ultra-popular 1975 Mini-set. Rookie cards included Gary Carter, Jim Rice and other stars. Topps Traded cards return in 1976. Dale Murphy rookie card has him as a catcher. Ozzie Smith rookie card is 1979, plus other rookies appear on "Prospects" cards. Click here to read more.

Integrity - Does Anyone Care?
If the sports collectibles industry lacks integrity -- or if people believe that it does -- it's damaging to the hobby. Unfortunately, there are still some "bad guys" out there doing some questionable things, and the entire hobby suffers for it. PSA President Joe Orlando is frustrated that a perceived lack of integrity may be holding back the entire hobby. Click here to read more.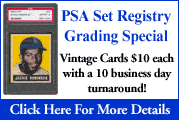 StarRJM1 - The Number One Current Finest 1954-55 Topps Hockey Set
This collector has completed a high grade set with a GPA of 7.95, but is looking to upgrade to all PSA 8s and 9s. With the exception of one card, all the key cards in the set are already 8s! Great job. Click here to view this number one set.
Grading Special! Are you collecting Vintage cards? If so, submit your pre-1972 Vintage cards for $10 a card and receive your grades within 10 business days! Normally, this is a $15 per card service. There is no minimum required. This special expires April 30th. Click here for details.
Player Set Compositions. If you've requested a player set, you've probably been waiting for a long time for that set to go online. There are a number of factors that contribute to the delay, but YOU can help speed up the process. We are looking for volunteers to weight the master sets and identify the basic sets for us. Once this is done and the sets are approved, the player sets can be immediately loaded. If you are interested in volunteering your services, please e-mail [email protected] with the name of the player set on which you would like to work. You will be sent the master set in Excel format. Any help will be greatly appreciated!
Please Note: We are in the process of reviewing Basic Player sets now for inconsistencies and will be making edits to these sets in the coming weeks. Your patience is appreciated and we go through this process.
Visit the Set Registry News page and learn which set composites have been recently added to the Registry and other Set Registry news.
To see what new sets are soon to be added, visit the Set Request List. If your set is not listed, send us your request using the Set Request Form.
New composites recently added include:
1974 Topps California Angels
1977 Topps Boston Red Sox
1978 Topps Boston Red Sox
1979 Topps Boston Red Sox
1980 Topps Boston Red Sox
1980 Topps New York Yankees
1981 Topps Philadelphia Phillies
1981 Topps Boston Red Sox
1981-82 Topps Boston Celtics
1986-87 Fleer Boston Celtics
Louie Dampier Basic Set
Louie Dampier Master Set
Walt Frazier Basic Set
Walt Frazier Master Set
2001 Upper Deck Vintage Threads Autographs Football
1951 Topps Magic Football
1990 Notre Dame 200 Football
Roger Staubach Basic Set (Updated)
1950s Football Team of the Decade
1979 Topps New England Patriots
1923-24 William Patterson (V145-1) Hockey
1937-38 O-Pee-Chee E Series Hockey
1970-71 Topps Hockey
2001 Upper Deck Golf Tour Threads
Fun, informative, and sometimes controversial, the PSA Set Registry Messageboard is the place to get involved with other collectors who are currently participating in the Set Registry program or are just beginning. Click here to chat on the Set Registry Messageboard.

The PSA Set RegistryTM is a work in progress and we invite your comments and ideas. Send your suggestions to [email protected].
Question: I know that in card collecting, restoration is considered to be a problem. Are repairs to game-used bats or jerseys a problem too?
Answer: Good question. The most telling factor behind what makes a card valuable is original condition. Rarity, popularity, etc. all come into play but condition is what drives value in cards. How some cards survive in such great shape is incredible. When it comes to game-used equipment, authenticity and player characteristics are most important. In other words, if you repair a crack in a bat simply for aesthetic reasons, it does not change the fact that the bat in question is real or not real -- that's where most of the value comes from -- authenticity. So, in the end, restoration to game-used equipment is not considered a problem. There are those who prefer bats or jerseys without repairs but, in the overall market, repairs are not necessarily a bad thing.
April Collectors Club Grading Special
(Special for Gold & Platinum Members)
Express Service for only $10 per card.
5 Business Days - Guaranteed*
Hurry! All orders must be postmarked between 04/01/03 - 04/31/03.
Submit any card through the Express service for only $10 per card during the month of April. Turnaround time is five business days -- GUARANTEED*. This offer is open to all Gold or Platinum Collectors Club members only.
To download a submission form, click here.
To join the PSA Collectors Club, click here.
Your order must be postmarked between April 1st and April 30th 2003.
Please mark the outside of your package APRIL CC SPECIAL
Unmarked packages may not qualify for guaranteed service.
Offer expires April 30, 2003.
* PSA's turnaround guarantee assures you that PSA will have grades available
in the number of business days specified.

See PSA at These Upcoming Shows!
Outfield Sports Cards Show
VFW Hall
27345 School Craft Road
Redford, Mi 48239
April 13, 2003
83rd Philadelphia Sports Card Show
Ft. Washington Expo Center
1100 Virginia Drive
Ft. Washington, PA 19034
May 2 - 4, 2003
SportsFest Donald E. Stephens Convention Center
5555 N. River Road
Rosemont, IL 60018
June 27-29, 2003
83rd Philadelphia Sports Card Show and SportsFest Shows: PSA will be accepting cards for all PSA grading levels at the shows. Cards submitted will be graded at PSA and returned via mail.



Special $10/10 Day Show Service: $10 per card for 10 business day turnaround.
For more information on the Outfield Sports Card Show, call 888-258-5811.
For more information on the SportsFest Show, call 715-445-2214 or click here.
For more information on the 83rd Philadelphia Sports Card Show, call 215-643-0910 or go to www.phillyshow.org.
Bonus! Autograph Experts, James Spence and Steve Grad will be on-site to offer authentication at the 83rd Philadelphia Sports Card Show & SportsFest for previously signed memorabilia.
For more information about PSA services, call PSA Customer Service at (800) 325-1121.

© 1999 - 2005 Collectors Universe Inc. All Rights Reserved.