Have your sports autographs authenticated by Jimmy Spence, this country's foremost sports autograph expert. Submission forms are available online at the
PSADNA web site.
Just click here.


Find out what
your cards are
really worth.
Subscribe to the
Sports Market Report and have it delivered to your door every month. Click here.


Rare Cards and Unique Memorabilia Shine in Latest SportsCards Plus Auction
Important rarities, complete sets and unique memorabilia items bring over $870,000 in SportsCards Plus's latest auction. One-of-a-kind Folk Art bench made from baseball memorabilia sells for $38,073. Complete 1888 WGI Baseball Set earns $36,694. Strong prices indicate that the market is generally in good health. Click here to read all about it.

Topps Baseball in the 1970s: Sportscards and Much More (Part One)
The 1970 set was the largest in history at the time. Do you have your Topps Story Booklet? Who shares the rookie card of Carlton Fisk? The 1953 Reprints include Al Rosen with a picture of...? I want my Topps Deckle Edge! Click here to read more.

Don't Hate the Player
Player Sets are an increasingly popular segment within the PSA Set Registry. After all, what could be better for a fan of a particular player than to collect all the cards featuring that player? The PSA Set Registry offers two options for player set collectors. The Basic Sets features the most popular and well-known cards, and the Master Sets contain EVERY card issued for a player, no matter how rare or obscure. Click here to read more about player set collecting.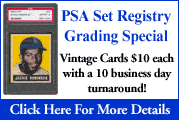 Ruby - The Number One Current Finest 1961-62 Fleer Basketball Set
Coming out of the blue just two months ago, this set has landed in the #1 spot ahead of last year's 2002 Set Registry award winner. There are 19 active participants in the 1961-62 Fleer basketball set with four sets sitting at 100% complete. Ruby's set, with a GPA of 9.00 and every card grading PSA Mint 9, will be hard to beat. Click here to view this first place set.
Grading Special! Are you collecting Vintage cards? If so, submit your pre-1972 Vintage cards for $10 a card and receive your grades within 10 business days! Normally, this is a $15 per card service. There is no minimum required. This special expires April 30th. Click here for details.
Player Set Compositions. If you've requested a player set, you've probably been waiting for a long time for that set to go online. There are a number of factors that contribute to the delay, but YOU can help speed up the process. We are looking for volunteers to weight the master sets and identify the basic sets for us. Once this is done and the sets are approved, the player sets can be immediately loaded. If you are interested in volunteering your services, please email [email protected] with the name of the player set on which you would like to work. You will be sent the master set in Excel format. Any help will be greatly appreciated!
Please Note: We are in the process of reviewing Basic Player sets now for inconsistencies and will be making edits to these sets in the coming weeks. Your patience is appreciated and we go through this process.
Visit the Set Registry News page and learn which set composites have been recently added to the Registry and other Set Registry news.
To see what new sets are soon to be added, visit the Set Request List. If your set is not listed, send us your request using the Set Request Form.
New composites recently added include:
Hall of Fame Rookies Basketball
Julius Erving Basic Set (Updated)
Pete Maravich Basic Set
Pete Maravich Master Set (Updated)
1970 Topps Super Football
1984 Topps Glossy Send-In Football
OJ Simpson Basic Set (Updated)
1951 Bowman Philadelphia Eagles
1954 Bowman Green Bay Packers
1960s Football Team of the Decade
1964 Philadelphia Green Bay Packers
1970s Football Team of the Decade
1980s Football Team of the Decade
1990s Football Team of the Decade
Heisman Trophy Rookie Set
1936 World-Wide Gum Hockey
1969-70 O-Pee-Chee 4 in 1 Hockey
Wayne Gretzky Basic Set (Updated)
Steve Yzerman Basic Set (Updated)
1936 G-Men and Heroes of the Law
1968 Topps Land of the Giants
Fun, informative, and sometimes controversial, the PSA Set Registry Messageboard is the place to get involved with other collectors who are currently participating in the Set Registry program or are just beginning. Click here to chat on the Set Registry Messageboard.

The PSA Set RegistryTM is a work in progress and we invite your comments and ideas. Send your suggestions to [email protected].
Question: Does Roger Maris have any chance a making it into the Hall of Fame and, if he does, will it make his collectibles go up in value?
Answer: Roger Maris will, most likely, never be admitted into the Hall of Fame. His excellence as a player was just too brief and his career totals are just not on par with other Hall of Famers. That's the bad news. The good news is that it is almost irrelevant from a collectibles standpoint. Maris is treated like a Hall of Famer anyway, he was a Yankee, paired with Mantle and his 1961 season will always be remembered as a special one. Perception is more important than reality sometimes. Maris is perceived to be a legend (like a Hall of Famer) so, in turn, his collectibles are treated as such. Maris doesn't need the Hall for confirmation of his popularity and neither do Rose or Shoeless Joe -- they are all treated like legends and that's all that matters in the end when it comes to values.
PSA Announces New and Expanded Services
To improve the services we offer you, PSA has made a few changes to our submission policy.
Please click here for all the details.

See PSA at These Upcoming Shows!
Outfield Sports Cards Show
VFW Hall
27345 School Craft Road
Redford, Mi 48239
April 13, 2003
83rd Philadelphia Sports Card Show
Ft. Washington Expo Center
1100 Virginia Drive
Ft. Washington, PA 19034
May 2 - 4, 2003
SportsFest Donald E. Stephens Convention Center
5555 N. River Road
Rosemont, IL 60018
June 27-29, 2003
83rd Philadelphia Sports Card Show and SportsFest Shows: PSA will be accepting cards for all PSA grading levels at the shows. Cards submitted will be graded at PSA and returned via mail.



Special $10/10 Day Show Service: $10 per card for 10 business day turnaround.
For more information on the Outfield Sports Card Show, call 888-258-5811.
For more information on the SportsFest Show, call 715-445-2214 or click here.
For more information on the 83rd Philadelphia Sports Card Show, call 215-643-0910 or go to www.phillyshow.org.
Bonus! Autograph Experts, James Spence and Steve Grad will be on-site to offer authentication at the 83rd Philadelphia Sports Card Show & SportsFest for previously signed memorabilia.
For more information about PSA services, call PSA Customer Service at (800) 325-1121.

Superior Sports Presents
THE SPRING 2003 CARD AND MEMORABILIA AUCTION
Here is a partial listing of material in this auction:

The Amon Carter collection of vintage memorabilia
Spectacular 1927 dated Babe Ruth Autographed ball
World Series tickets & ticket stubs
Season ticket passes, 1900-1950
Press Passes
Texas League memorabilia

Boxing Memorabilia
College Football tickets, ticket stubs & season passes
Kentucky Derby tickets & ticket stubs, 1930s-1950s
Also includes hundreds of PSA graded cards in all grades
And much, much more!
AUCTION CLOSING DATE: Thursday, March 27, 2003

The Spring 2003 Card and Memorabilia Auction is now online! Click here to browse through the 1000-plus lots in this sale and to place your bids!

© 1999 - 2005 Collectors Universe Inc. All Rights Reserved.