Have your sports autographs authenticated by Jimmy Spence, this country's foremost sports autograph expert. Submission forms are available online at the
PSADNA web site.
Just click here.


Find out what
your cards are
really worth.
Subscribe to the
Sports Market Report and have it delivered to your door every month. Click here.


Grey Flannel Tops $2 Million in Fall Classic 2003 Auction
Vintage memorabilia from baseball, basketball, college football and hockey earned heavy bidding at Grey Flannel's recently completed auction. Game-used items, flannel shirts, and Americana rounded out the sale. Click here for more details.
Estate Fresh Items from Cousy, Lazzeri and Wagner Soar in SportsCards Plus's Record Setting November Auction
Bob Cousy's collection of personal memorabilia accounted for nearly a third of the auction's total $1.4 million gross. High-grade Yankees team balls from the '30s, and selections from the estates of Tony Lazzeri and Honus Wagner also brought big prices at the sale. Click here to read all about it.

Purple Pride
In 1960, the Nordic invasion began. The Minnesota Vikings were created then, and over 40 years of solid football and heartbreaking near-victories have followed. David Laurell takes us on a guided tour of Vikings history and looks at some of the key cards for Minnesota fans.
Click here to read on.

Ten Terrific Trivia Teasers!
We think about baseball 365 days a year, so why not a little hot-stove trivia? Who is third in lifetime batting average? Who is third in career RBI? Who is second in stolen bases in a career? When you think slugging percentage you think the Babe, then Teddy Ballgame, then...? First two times up he hit it out! Who was he? Click here to test your knowledge!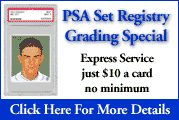 tigertownsports cards - The Number One Current Finest 1957-58 Parkhurst Hockey Set
Last year, it was teemu's set that received the "Best of the Registry" award. This year tigertownsports cards achieved the number one spot with nearly all the cards graded PSA 8. Many of the cards in this set are "Pop-Tops" (the finest graded). This puts this collector's set .64 percentage points above the number two set. Good work! Click here to view.
Set Registry Special! Star cards or cross-overs can be submitted for just $10 a card/no minimum. Turnaround time is five business days -- GUARANTEED. Click here for details.
Visit the Set Registry News page and learn which set composites have been recently added to the Registry and other Set Registry news.
To see what new sets are soon to be added, visit the Set Request List. If your set is not listed, send us your request using the Set Request Form. Note: Due to an increase in requests, current load time is approximately 30 days. Thanks in advance for your patience.
2001 Upper Deck Decade 1970s Bellbottomed Bashers Baseball
2001 Upper Deck Decade 1970s Decade Dynasties Baseball
2001 Upper Deck Decade 1970s Disco Era Dandies Baseball
2001 Upper Deck Decade 1970s Super Powers Baseball
2001 Upper Deck Hall of Famers Cooperstown Collection Game Bat Baseball
2002 Donruss Elite Baseball
2002 Playoff Absolute Memorabilia Baseball
2002 SP Legendary Cuts Baseball
2002 SP Legendary Cuts Autographs Baseball
2002 SP Legendary Cuts Game Bat Baseball
2002 SP Legendary Cuts Game Jersey Baseball
2002 SP Legendary Cuts Game Swatches Baseball
2002 SPx Baseball
2002 Topps 206 Autographs Baseball
John Hadl Basic Set
John Hadl Master Set
Pee Wee Reese Basic Set
Pee Wee Reese Master Set
Nate Archibald Basic Set
Nate Archibald Master Set
Fun, informative, and sometimes controversial, the
PSA Set Registry Messageboard
is the place to get involved with other collectors who are currently participating in the Set Registry program or are just beginning.
Click here
to chat on the Set Registry Messageboard.
The PSA Set RegistryTM is a work in progress and we invite your comments and ideas. Send your suggestions to [email protected].
Question: How tough are Turkey Red Cabinet cards (T3)?
Answer: The T3 issue is extremely difficult for a variety of reasons. Number one, due to their enormous size, they were very easily damaged. And secondly, because the T3s make for great display pieces, many people would pin them up for display causing hole damage to the cards. Due to this practice you have to be very wary of restoration. The vast majority of T3s are found in no better than mid grades. In fact, T3s that are found in PSA 5s or 6s would be considered high grades for this issue.
Team up with PSA for your chance to win TWO tickets to Super Bowl XXXVIII!
Every football card you submit at the Economy service or higher between December 1, 2003 through January 9th, 2004 is your chance to win.

Submit one card in Economy and receive 1 Entry.
Submit one card in Regular and receive 2 Entries.
Submit one card in Express and receive 3 Entries.
Submit one card in Super Express and receive 4 Entries.
Submit one card in Walk Through and receive 5 Entries.

There are no limits on the number of entries. One winner from the total entries will be randomly selected. Click here for ticket contest terms and conditions.
Can't Make it to the Big Game? Catch PSA and PSA/DNA at the Topps Super Bowl XXXVIII Card Show in Houston!

January 23-25 and January 29-February 1, 2004
Take advantage of our upcoming NFL Experience SPECIALS.

Submit any card at $10 per card for 10 day turnaround! This offer is only good at the NFL Experience so bring your cards and visit us at the show.
Submit one Super Bowl XXXVIII ticket for grading and get the second graded for FREE. There is no limit. Hurry after the game! This offer ends on February 10th, 2004!
Free PSA encapsulated Topps Chrome football cards
Visit us at the PSA booth and get one while supplies last!
Free PSA/DNA Autograph Authentication at the Topps Super Bowl XXXVIII Card Show Autograph Pavilion. Thousands of autographs will be given away for FREE!
Acres of NFL Experience interactive games and attractions for all ages.
Visit www.superbowl.com and click on "NFL Experience" for admission and show hours.
PSA is the official card grading service of the Topps Super Bowl XXXVIII Card Show.
PSA/DNA is the official authenticator of the Super Bowl XXXVII Game-Used Footballs.
See PSA at These Upcoming Shows!
1st Annual World of Sports Collectibles Show

Location:
Orange County
Convention Center
9800 International Drive
Orlando, FL 32819

January 9 - 14, 2004

Show Info:
For more information on the 1st Annual World of Sports Show visit www.worldofsportscollectibles.com.

For more information about PSA services, call PSA Customer Service at (800) 325-1121 or visit www.psacard.com.

On-site grading available!

PSA will be offering on-site grading January 9 - 11 at the following prices:

$35 per card for the same or next day service
$50 per card for two hour service guaranteed

Cut-off time for same day/next day service is 12 noon on Sunday, January 11.

PSA representatives will be available to answer all questions and accept submissions for all levels of service through Wednesday, January 14.

PSA/DNA autograph experts will be available to authenticate your previously signed autographs on-site.
PSA Saturday

Date: January 10, 2004
Time: 10am - 2pm

Location:
Collectors Universe
1921 E. Alton Ave.
Santa Ana, CA 92705

Show Info:
For more information on the PSA Saturday Show or PSA services, call PSA Customer Service at (800) 325-1121 or visit www.psacard.com.

PSA SATURDAY SPECIAL SERVICE - NO SHIPPING COSTS!!

$10 per card - Submit your cards at PSA Saturday on December 6th for pick-up at the West Coast Collectors Show at Hollywood Park, February 7th

You may also have your cards mailed to you. Return shipping fees will apply. Please refer to the shipping chart located on the reverse side of all PSA invoices.

Admission is free! PSA representatives are available to answer questions and accept submissions for all levels of service.

© 1999 - 2005 Collectors Universe Inc. All Rights Reserved.