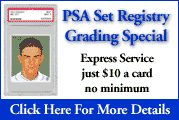 John Branca - The Number One Current Finest 1961-62 Fleer Basketball Set
For two years in a row, John Branca has been awarded the top set in this category. This extremely high grade set (9.03) is sprinkled with PSA 9s and 10s. There are a total of 25 other collectors vying for the number one spot, with 5 who have achieved 100% completion status, but so far, John's set reigns supreme. Good work! Click here to view.
Congratulations to all 2003 PSA Set Registry Award winners and Hall of Fame Inductees!
Click here to read about this year's winning sets. Click here to view Hall of Fame inductees. To learn about the 2004 awards, click here. Plaques, HOF awards, and certificates will be mailed in the next 30 days.
Set Registry Special! Star cards or cross-overs can be submitted for just $10 a card/no minimum. Turnaround time is five business days -- GUARANTEED. Click here for details.
Visit the Set Registry News page and learn which set composites have been recently added to the Registry and other Set Registry news.
To see what new sets are soon to be added, visit the Set Request List. If your set is not listed, send us your request using the Set Request Form. Note: Due to an increase in requests, current load time is approximately 3-4 weeks. Thanks in advance for your patience.
2001 Bowman Draft Picks & Prospects Autographs Baseball
2001 Donruss Elite Passing the Torch Autographs Baseball
2001 Fleer Greats of the Game Autographs Baseball
2001 Fleer Greats of the Game Dodger Blues Baseball
2001 SP Authentic Sultan of Swatch Jersey Baseball
2001 Stadium Club Baseball
2001 Topps Archives Autographs Baseball
2001 Upper Deck Decade 1970s Baseball
2001 Upper Deck Decade 1970s Arms Race Baseball
2001 Upper Deck Decade 1970s Bellbottomed Bashers Baseball
2001 Upper Deck Decade 1970s Decade Dynasties Baseball
2001 Upper Deck Decade 1970s Disco Era Dandies Baseball
2001 Upper Deck Decade 1970s Super Powers Baseball
2001 Upper Deck Hall of Famers Cooperstown Collection Game Bat Baseball
2001 Upper Deck Legends of NY Legends of NY Cut Signatures Baseball
1961 Topps Cincinnati Reds
1970 Topps Cincinnati Reds
1972 Topps Cincinnati Reds
Jim Brown Basic Set
Jim Brown Master Set
Hall of Fame Builders, Referees and Linemen Hockey
1953 Comic Characters
Fun, informative, and sometimes controversial, the
PSA Set Registry Messageboard
is the place to get involved with other collectors who are currently participating in the Set Registry program or are just beginning.
Click here
to chat on the Set Registry Messageboard.
The PSA Set RegistryTM is a work in progress and we invite your comments and ideas. Send your suggestions to [email protected].