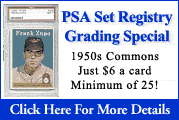 Jean-Luc Picard's Collection of Non-Sports Cards
In this issue of the PSA Insider, we are not spotlighting one set, but giving a nod to Jean Luc Picard's collection of non-sports cards. Just scroll through the Miscellaneous Sets section of the Set Registry and you'll see what we mean. From his 1950 Bowman Wild Man set to his 1969 Topps Man on the Moon set, this collector has assembled a wonderful collection of vintage cards. And, he's not done yet. He is continuing to add sets to the Registry. Congratulations on this fine achievement.
Set Registry Grading Special! If you are collecting 1950s baseball cards, you can submit your commons for $6 a card with a 25-card minimum. Hurry! This offer expires in two weeks. Click here for details.
The 2003 PSA Set Registry Awards deadline is October 31st. Be certain to get your sets updated prior to the deadline. Click here for details.
Visit the Set Registry News page and learn which set composites have been recently added to the Registry and other Set Registry news.
To see what new sets are soon to be added, visit the Set Request List. If your set is not listed, send us your request using the Set Request Form. Note: The request list at the present time is quite long. If you intend to list a set for consideration in this year's awards and your set composite is not in the Registry, please submit your request by October 15th to insure that the composite is added with plenty of time for you to enter your set. We cannot guarantee that requests submitted after October 15th will be added prior to the awards deadline.
New composites recently added include:
1962 Topps CFL Football
1965 Topps CFL Football
1997 Leaf Letterman Football
1987 Topps 1000 Yard Club Football
1987 Topps Stickers Football
1949 Bowman Wild West
1952 Topps Look 'n See
1952 Topps TV Radio & Stars
1953 Bowman Fire Fighters
1953 Bowman Frontier Days
1953 Topps Fighting Marines
1953 Topps Who-Z-at Star
1954 Bowman Power for Peace
1954 Topps Scoop
1956 Topps Jets
1956 Topps Round Up
1957 Topps Goofy Series Post Cards
1957 Topps Isolation Booth
1959 Ad-Trix Popeye
1959 Nu Cards Rock & Roll Stars
1960 Fleer Casper
1960 Leaf Foney Ads
1960 Topps Funny Valentines A Series
1961 Nu-Cards Dinosaur
1961 Rosan US Army in Action
1961 Topps Crazy Cards
1961 Topps Sports Cars License Plate Stickers
1963 Rosan John F. Kennedy
1965 Topps James Bond
1966 Topps James Bond Thunderball
1966 Topps Superman
1971 Barratt Co. & Ltd. Famous Sportsmen
1976 Topps Star Trek
Muhammad Ali Master Set
Walter Hagen Master Set
Fun, informative, and sometimes controversial, the
PSA Set Registry Messageboard
is the place to get involved with other collectors who are currently participating in the Set Registry program or are just beginning.
Click here
to chat on the Set Registry Messageboard.
The PSA Set RegistryTM is a work in progress and we invite your comments and ideas. Send your suggestions to [email protected].