Have your sports autographs authenticated by Jimmy Spence, this country's foremost sports autograph expert. Submission forms are available online at the
PSADNA web site.
Just click here.


Find out what
your cards are
really worth.
Subscribe to the
Sports Market Report and have it delivered to your door every month. Click here.


Coming to the Super Bowl Experience! Unique NFL Collectibles to be Sold at NFL Auction.


Auction Action
Recent sports auctions reach dazzling heights thanks to rare memorabilia and spectacular PSA rarities. Lelands.com 2-day auction realizes $4.5 million. Joe Tinker uniform goes for $132,105! MastroNet auction soars to nearly $8 million. Collectors willing to pay big premiums for high-grade PSA sets. Click here for more.

Turning Pro (Part II): Professional Football from 1926 to 1945
Red Grange demands money, money, money! Ernie Nevers scores 40 points in a game. The Packers win three titles in a row. Whizzer White leads the NFL in rushing. Bears 73, Redskins zip! Here come the Steagles. The NFL through the war years. Click here to read more.

Barry Bonds, King of Swing: A Signature Analysis of the Great Slugger
Since his rookie debut in 1986, Barry Bonds has made a steady run at superstardom and at baseball history, and even now approaches Hank Aaron's all-time home run record. As his star has risen, his signing habits have changed considerably. Steve Grad, PSA/DNA Senior Authenticator, traces Bonds's signing habits from his early days with the Pittsburgh Pirates to the present time. Click here to read more.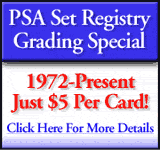 Frank's Civil War News Set -
The Number One 1962 Topps Civil War News
The Civil War has been a collector favorite for many years. The 1962 Topps set extends this tradition to trading cards as well. Frank's Civil War News Set, although not complete, contains the only PSA 10 card graded for this set. There's an image of this card, which will give you a good idea of why collectors are attracted to this set. Frank only needs one more card to complete this set. Honorable mention goes to the Meilander Collection for 100% completion and the second place spot. Click here to view Frank's Civil War News Set.
Hurry! The 1972-Present GRADING SPECIAL ends January 15th! If you intend to take advantage of this grading special, your cards must be postmarked by January 15th! Click here for details.
REMINDER. The growing number of registrants has resulted in an increased number of e-mails to customer service requesting that cards be released from sets when cards have been sold or traded. In order to keep customer service costs down and your Set Registry running smoothly it is important that all users update their sets frequently. When you have sold a card from your set, you should immediately delete that card and send your set in for validation. Your cooperation will allow Customer Service to concentrate on the continuing expansion and improvement of the Registry. Thank you.
Visit the Set Registry News page and learn which set composites have been recently added to the Registry and other Set Registry news.
To see what new sets are soon to be added, visit the Set Request List. If your set is not listed, send us your request using the Set Request Form.
New composites recently added include:
1991 Ultra Football
2001 Topps Heritage Football
Tim Couch Basic Set
Tim Couch Master Set
Gale Sayers Basic Set
Gale Sayers Master Set
1969-70 Topps Hockey
1936 Jolly Roger Pirates
1948 Leaf Pirates
1958 Topps Zorro
1990 Marvel Universe
2001 SP Authentic Golf Gold
Fun, informative, and sometimes controversial, the PSA Set Registry Messageboard is the place to get involved with other collectors who are currently participating in the Set Registry program or are just beginning. Click here to chat on the Set Registry Messageboard.

The PSA Set RegistryTM is a work in progress and we invite your comments and ideas. Send your suggestions to [email protected].
Question: I was wondering why cards like the 1940 Play Ball Mathewson or 1950 Callahan Ruth are so cheap?
Answer: These cards, as well as many others, were made after the players' playing days. Most collectors desire cards from the playing days and they do sell for a premium.
MAKE YOUR PLAY!
Catch PSA and PSA/DNA at the NFL Experience
and Topps Super Bowl XXXVII Card Show in San Diego!
January 18-19 & 23-26, 2003
NFL EXPERIENCE SPECIALS & EVENTS FOR YOU!



Displays of
one-of-a-kind memorabilia!
Including the world's most
valuable sportscard... the
T-206 Honus Wagner.

Special NFL Experience
Grading Offer!
Submit any two sportscards for grading for
ONLY $10. Turnaround time is 15 business
days guaranteed. That's not all. There's no
minimum quantity or limit.

Free PSA encapsulated
Topps 2002 football cards!
Visit the PSA booth and
get one while supplies last!
AND MUCH MORE!!
Free PSA/DNA Autograph Authentication at the Topps Super Bowl XXXVII Card Show Autograph Pavilion. 10,000 autographs will be given away from your favorite stars for FREE!
Contests and raffles! Win FREE PSA Hats, T-shirts, Graded Cards, and PSA/DNA Autographed Memorabilia!
Card auction presented by Superior Sports Auctions and NFL Auction on Friday, Jan. 24 at 7 p.m.
LIVE eBay Auction presented by NFL Auction and Pepsi on Saturday, Jan. 25 at 4 p.m.
15 acres of NFL Experience interactive games and attractions for all ages.
Visit www.psacard.com for more information on FREE tickets to the NFL Experience.
Visit www.superbowl.com and click on "NFL Experience" for admission and show hours.

Submit cards to PSA* and attend the NFL Experience FOR FREE!
Receive one free adult admission ticket (a $15 value) to the NFL Experience and Topps Super Bowl XXXVII Card Show in San Diego with every five cards submitted at the $6 per card rate (10 day turnaround).
Or receive two free adult admission tickets (a $30 value) for every eight cards submitted at the $6 per card rate.
Maximum: two free admission tickets per person

*Note: This $6 per card rate is only good for submissions at the PSA Super Bowl Saturday on Saturday, January 11.



For more information about the NFL Experience, go to www.nfl.com and click on "America Online Presents the NFL Experience" or click here.



Many Unique Collectibles to be Auctioned at the Super Bowl Experience!

Super Bowls bring big business and a festive atmosphere to a city. The NFL's championship game is also known for generating unique and one-of-a-kind collectibles. Super Bowl XXXVII in San Diego will be no different, as NFL Auction, the NFL's official on-line charity auction program, will host the second annual Live Auction at the Super Bowl Experience in San Diego.
Some of the items currently planned for sale at this season's Super Bowl Auction will include SB XXXVI's second half kickoff ball, a game-worn throwback jersey from San Diego Chargers running back LaDainian Tomlinson, Detroit Lions rookie quarterback Joey Harrington's first Lions game jersey, Buffalo Bills quarterback Drew Bledsoe's first Bills game jersey and several other NFL and Super Bowl collectibles. Every item is PSA/DNA authenticated so bid with confidence!



Time: 3 p.m. PST
Date: Saturday, January 25th, 2002
Location: NFL Experience in San Diego, California (and live on eBay)
Visit us at www.NFL.com for additional information!
SB XXXVII Live Auction brought to you by Pepsi.

See PSA at These Upcoming Shows!
NFL Experience and Topps Super Bowl XXXVII Card Show
S. Embaracadero Marina Park (adjacent to San Diego Convention Center)
San Diego, CA
January 18 - 26, 2003
Topps NFL Experience Hawaii Card Show
Kuroda Field
Waikiki, HI
January 30 - February 2, 2003
PSA will be accepting cards for all PSA grading levels at the above shows. Cards submitted will be graded at PSA and returned via mail.
Bonus at the "NFL Experience and Super Bowl XXXVII Card Show": PSA/DNA will be on site to offer "signed-in-the-presence" authentication.
For more information about PSA services, call PSA Customer Service at (800) 325-1121.

© 1999 - 2005 Collectors Universe Inc. All Rights Reserved.