Have your sports autographs authenticated by Jimmy Spence, this country's foremost sports autograph expert. Submission forms are available online at the
PSADNA web site.
Just click here.


Find out what
your cards are
really worth.
Subscribe to the
Sports Market Report and have it delivered to your door every month. Click here.


Coming to the Super Bowl Experience! Unique NFL Collectibles to be Sold at NFL Auction.


Lower Grade = Lower Risk?
High quality sports collectibles and cards will always enjoy strong demand. However, prices for such items often fluctuate, making the potential for profits -- as well as for losses -- rather high. Lower grade items, while not likely to break pricing records, may offer a more stable collecting alternative. Click here to read more about it.

Turning Pro (Part III): Professional Football from 1946-66
The Cleveland Browns are an instant powerhouse. Curly Lambeau resigns. Jim Brown sets an NFL rushing record. Otto Graham retires. Vince Lombardi becomes head coach of you-know-which team. The AFL begins. Hornung and Karras are suspended. The first Super Bowl! Click here to read more.
The Signature Analysis of Carlton Fisk
Even at the beginning of his career, it was obvious that Carlton Fisk was destined for stardom. He was as good at scooping up headlines and career milestones as he was at catching baseballs, and naturally his autograph became a sought-after collector's item. Autograph expert Steve Grad traces the signing habits of the Hall of Famer from his early days with the Red Sox to today. Click here to read more.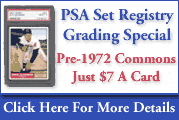 3-D Dreamer - The Number One 1972 Kellogg's Baseball Set
Plowing past last year's 2002 Set Registry Awards winner, Dan Markel, the 3-D Dreamer set has reached 100% completion status and sits with a GPA 9.00. Card #1 Tom Seaver is a PSA 10. Pete Rose #6, Reggie Jackson #20, and Roberto Clemente #49 are all PSA 9. Congratulations to 3-D Dreamer. Click here to view this set.
New Grading Special! If you are collecting pre-1972 cards, you can send your commons in for just $7 a card with no minimum! (Commons are those cards that are not priced in the Sports Market Report.) This special expires February 28th. Click here for details.
REMINDER. The growing number of registrants has resulted in an increased number of e-mails to customer service requesting that cards be released from sets when cards have been sold or traded. In order to keep customer service costs down and your Set Registry running smoothly, it is important that all users update their sets frequently. When you have sold a card from your set, you should immediately delete that card and send your set in for validation. Your cooperation will allow Customer Service to concentrate on the continuing expansion and improvement of the Registry. Thank you.
Visit the Set Registry News page and learn which set composites have been recently added to the Registry and other Set Registry news.
To see what new sets are soon to be added, visit the Set Request List. If your set is not listed, send us your request using the Set Request Form.
New composites recently added include:
2002 Topps Chrome Terry Bradshaw Black Border Reprint Football
Marcus Allen Basic Set
Marcus Allen Master Set
Bob Griese Basic Set
Bob Griese Master Set
Fun, informative, and sometimes controversial, the PSA Set Registry Messageboard is the place to get involved with other collectors who are currently participating in the Set Registry program or are just beginning. Click here to chat on the Set Registry Messageboard.

The PSA Set RegistryTM is a work in progress and we invite your comments and ideas. Send your suggestions to [email protected].
Question: Why don't you have prices for every card ever graded by PSA in the Sports Market Report (SMR)?
Answer: Good question. First of all, if we did, the SMR would be the size of a phone book. All kidding aside, we try to price as many key issues as we can to satisfy as many collectors as we can. Of course, when you have so many cards to choose from, it's hard to price all of them. Each month we try to add more and more prices as demand dictates. The SMR focuses on the cards that most collectors tend to care about and it is expanding all the time. If you ever have a request, please forward them to [email protected]. Your input is highly valued.
MAKE YOUR PLAY!
Catch PSA and PSA/DNA at the NFL Experience
and Topps Super Bowl XXXVII Card Show in San Diego!
January 18-19 & 23-26, 2003
NFL EXPERIENCE SPECIALS & EVENTS FOR YOU!



Displays of
one-of-a-kind memorabilia!
Including the world's most
valuable sportscard... the
T-206 Honus Wagner.

Special NFL Experience
Grading Offer!
Submit any two sportscards for grading for
ONLY $10. Turnaround time is 15 business
days guaranteed. That's not all. There's no
minimum quantity or limit.

Free PSA encapsulated
Topps 2002 football cards!
Visit the PSA booth and
get one while supplies last!
AND MUCH MORE!!
Free PSA/DNA Autograph Authentication at the Topps Super Bowl XXXVII Card Show Autograph Pavilion. 10,000 autographs will be given away from your favorite stars for FREE!
Contests and raffles! Win FREE PSA Hats, T-shirts, Graded Cards, and PSA/DNA Autographed Memorabilia!
Card auction presented by Superior Sports Auctions and NFL Auction on Friday, Jan. 24 at 7 p.m.
LIVE eBay Auction presented by NFL Auction and Pepsi on Saturday, Jan. 25 at 4 p.m.
15 acres of NFL Experience interactive games and attractions for all ages.
Visit www.psacard.com for more information on FREE tickets to the NFL Experience.
Visit www.superbowl.com and click on "NFL Experience" for admission and show hours.

Submit cards to PSA* and attend the NFL Experience FOR FREE!
Receive one free adult admission ticket (a $15 value) to the NFL Experience and Topps Super Bowl XXXVII Card Show in San Diego with every five cards submitted at the $6 per card rate (10 day turnaround).
Or receive two free adult admission tickets (a $30 value) for every eight cards submitted at the $6 per card rate.
Maximum: two free admission tickets per person

*Note: This $6 per card rate is only good for submissions at the PSA Super Bowl Saturday on Saturday, January 11.



For more information about the NFL Experience, go to www.nfl.com and click on "America Online Presents the NFL Experience" or click here.



Many Unique Collectibles to be Auctioned at the Super Bowl Experience!

Super Bowls bring big business and a festive atmosphere to a city. The NFL's championship game is also known for generating unique and one-of-a-kind collectibles. Super Bowl XXXVII in San Diego will be no different, as NFL Auction, the NFL's official on-line charity auction program, will host the second annual Live Auction at the Super Bowl Experience in San Diego.
Some of the items currently planned for sale at this season's Super Bowl Auction will include SB XXXVI's second half kickoff ball, a game-worn throwback jersey from San Diego Chargers running back LaDainian Tomlinson, Detroit Lions rookie quarterback Joey Harrington's first Lions game jersey, Buffalo Bills quarterback Drew Bledsoe's first Bills game jersey and several other NFL and Super Bowl collectibles. Every item is PSA/DNA authenticated so bid with confidence!



Time: 3 p.m. PST
Date: Saturday, January 25th, 2002
Location: NFL Experience in San Diego, California (and live on eBay)
Visit us at www.NFL.com for additional information!
SB XXXVII Live Auction brought to you by Pepsi.

See PSA at These Upcoming Shows!
NFL Experience and Topps Super Bowl XXXVII Card Show
S. Embaracadero Marina Park (adjacent to San Diego Convention Center)
San Diego, CA
January 18 - 26, 2003
Topps NFL Experience Hawaii Card Show
Kuroda Field
Waikiki, HI
January 30 - February 2, 2003
PSA will be accepting cards for all PSA grading levels at the above shows. Cards submitted will be graded at PSA and returned via mail.
Bonus at the "NFL Experience and Super Bowl XXXVII Card Show": PSA/DNA will be on site to offer "signed-in-the-presence" authentication.
For more information about PSA services, call PSA Customer Service at (800) 325-1121.

Superior Sports Presents
THE SPRING 2003 CARD AND MEMORABILIA AUCTION
Here is a partial listing of material in this auction:

The Amon Carter collection of vintage memorabilia
Spectacular 1927 dated Babe Ruth Autographed ball
World Series tickets & ticket stubs
Season ticket passes, 1900-1950
Press Passes
Texas League memorabilia

Boxing Memorabilia
College Football tickets, ticket stubs & season passes
Kentucky Derby tickets & ticket stubs, 1930s-1950s
Also includes hundreds of PSA graded cards in all grades
And much, much more!
AUCTION CLOSING DATE: Thursday, March 27, 2003
CONSIGNMENT DEADLINE: February 10, 2003

If you are interested in seeing your valued items in this incredible auction or receiving a free copy of the catalog, then please contact Chris Porter at 231-922-9862.

© 1999 - 2005 Collectors Universe Inc. All Rights Reserved.