Have your sports autographs authenticated by Jimmy Spence, this country's foremost sports autograph expert. Submission forms are available online at the
PSADNA web site.
Just click here.



Find out what
your cards are
really worth.
Subscribe to the
Sports Market Report and have it delivered to your door every month. Click here.


PSA MARKET REPORT

Remarkable Ruth Ball and Rare Cards Push SportsCards Plus Auction Past the $1,000,000 Mark
Collectors are always looking for quality and rare material, and there was plenty of it to be found at the recent SportsCards Plus auction. Leading the march of high-priced items was a Babe Ruth single signed baseball that sold for over $38,000. Other important lots included game used pieces from the likes of Duke Snider and Magic Johnson, rare cards such as a T206 Eddie Plank in PSA 3 VG, autographed photos, a 1988 Notre Dame championship ring, a full ticket to Super Bowl I and more! Read the article for a lengthy list of stellar items and healthy prices.
PSA PLAYER SPOTLIGHT

Mr. Smith Goes for the Record
Yard by yard, Dallas Cowboys running back Emmitt Smith is closing on Walter Payton's career rushing record. It's all but guaranteed that Smith will overtake Payton, likely this season, and it's about equally likely that no one else will challenge the accomplishment for years to come. Yet for Smith, breaking the record is a consideration for the future; the present is more important. For now, it's all about concentrating on today's game, and helping to lead the Cowboys back from last season's dismal 5-11 record.
PSA SPORTS HISTORY

Shutouts! A Look at the Best of All Time at the Art of the Whitewash
This is the era of the hitter, but there was a time when pitchers dominated. Walter Johnson hurled more than 100 shutouts! The top ten list looks like a Hall of Fame bonanza. The lefty with the most shutouts is... read the article! Cy Young, Christy Mathewson, Tom Seaver, Nolan Ryan and more!

SET REGISTRY SPOTLIGHT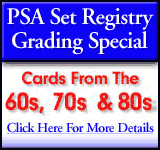 The Michael Murray Collection - The Number One All Time Finest 1911 T201 Mecca Double Folder Set
One of the more unique vintage baseball sets is the 1911 T201. When you view a T201 card in an open position, you see one player. When the card is folded, you see another (although the players share the same pair of legs). These cards were designed to be folded and they are certified by PSA with this is mind. They are sealed in the open position, of course, but as long as there are no tears or other visual impairments in the perforation there is no penalty in the grade for a fold. The cards are almost impossible to locate with four sharp corners, though. In addition, there are inevitably minor impairments around the fold. So far only one example has earned a grade of Mint-9 or better. The Michael Murray Collection has a very respectable set rating of 5.48, with his star cards Crawford, Jennings, McGinnity, and Walsh all grading out PSA EX-MT 6. Click here to view this great 50 card set.
Less than two weeks to go! Take advantage of the Set Registry Grading Special for '60s, '70s, and '80s that expires September 30, 2002. Just $6 a card, with a 25 card minimum! Click here for details.
Visit the Set Registry News page and learn which set composites have been recently added to the Registry and other Set Registry news such as the following new feature:
You now have the option to link to all of your sets from one viewable set. If you want all your sets viewable on one page from one particular set, simply click yes to this question in the EDIT SET administration for that set and send your set in for validation. Once validated, a button will appear on the display page of that viewable set which will link to all your other sets.
To see what new sets are soon to be added, visit the Set Request List. If your set is not listed, send us your request using the Set Request Form.
New composites recently added include:

1969 Topps Master Baseball Set
1961 Topps All-Stars Baseball
Cal Ripken Basic Player Set
HOF Yankees
2000 Collectors Edge Graded Uncirculated Football
2000 Collectors Edge Graded Brilliant Football
2000-01 Upper Deck Ultimate Collection Basketball
1993 Upper Deck Soccer Honorary Captains
The Annual PSA Set Registry Awards deadline is just around the corner. If you are planning to compete, but still need some cards graded, be certain send your cards in early! The deadline for the awards is October 31st! Which Vintage Baseball sets are the current leaders for the first annual PSA Set Registry Awards? Click here to find out.
Fun, informative, and sometimes controversial, the PSA Set Registry Messageboard is the place to get involved with other collectors who are currently participating in the Set Registry program or are just beginning. Click here to chat on the Set Registry Messageboard.
The PSA Set RegistryTM is a work in progress and we invite your comments and ideas. Send your suggestions to [email protected].
OUR READERS ASK
Question: I am really interested in collecting the 1958 Topps baseball set, but I am having a very difficult time finding the high numbered series of All-Star cards in Mint condition. Why is that?
Answer: The 1958 Topps set is, overall, extremely difficult to find in high grade. The All-Star cards, while not scarce, are very tough in PSA Mint 9 due to terrible print defects which plague the backgrounds of those cards. Many people refer to this type of defect as "print snow" and the existence of print snow results in a huge eyesore. That's what makes truly Mint copies a great catch.
COLLECTORS SURVEY
What is the most memorable moment in baseball? That is something that's being asked a lot lately, as several publications and networks seem to have had the same idea for this intriguing question at the same time. Of course, defining "moment" is difficult. Bobby Thomsom's home run is definitely a "moment," but is Hank Aaron's 715th homer a "moment" or an accumulation of 715 moments? Such arguments aside, here are five incredibly great pitching moments. Which one is the most memorable of all time?
Christy Mathewson. In 1905 "Big Six" pitched not one, not two, but three shutouts in the World Series. What could be better than that?
Johnny Vander Meer. In 1938 Vander Meer accomplished what no other pitcher had done before -- or has done since. Back-to-back no-hitters! Definitely the most memorable "moment."
Don Larsen. There has only been one no-hitter in World Series history, and Larsen made it a perfect game as well by retiring all 27 Brooklyn batters in order.
Sandy Koufax. Not only did Koufax pitch a no-hitter in four consecutive seasons, he made the fourth his greatest performance ever by hurling a perfect game.
Nolan Ryan. What is more memorable than Ryan's seventh no-hitter? No one else in history has more than four, and Ryan accomplished his feat at the age of 44!
Click here to answer. Results will be posted in the next Insider.
Results from last survey: 52% of the respondents rejected our four choices (Miami, Texas, Oklahoma, and Tennessee) and said that some other college football team will win it all this year. Click here for a complete breakdown.
ANNOUNCEMENTS
See PSA next week...
In Long Beach, CA and Ft. Washington, PA!
Long Beach Coin & Collectibles Show
September 25 - 29, 2002
Long Beach Convention Center
100 S. Pine Avenue
Long Beach, CA
80th Philadelphia Sportscard & Memorabilia Show
September 27 - 29, 2002
Ft. Washington Expo Center
1100 Virginia Drive
Ft. Washington, PA
Long Beach Show: PSA will be accepting cards for "Next Day Show Service" at $35 per card. Cards must be submitted by 12 noon on Wednesday and/or Thursday for next day delivery. PSA is also accepting cards at all PSA grading levels at the Long Beach show. Cards submitted at other services will be graded by PSA and returned via mail. For more information about the Long Beach Coin & Collectibles show, go to: www.longbeachshow.com. For directions to the show, go to: http://www.longbeachcc.com/maps.htm.
Ft. Washington Show: PSA will be accepting cards at all grading levels at the show. Cards submitted at the show will be graded by PSA and returned via mail. PSA/DNA Vintage Autograph Authentication is also available at the Ft. Washington Show.
For more information about PSA services, call PSA Customer Service at 800-325-1121.
---
© 1999 - 2005 Collectors Universe Inc. All Rights Reserved.