Have your sports autographs authenticated by Jimmy Spence, this country's foremost sports autograph expert. Submission forms are available online at the
PSADNA web site.
Just click here.



Find out what
your cards are
really worth.
Subscribe to the
Sports Market Report and have it delivered to your door every month. Click here.


Note: The Market Report is on hiatus this week while PSA is busy at the National Sports Collectors Convention. Stay tuned -- the column will return next issue with coverage of that important event!
PSA COLLECTING TIPS

The Equipment Manager: How to Spot Genuine Jerseys
Few sports collectibles are more desirable than game used jerseys. Not only are they used and worn closely by the players, they are an important symbol of the player and his team. Unfortunately, fake jerseys plague the market. Counterfeiters know lots of tricks for making bogus jerseys look authentic, and because every game used jersey is unique, finding the real deal isn't always easy. This article is packed with tips to help you separate the genuine jerseys from the junk.
PSA EXPERT'S CORNER

Signature Analysis and Autograph Habits of Hall of Fame Pitcher, Manager and Baseball Executive Clark Calvin Griffith
Clark C. Griffith is usually remembered for his skill as an executive, and rightfully so. Among other accomplishments, he pioneered relief pitching, was one of the first managers to bring in talent from Cuba, and worked for the promotion of night baseball. However, "The Old Fox" was also a tremendous 19th-century pitcher as well, and an amiable signer who was accessible to his fans. Autograph expert James Spence, Jr. examines Griffith's signing habits.
PSA PLAYER SPOTLIGHT

Playing Schwall-Ball: A former star hurler and Rookie of the Year looks back at baseball in the 1960s
Don Schwall: the 1961 Rookie of the Year, he struck out Stan Musial at a 1961 All-Star game, and his 1962 Topps card is worth about $200 in Mint condition. Schwall was part of the game during its heyday, when Mantle and Maris were chasing the single-season home run record and the Yankees could do no wrong. In this article, he reminisces about pitching in those days, and discusses how today's game differs.

SET REGISTRY SPOTLIGHT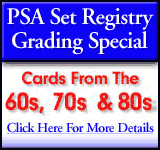 Andrew Kaplan - The Number One All Time Finest 1953 Bowman Color Baseball Set
100% complete with a set rating of 8.56, Andrew has assembled a great set. His key cards are some of the highest graded cards in his set, including Musial, Mantle, Feller, Snider, Berra, and Ford -- all Mint 9. Reese is a GEM-MT 10. Congratulations goes out to Andrew Kaplan for placing in the number one spot, ahead of 5 other 100% complete sets! Click here to view.

NEW! Set Registry Grading Special for '60s, '70s, and '80s. Just $6 a card, with a 25 card minimum! Click here for details.

Planning a trip to Chicago this week for the National Convention? Stop by the PSA booth and meet Joe Orlando, PSA Vice President, and BJ Searls, Set Registry Manager.

To stay abreast of current developments, bookmark PSA Set Registry News and find out what's new in the registry. To see what new sets are soon to be added, visit the Set Request List. If your set is not listed, send us your request using the Set Request Form.

New composites recently added include:

• 1954 Johnston Cookies Baseball
• 1985 Donruss Baseball
• 1986 Donruss Rookies Baseball
• 1987 Leaf Baseball
• 1988 Score Rookie/Traded Baseball
• 1988 Topps Traded Baseball
• 1989 Bowman Baseball
• 1989 Ralston Purina Baseball
• 1994 SP Baseball
• 1959 Topps Los Angeles Dodgers
• 1975 Topps Cincinnati Reds
• 1999 Topps Mark McGwire HR#220
• Al Kaline Player Set
• Billy Williams Player Set
• Orioles Team Cards & Team Leaders
• 1975-76 Topps Basketball
• 1992-93 Skybox Basketball
• 1978-79 Topps Basketball
• 1979-80 Topps Basketball
• 1999-2000 SP Top Prospects Upper Class Basketball
• 2001-02 Topps Chrome Black Refractor Basketball
• Magic Johnson Player Set
• Michael Jordan Player Set
• 1972 NFLPA Vinyl Stickers Football
• 1990 Score Supplemental Football
• 1994 Finest Refractor Football
• 1997 Pinnacle Totally Certified Football
• 2000 Skybox E-X E-Xceptional Red, Green, Blue Football
• 2001 SPx Football
• 1988-89 Esso All-Stars Hockey
• 1887 Allen & Ginter (N28)
• 1940 Gum Lone Ranger
• 1951 Post Cereal Hopalong Cassidy
• 1953 Bowman Antique Autos
• 1956 U.S. Presidents
• 1960 Spins and Needles
• 1964 Adams Family
Which Baseball sets are the current leaders for the first annual PSA Set Registry Awards? Click here to find out.
Fun, informative, and sometimes controversial, the PSA Set Registry Messageboard is the place to get involved with other collectors who are currently participating in the Set Registry program or are just beginning. Click here to chat on the Set Registry Messageboard.
OUR READERS ASK
Question: I have been a collector for many years and it is my understanding that O-Pee-Chee cards (Canadian version) are worth, for the most part, less than the Topps (American version) brand. Why is it then that the O-Pee-Chee version rookie cards of players like Wayne Gretzky and Mario Lemieux are worth more than the Topps version?
Answer: There are two main reasons for the discrepancy:

The O-Pee-Chee versions are significantly tougher to find in top grades than the Topps versions are.
Due to the fact that hockey is best known as a Canadian sport, the O-Pee-Chee versions are considered to be more desirable.
COLLECTORS SURVEY
Who's going to win it all? This question was asked before the baseball season started, but it's a lot more interesting now due to some unexpected developments so we're putting it up again. The winner of the 2002 World Series is going to be:
Arizona. Randy Johnson and Curt Schilling on the mound and the number one offense at the plate. The Diamondbacks will repeat.
New York Yankees. In the end this team usually prevails and 2002 will be no different.
Seattle. The Mariners aren't as hot as they were last year but they're still loaded with talent.
Atlanta. Are they the best team in baseball? They've been in the playoffs every year for a decade and their pitching is superb.
Someone else. The Anaheim Angels, Oakland, Boston, Minnesota and several other teams have a real shot. Do you pick one of them?
Click here to answer. Results will be posted in the next Insider.
Results from last survey: It's game seven of the 2002 World Series. What currently active pitcher do you want on your team? It was a close vote, but 28% would choose Pedro Martinez. Click here for a complete breakdown.
ANNOUNCEMENTS
See PSA at the National in Chicago!
23rd National Sports Collectors Convention
August 6 - 11, 2002
Donald E. Stephens Convention Center
5555 N. River Rd., Rosemont, IL
Booth #820
PSA will be accepting cards at their booth for On-Site Grading.
PSA ON-SITE GRADING SERVICE: Guaranteed Two-Hour Show Service -- $50 per card; Standard Show Service (same or next day at show) -- $35 per card.
PSA/DNA Vintage Autograph Authentication: Nationally Known Autograph Experts, James Spence and Steve Grad will be on-site to offer authentication for previously signed memorabilia.
PSA, the Official Card Grading Company of the National Invites You to Stop By and See What's New:
PSA/DNA game used bat authentication by top experts in the field, Vince Malta and John Taube
New! The book, The Top 200 Sportscards In The Hobby by Joe Orlando, editor of Sports Market Report and Vice President of PSA -- Join the PSA Collectors Club and receive the book for FREE! Or pick up a copy of the book for only $15 at the National
Join the PSA Collectors Club or submit a minimum of 5 cards for grading and receive a LIMITED EDITION Upper Deck "Making the Grade" card!
On display! The World's Most Valuable Sportscard, T206 Honus Wagner PSA NM-MT8, the famous Black Betsy Bat, rare Ernie Banks 1969 Jersey and Chicago Legends memorabilia
Enter the PSA Set Registry Contest and check out the new featured sets in the registry
Free admission for everyone on Thursday, August 8, and for children 15 and under on Friday, August 9. Show hours 11 a.m. - 7 p.m. both days.
For more information about the National show, go to: www.thenational.net.
For more information about our services at the show, contact PSA at 800-325-1121.
---
© 1999 - 2005 Collectors Universe Inc. All Rights Reserved.