Have your sports autographs authenticated by Jimmy Spence, this country's foremost sports autograph expert. Submission forms are available online at the
PSADNA web site.
Just click here.



Find out what
your cards are
really worth.
Subscribe to the
Sports Market Report and have it delivered to your door every month. Click here.


PSA MARKET REPORT

Spotlight on '70s Sets
Sportscards issued during the decade of disco are extremely hot among collectors right now, and promising to grow even hotter thanks to competition in the PSA Set Registry. This week our Market Report takes a brief look at two of the hottest '70s sets -- 1972 and 1975 Topps baseball. These sets provide plenty of collector appeal with plentiful condition rarities and a wide variety of players, including everyone from quality rookies to established superstars.
IN MEMORIAM

The Athletic Art of Gabe Perillo
In our July issue of the Sports Market Report, we ran this article, profiling sports artist Gabe Perillo Sr., as our feature piece. Shortly after its release, we learned that the famed painter of Making of a Legend and The Thriller in Manila had passed away due to congestive heart failure. It happened the day after he completed this interview. As a small memoriam, we are reprinting the article in its entirety for you now. Gabe, you will be greatly missed!
PSA VINTAGE SET REVIEW

Home Run Hitters of the 1959 Topps Baseball Set
Recent years have seen record after record fall as today's great hitters continue to pound out home runs at fantastic rates. However, the current era is not the only age of great hitters. Forty years ago, star players put on a serious display of power, and several of the greatest hitters ever can be found in the 1959 Topps set. The stats of players like Aaron, Mays, Mantle and Killebrew are still among the best of all time.
SET REGISTRY SPOTLIGHT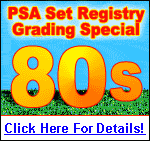 Rob Ruth - The Number One All Time Finest 1955 Topps All American Football Set
Competition is stiff for this very popular football set with four collections sitting at 100% complete. But Rob is holding on to the lead with a GPA of 8.28. Thirty percent of his set is graded PSA Mint 9, including Knute Rockne #16 and Jim Thorpe #37. His set also contains the PSA-8 Whizzer White Error card. Click here view this great set.
There are only 8 days to go before the 1980s Set Registry Grading Special deadline. Send in your cards from the '80s for a special grading fee of only $5 a card! But hurry. The special ends July 31st. Click here for details.
A new benefit will be soon announced regarding free grading for set registrants. Stay tuned to the PSA Set Registry News for details. To stay abreast of current developments, bookmark PSA Set Registry News and find out what's new in the registry. To see what new sets are soon to be added, visit the Set Request List. If your set is not listed, send us your request using the Set Request Form.
New composites recently added include:

. 1951-Present MVPs Baseball
. 1956-Present Cy Winners Baseball
. 1961 Golden Press Baseball
. 1977 Kellogg's Baseball
. 1979 Kellogg's Baseball
. 1987 Donruss Opening Day Baseball
. 1987 Donruss Rookies Baseball
. 1987 Fleer Update Baseball
. 1987 Topps Traded Baseball
. 1988 Donruss Baseball
. 1988 Donruss Rookies Baseball
. 1988 Fleer Baseball
. 1988 Fleer Update Baseball
. 1989 Donruss Rookies Baseball
. 1989 Fleer Baseball
. 1989 Fleer Update Baseball
. 1989 Score Baseball
. 1989 Score Rookie/Traded Baseball
. 1996 Finest Baseball
. 1999 Bowman Chrome Int'l Refractor Baseball
. Rod Carew Player Set
. Rocky Colavito Player Set
. Thurman Munson Player Set
. Robin Roberts Player Set
. Pete Rose Player Set
. Willie Stargell Player Set
. 1996-97 Finest Basketball
. Larry Bird Player Set
. Connie Hawkins Player Set
. 1976-77 O-Pee-Chee Hockey
. 1976-77 Topps Hockey
. 1980-81 Topps Hockey
. 1900 Copes Golfers
. 1948 Leaf Boxing
. 1985 Miller Press PGA Golf
. 1914 Marsuma Famous Golfers and Their Strokes
Which Football sets are the current leaders for the first annual PSA Set Registry Awards? Click here to find out.

Fun, informative, and sometimes controversial, the PSA Set Registry Messageboard is the place to get involved with other collectors who are currently participating in the Set Registry program or are just beginning. Click here to chat on the Set Registry Messageboard.
OUR READERS ASK
Question: I am really interested in the 1969 Topps Supers set but I noticed that the prices for the high-end cards are not as strong, in terms of percentage, as 8's, 9, and 10's from other sets. This set is supposed to be tough, isn't it?
Answer: The set is very tough to find but, once you do find it, the condition isn't as much of a problem due to the naturally curved edges or rounded corners. With the exception of print defects, there are no other major condition obstacles to look out for. That's why you don't see the major premiums applied to the values between 8's, 9's and 10's like you see in other sets. The rarity is where the strength is for this set.
COLLECTORS SURVEY
Several months ago we asked you to pick one pitcher from the all-time roster to hurl the most important game in baseball history. Sandy Koufax barely edged out Walter Johnson for the starting assignment. This time the choices have to come from active pitchers. It's game seven of the 2002 World Series. Who do you want on the hill for your team?
Roger Clemens, of course! Who else has 288 wins, the spirit of Drysdale and the fastball of Walter Johnson?
Randy Johnson! The most unhittable pitcher in the universe!
Greg Maddux! He has definitely proved that he's the best pitcher in baseball.
Pedro Martinez! Who are you kidding? Nobody can hit Pedro!
Curt Schilling! They're all great, but Schilling has that magic extra something that equals win, win, win.
Click here to answer. Results will be posted in the next Insider.
Results from last survey: If we provided the time machine, 39% would choose to attend the very first All-Star baseball game in 1933, for the chance to see the Babe hit one out. Click here for a complete breakdown.
ANNOUNCEMENTS
Got Cards?
Meet the Leading Experts from PSA, the top sportscard grading and authentication company.
Saturday, July 27, 2002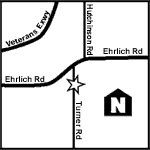 Cards Be Me, Inc. 14813 Turner Road, Tampa Florida 33624
(813) 964-5333
Find out how grading can dramatically increase the value of your cards
Receive a FREE Sports Market Report with up-to-date card values
Talk with the experts from PSA
Join our Collectors Club and receive FREE gradings
"Got Cards" special: Only $10 per card for 10 day guaranteed turnaround. Only available on Saturday, July 27 by attending this event
See PSA at the National in Chicago!
23rd National Sports Collectors Convention
August 6 - 11, 2002
Donald E. Stephens Convention Center
5555 N. River Rd., Rosemont, IL
Booth #820
PSA will be accepting cards at their booth for On-Site Grading.
PSA ON-SITE GRADING SERVICE: Guaranteed Two-Hour Show Service -- $50 per card; Standard Show Service (same or next day at show) -- $35 per card.
PSA/DNA Vintage Autograph Authentication: Nationally Known Autograph Experts, James Spence and Steve Grad will be on-site to offer authentication for previously signed memorabilia.
PSA, the Official Card Grading Company of the National Invites You to Stop By and See What's New:
PSA/DNA game-used bat authentication by top experts in the field
The Top 200 Sportscards in the Hobby, a new book by Joe Orlando, will be available for sale
On display! The World's Most Valuable Sportscard, T206 Honus Wagner PSA NM-MT8
Enter the PSA Set Registry Contest and check out the new featured sets in the registry
For more information about the National show, go to: www.thenational.net.
For more information about our services at the show, contact PSA at 800-325-1121.
---
© 1999 - 2005 Collectors Universe Inc. All Rights Reserved.