Have your sports autographs authenticated by Jimmy Spence, this country's foremost sports autograph expert. Submission forms are available online at the
PSADNA web site.
Just click here.



Find out what
your cards are
really worth.
Subscribe to the
Sports Market Report and have it delivered to your door every month. Click here.


PSA MARKET REPORT
Lelands.com Auction Grosses $4.1 Million; Jackie Robinson Book Signed to Dr. King Fetches $42,288
Rare sports cards and autographed memorabilia made Leland's May auction one of the company's most successful ever. "Baseball Has Done It" book inscribed by Jackie Robinson to Dr. Martin Luther King, Jr. led the way in prices realized. A Cy Young signed baseball, Bob Feller's Indians jersey, a signed Babe Ruth photo and a 1952 Topps Five Cent Wax Pack also brought big prices when the hammer fell.
PSA EXPERT'S CORNER

Signature Analysis and Autograph Habits of Hall of Fame Outfielder Elmer Harrison Flick
It's hard to believe, but a player once nearly traded in a straight-up deal for Ty Cobb (but kept!) was practically forgotten for fifty years after his career ended. That finally changed in 1963, when Elmer Flick was rightfully elected -- at age 87 -- to the Baseball Hall of Fame. Autograph expert Jimmy Spence examines the signing habits of "The Bedford Sheriff," whose known signatures almost all date from after the time of his belated HOF induction.
PSA SPORTS HISTORY

Grabbing Baseball Between the Covers
What's left for a fan to do after watching baseball, talking about it, and collecting its cards? Why, reading about it, of course! PSA baseball hound Bruce Amspacher turns literature critic in this article that identifies twelve of the top books concerning his favorite pastime.
SET REGISTRY SPOTLIGHT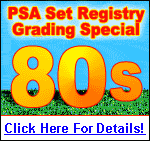 Don Louchios - The Number One All Time Finest 1941 Play Ball Baseball Set
100% complete with a GPA of 8.44, this set contains PSA 9's of HOF'ers Hubbell, Ott, Foxx, Williams, Gehringer, Reese, Klein, and a spectacular PSA 10 of Joe DiMaggio. There are two other complete sets registered, but so far Don maintains the lead. Click here to view this great set.
The total number of registered sets now stands at 1,740. Visit the ever expanding PSA Set Registry and join the fun!
NEW! 1980s Set Registry Grading Special. Send your cards from the '80s in for a special grading fee of only $5 a card! Click here for details.
New composites recently added include: 1958 Dodgers Bell Brand Baseball, 1979 O-Pee-Chee Baseball, 1981 Donruss Baseball, 1981 Fleer Baseball, 1982 Fleer Baseball, 1983 Fleer Baseball, 1987 Donruss Baseball, 1987 Topps Tiffany Baseball, 1994 Flair Hot Gloves Baseball, 1997 Bowman Chrome Refractor Baseball, 1997 Bowman Chrome Baseball, Johnny Bench Player Set, Harmon Killebrew Player Set, Roger Maris Player Set, Stan Musial Player Set, Carl Yastrzemski Player Set, 1968 Topps Detroit Tigers, 1973-74 Topps Basketball, 1987-88 Fleer Basketball, 1998-99 Upper Deck Game Jersey Basketball, 2000-01 SP Authentic Sign of the Times Basketball, 1958 Topps Football, 1980 Topps Football, 1981 Topps Football, 1982 Topps Football, 1983 Topps Football, 1984 Topps Football, 1985 Topps Football, 1986 Topps Football, 1987 Topps Football, 1988 Topps Football, 1998 SP Authentic Die-Cut Football, 1999 Topps Chrome Football, 1999 Topps Chrome Refractor Football, 2000 Bowman Chrome Refractor Football, 1952-53 Parkhurst Hockey, 1971-72 O-Pee-Chee Hockey, 1997-98 Black Diamond Hockey, 1928 W.A. & A.C. Churchman Famous Golfers, 1962 Topps Civil War News, 1968 Topps Laugh In, 1987 Topps WWF, 1987 Topps WWF Sticker.
Which Vintage Baseball sets are the current leaders for the first annual PSA Set Registry Awards? Click here to find out.
Interested in seeing what new sets have been registered and which sets have been updated? Click here to view updates in the last 5 days.
Find out what's happening by visiting the PSA Set Registry News which is updated frequently. To see what new sets are soon to be added, visit the Set Request List. If your set is not listed, send us your request using the Set Request Form.
Get involved with other collectors who are currently participating in the Set Registry program or are just beginning. Click here to chat on PSA Set Registry Message Board.
OUR READERS ASK
Question: I heard that the 1959 Fleer Ted Williams card, #68, is one of the rarities of the post-war era. Why is this card considered so rare?
Answer: That particular card was pulled from production due to a contract dispute, not with Williams, but with Bucky Harris, a Hall of Famer who is also pictured on the card. Williams is pictured signing a contract, hence the title "Ted Signs For 1959." While the rarity has been put somewhat in perspective during the last few years, the card remains a classic in a set entirely devoted to the greatest hitter of all time.
COLLECTORS SURVEY
What is the greatest moment in the history of sports? What one thing sent chills up and down your spine more than any other? It would take a list of at least 30 events (probably more) to cover all of the possible winners, but here are five fabulous favorites for your consideration.
Secretariat wins the Belmont by 31 lengths. It was the first Triple Crown in a quarter of a century and Big Red stomped a formidable field.
Bobby Thomson's home run. The Brooklyn Dodgers were about to go to the World Series when Thomson shocked the world with his ninth-inning heroics.
Billy Mills wins the gold. The Australian and Tunisia runners were heavy favorites but Mills's scorching final lap won the 10,000 meters Olympic race in Tokyo.
Do you believe in miracles? The USA hockey team defeats Russia and goes on to win Olympic gold.
Lance Armstrong wins the Tour de France. Near death from cancer, Armstrong rebounded to win the greatest prize in cycling.
Click here to answer. Results will be posted in the next Insider.

Results from last survey: 29% would choose to witness Don Larsen's 1956 perfect game against the Dodgers if they could travel back in time to attend a single game. Click here for a complete breakdown.

ANNOUNCEMENTS

Superior Sports' June Auction Ends Thursday!

Initial bidding for Superior Sports' June 2002 Sale will end Thursday, June 13 at 7 p.m. PST. Don't miss your last chance to bid on the over 500 high quality lots of PSA graded cards and autographed memorabilia items being offered! Click here to browse and to bid!

This Week! See PSA in Chicago!
Chicago SportsFest 2002
June 13 - 16, 2002
Donald E. Stephens Convention Center
5555 N. River Rd., Rosemont, IL
PSA will be accepting cards at their booth for On-Site Grading.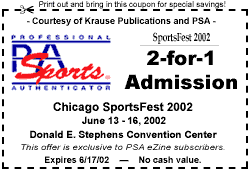 PSA ON-SITE GRADING SERVICE: Guaranteed Two-Hour Show Service -- $50 per card; Standard Show Service (same or next day at show) -- $35 per card.
PSA/DNA Vintage Autograph Authentication: Autograph Expert Steve Grad will be on site to offer authentication for previously signed memorabilia.
For more information about the Sportsfest show, go to: www.krause.com and click on "Sports Memorabilia" and then under "Shows" click on "Sportsfest." Or, click here.

See PSA and Collectors Universe at "eBay Live"

Collectors Universe and PSA will be on hand at the first-ever "eBay Live," an event to be held June 21 - 23 at the Anaheim Convention Center in Anaheim, CA. eBay is conducting the exposition so that members of its online auction services can "meet one another and expand the relationships they have made online, attend educational courses that offer buying and selling tips, and participate in interactive sessions with eBay executives." If you're planning to be at the show, feel free to drop by our booth!
Registration information for the show can be found at www.ebay.com/ebaylive. The attendance fee is $45.00.

PSA Saturday
Next event: Saturday, July 6 from 10 a.m. - 2 p.m.!
Submit cards directly to PSA without going to a show or sending your cards through the mail! This event is held on the first Saturday of every month. Next event: Saturday, July 6 from 10 a.m. - 2 p.m.!
Check out our Specials:
$10 PSA Saturday Special. Cards submitted to this service will be ready for pick up at the next PSA Saturday.
$35 PSA Saturday Special. Cards submitted to this service will be ready for pick up the following Tuesday after 2 p.m.
We're located off the 55 Freeway at: 1921 E. Alton Avenue, Santa Ana, CA 92705. Exit Dyer (east), right at Redhill, right at Alton, mid-block on the right.
---
© 1999 - 2005 Collectors Universe Inc. All Rights Reserved.