Have your sports autographs authenticated by Jimmy Spence, this country's foremost sports autograph expert. Submission forms are available online at the
PSADNA web site.
Just click here.



Find out what
your cards are
really worth.
Subscribe to the
Sports Market Report and have it delivered to your door every month. Click here.


PSA MARKET REPORT

Rookie Rationale
Looking for a Jimmie Foxx or Lou Gehrig rookie card? You won't find one, because they technically don't exist. No mainstream cards were issued during their rookie campaigns. But none was issued during Stan Musial's either, and he has an "official" rookie card anyway. Perhaps the time has come to reconsider rookie card designations. Also, the "Mona Lisa" of sportscards -- the PSA-8 T206 Wagner -- will be on display May 26.
PSA HOBBY NEWS
Ted Williams's Distinctive Autograph a Big Hit
The Splendid Splinter's signature is bold, unmistakable, in demand, and -- too often -- forged. However, Williams's son has built an industry out of his father's signatures, and had some success in reducing forgeries, but not without some criticism of his methods. Yet despite counterfeit items and "insane" prices, the market for new and vintage Williams autographs remains strong.
PSA VINTAGE SET REVIEW

1911 Mecca Double Folders (T201): It's two, two, two cards in one!
Included with packs of Mecca Cigarettes, these wonderful issues are double the fun because they really are two cards in one. Open the card to see one player, fold it to see another. Sound exciting? It sure is when the two players are Sam Crawford and Ty Cobb!
SET REGISTRY SPOTLIGHT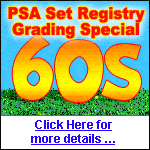 The Chinaphong Kowong Collection - The Number One All Time Finest 1998-99 SP Authentic Basketball Set
The PSA Set Registry has been online since July, 2001. At first, the registry consisted mainly of vintage sets, but each month, more and more modern card collections are being listed. The Chinaphong Kowong Collection is the first basketball set of the 1990s to reach 100% completion status. Congratulations! Click here to view.

The total number of registered sets now stands at 1,465.

SET REGISTRY GRADING SPECIAL! Got 60s cards? Send them in for a special grading fee of only $6 a card! But hurry, this special ends May 31st. Click here for details.

New composites recently added include: 1911 T201 Mecca Double Folders Baseball, 1912 C46 Baseball, 1913 T200 Fatima Team Cards Baseball, 1928 Harringtons Ice Cream Baseball, 1928 Tharps Ice Cream Baseball, 1928 Yuenglings Ice Cream Baseball, 1936 S & S Game Baseball, 1953 Glendale Hot Dogs Baseball, 1961 Morrell Meats Baseball, 1974 Kellogg's Baseball, 1976 Kellogg's Baseball, 1980 Kellogg's Baseball, Hank Aaron Player Set, Ty Cobb Player Set, Gil Hodges Player Set, Willie Mays Player Set, 1955 Brooklyn Dodgers Team Set, 1961 Yankees Team Set, 1988 Fournier Basketball, 1988 Fournier Stickers Basketball, 1988-89 Panini Spanish Stickers Basketball, Vince Carter Rookie Player Set, NBA Top 50 Rookies, 1894 Mayo Cut Plug Football, 1963 Topps Football, 1964 Topps Football, 1966 Topps Funny Rings Football, 1967 Topps Football, 1911-12 C55 Hockey, 1933-34 O-Pee-Chee Hockey, 1990-91 OPC Premier Hockey, 1933-34 National Chicle Sky Birds, 1956 Topps Adventure.

Which modern basketball sets are the current leaders for the first annual PSA Set Registry Awards? Click here to find out.

Find out what's happening by visiting the PSA Set Registry News which is updated frequently. To see what new sets are soon to be added, visit the Set Request List. If your set is not listed, send us your request using the Set Request Form.

Get involved with other collectors who are currently participating in the Set Registry program or are just beginning. Click here to chat on PSA Set Registry Message Board.
OUR READERS ASK
Question: A dealer recently told me that some of my vintage cards showed "bleeding" on the back. What does "bleeding" mean in card language?
Answer: "Bleeding" is used to describe two different scenarios. First, "bleeding" can occur when the print from the card underneath "bleeds" on to the card above. Many vintage cards were produced where the card sheets would lie right on top of each other. When the ink was moist, the ink would spread onto the cards that were directly above. "Bleeding" can also be used to describe color or ink that spreads into a light-colored border. Occasionally you will see this happen where there was simply too much ink used and it leaked over the colored edge. "Bleeding," if not too severe and common for the issue like 1933 Goudey Sport Kings, will not severely detract from the overall grade.
COLLECTORS SURVEY
Should changes be made? There is always controversy swirling around one sport or another about something. A lot of fans believe that the major sports should stick with the status quo, while others believe that change could only improve the games. Which one of the following proposed changes would you like to see the most?
Raise the mound in baseball! A lot of people want to slow down the offensive explosions of recent years and give the pitchers a "better chance" against today's sluggers. Is this your choice?
Raise the rim in basketball! Who knew that players would get so big so fast? The 12-foot rim has been proposed for decades and it's getting new support in the era of the big, big man.
Get rid of the designated hitter! A lot of fans feel that this rule makes the American League game less of a game of strategy than its National League counterpart.
Make the designated hitter the rule in both leagues! Who wants to see a .127 average pitcher at the plate when a slugger is riding the bench?
Change the All-Star game rules! Use the designated hitter, allow the players to re-enter the game and expand the rosters!
Click here to answer. Results will be posted in the next Insider.
Results from last survey: 36% would choose 1911 if they could pick any year to go on the road watching baseball's greatest players in action. Click here for a complete breakdown.
ANNOUNCEMENTS
Grade & Trade: Have Your Cards Graded
and Sold Online with One Easy Step!
eBay, Real Legends, and PSA have announced the creation of a new service designed to help hobbyists navigate their way through the grading and online selling process. The system works as follows:
Customers submit their cards to PSA via the special Grade & Trade submission form.
Real Legends picks up the cards from PSA and lists them on eBay for sale.
Once the cards have sold, Real Legends sends payment to the customer.
With Grade & Trade the turnaround time is more than halved compared to doing each task yourself.
If you want to sell your cards quickly, effortlessly, and for the highest prices possible, this is the service for you.
Please visit www.gradeandtrade.com for more details. You'll be glad you did!
See PSA in California!
West Coast Sports Collectors Convention
May 31 - June 2, 2002
Hollywood Park Casino and Convention Center
3883 W. Century Blvd.
Inglewood, CA 90303
Long Beach Coin & Collectibles Show
June 5 - 9, 2002
Long Beach Convention Center
100 S. Pine Avenue
Long Beach, CA
West Coast Sports Collectors Convention: PSA will be accepting cards for all PSA grading levels at the show. Cards submitted will be graded by PSA and returned via mail. PSA/DNA will be offering free on-site authentication with every autograph purchase in the Autograph Pavilion! Autograph Expert, James Spence will be on-site to offer authentication for previously signed memorabilia.
For more information about the West Coast Collectors show, go to: www.halloffamesports.com and click on "West Coast Sports Collectors Convention," or click here. For directions to the show, click here.
Long Beach Show: PSA will be accepting cards for "Next Day Show Service" at $35 per card. Cards must be submitted by 12 noon on Wednesday and/or Thursday for next day delivery. PSA is also accepting cards at all PSA grading levels at the Long Beach show. Cards submitted at other services will be graded by PSA and returned via mail. For more information about the Long Beach Coin & Collectibles show, go to: www.longbeachshow.com. For directions to the show, click here.
For more information about PSA services, call PSA Customer Service at 800-325-1121.