Have your sports autographs authenticated by Jimmy Spence, this country's foremost sports autograph expert. Submission forms are available online at the
PSADNA web site.
Just click here.



Find out what
your cards are
really worth.
Subscribe to the
Sports Market Report and have it delivered to your door every month. Click here.


PSA MARKET REPORT

Auction Action
Historically significant, rare, and unusual items have recently crossed the auction block at sales held by SportsCards Plus, MastroNet and Sportico. Memorabilia from The Babe and The Greatest brings The Big Bucks. Recently discovered Topps Test Rarities cause a stir. Michael Jordan 1984 Collegiate Award goes for $6,000.
PSA EXPERT'S CORNER

Signing Habits and Autograph Analysis of Baseball Hall of Fame Pitcher Ed A. Walsh
Born in northeastern Pennsylvania in 1881, Edward Augustine Walsh would have been destined for the coal mines, but his large build and skill with a spitball put him on the path to the Baseball Hall of Fame. "Big Ed" emerged as one of baseball's best pitchers, and his 1.82 ERA remains the all-time record. James Spence, the most respected expert in the sports autograph industry, offers up this analysis of the signing habits of the greatest wet ball pitcher ever.
PSA SPORTS HISTORY

Hoop Dreams: The Changing Game of Basketball
Today, basketball is an established sport, a familiar game with superstars who attract millions of adoring fans. It hasn't always been that way. Take a trip back down the bumpy road of basketball history with these amusing musings that follow the progress of the game from the school days to the pros.
SET REGISTRY SPOTLIGHT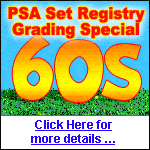 MH - Logogg - The Number One All Time Finest 1961-62 Fleer Basketball Set
There are four 1961-62 Fleer basketball sets that are 100% complete, but MH's set is the best rated with a GPA of 8.40. There is no card graded below a NM-MT 8 which includes #3 Elgin Baylor MINT 9, #10 Bob Cousy MINT 9, and #38 Bill Russell MINT 9. Congratulations to MH for completing a great set! Click here to view.
Another month has passed and in April alone over 300 new sets have been registered. The total count is now 1,322.
NEW SET REGISTRY GRADING SPECIAL! Got 60s cards? Send them in for a special grading fee of only $6 a card! Click here for details.
There are currently 283 set composites online with more being added every day. New composites recently added include: 1911 E94 Close Candy Baseball, 1916 Tango Eggs Baseball, 1921 E121 American Caramel Baseball, 1928 George Ruth Candy Co. Baseball, 1934-36 Batter-Up Baseball, 1960 Nu-Card Hi-Lites Baseball, 1961 Dodgers Bell Brand Baseball, 1961 Topps Stamp Panels Baseball, 1962 Dodgers Bell Brand Baseball, 1968 O-Pee-Chee Baseball, 1968 Topps Game Baseball, Roberto Clemente Player Set - weighted, Don Mattingly Player Set - weighted, Jim Palmer Player Set - weighted, Jackie Robinson Player Set - weighted, Mike Schmidt Player Set - weighted, 1968-69 Jack in the Box San Diego Rockets Basketball, 1968-69 Topps Test Basketball, 1998-99 SP Authentic First Class Basketball, 1998-99 SP Authentic Michael Basketball, 1998-99 SP Authentic NBA 2K Basketball, 1998-99 SP Authentic Sign of the Times Basketball, 1960 Fleer Football, 1961 Fleer Football, 1961 Nu-Card Football, 1962 Fleer Football, 1953 NBC Stars - weighted, 1965 Fleer Hogan's Heroes, 1969-70 Topps Man on the Moon, 1997 S.B. Star Trek TOS 1 - weighted, 1998 S.B. Star Trek TOS 2 - weighted, 1999 S.B. Star Trek TOS 3 - weighted, 2001-02 SP Authentic Golf.
Which registered sets are the current leaders for the first annual PSA Set Registry Awards? Click here to find out.
Find out what's happening by visiting the PSA Set Registry News which is updated frequently. To see what new sets are soon to be added, visit the Set Request List. If your set is not listed, send us your request using the Set Request Form.
Get involved with other collectors who are currently participating in the Set Registry program or are just beginning. Click here to chat on PSA Set Registry Message Board.
OUR READERS ASK
Question: I was looking through your price guide and noticed that a 1953 Topps Willie Mays cards sells for more than his 1952 Topps card even though it was made a year later. By the way, I thought that the 1952 Topps set was more popular too. Why is Willie's 1953 card worth more?
Answer: That's a good question. The 1952 Topps set is more popular -- perhaps the most popular post-war set in the hobby -- but the Mays card was found in a fair quantity during the 1980's "find." Now, that is not to say that the card is easy to find in high-grade but the perception is that it isn't too tough. Conversely, the 1953 Topps Mays is very tough because it was not found during the "find" of 1953 Topps cards (unlike Mantle) and the black bottom border is very susceptible to chipping. That being said, it still seems like the 1952 Topps Mays remains underrated by collectors but, in time, the card should get its due.
COLLECTORS SURVEY
Baseball! Who doesn't love it? There's always something to talk about (or argue about), whether it was last night's pitching change or a trade that took place 20 years ago. If you could spend a year on the road (ANY year!) watching baseball's greatest players in action, which era would you choose?
How about 1911? There was this fellow named Shoeless Joe Jackson hitting .408 and not winning the batting title because of Ty Cobb. This was the time of great pitchers and incredible hitters.
1927. What could be better than the 60 home run year of the Babe and the great Yankees team from that year?
1947. The greats from the pre-war years had returned to the game, Jackie Robinson was breaking the color barrier and baseball was magic.
1961. The chase is on! Maris and Mantle are after the Babe's season record of 60 homers and excitement is in the air.
Today. Randy Johnson, Barry Bonds, Ichiro, the Yankees -- why look anywhere else for the best time in baseball history?
Click here to answer. Results will be posted in the next Insider.
Results from last survey: 52% selected Babe Ruth from our five choices as the greatest baseball player of all time. Click here for a complete breakdown.
ANNOUNCEMENTS
PSA Saturday
Next event: Saturday, May 4 from 10 a.m. - 2 p.m.!
Submit cards directly to PSA without going to a show or sending your cards through the mail! This event is held on the first Saturday of every month. Next event: Saturday, May 4 from 10 a.m. - 2 p.m.!
Check out our Specials:
$10 PSA Saturday Special. Cards submitted to this service will be ready for pick up at the next PSA Saturday.
$35 PSA Saturday Special. Cards submitted to this service will be ready for pick up the following Tuesday.
We're located off the 55 Freeway at: 1921 E. Alton Avenue, Santa Ana, CA 92705. Exit Dyer (east), right at Redhill, right at Alton, mid-block on the right.
THIS WEEK: See PSA at the Ft. Washington Show!
79th Philadelphia Sportscard & Memorabilia Show
May 3 - 5, 2002
Ft. Washington Expo Center
1100 Virginia Drive
Ft. Washington, PA
Cards may be submitted to all PSA grading levels at the show.
Cards submitted at the show will be graded by PSA and returned via mail.
PSA/DNA Vintage Autograph Authentication is also available at the Ft. Washington Show.
For more information, call PSA Customer Service at 800-325-1121.