Have your sports autographs authenticated by Jimmy Spence, this country's foremost sports autograph expert. Submission forms are available online at the
PSADNA web site.
Just click here.



Find out what
your cards are
really worth.
Subscribe to the
Sports Market Report and have it delivered to your door every month. Click here.


PSA MARKET REPORT

Auction Action
Hammers have fallen at several recent auctions, with price levels suggesting a return of buyer confidence as collectors pursue top quality and complete sets. Gem Mint cards fetch "superior" prices in the recent Superior Sports auction. Demand for autographs from "the next MJ" is heating up. Tiger's still the rage among golf collectors, but they haven't forgotten Bobby Jones. Marino beats Montana in helmet auction.
PSA HOBBY NEWS

Amazing Ruth Items and Topps Test Discoveries Heading for Auction
SportsCards Plus has recently seized collectors' attention by making not one, but three major discoveries of rare sports memorabilia. A pristine autographed Babe Ruth baseball is only the beginning. The company also discovered a heretofore unknown, autographed 1934 Tour of Japan photo featuring The Babe, Lou Gehrig, and Jimmie Foxx! And if that's not enough, how about a complete 1968 Topps Test Basketball set, and unopened 1968 Topps Plaks and 1969 Topps Super wax packs? Many such items will be auctioned this month.
PSA VINTAGE SET REVIEW

Stars of the 1952 Bowman Baseball Card Set
Although the 1952 Topps set may get more collector recognition, the Bowman set from that year should not be overlooked. Names like Kiner, Berra, and Musial make this a virtual highlight reel of mid-century stars, and a few condition rarities add an extra touch of excitement for the 1952 Bowman collector.
SET REGISTRY SPOTLIGHT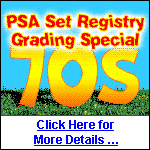 Stonegate - The Number One Finest 1887 Allen & Ginter (N28) Set of All Time
OK, so there's only 10 cards in the set, but finding quality examples is not easy. Stonegate has managed to assemble a very evenly graded set in PSA NM-MT 8, with one exception. His Jack Glasscock is a MINT 9. Congratulations to Stonegate for putting together a great little set. Click here to view.
Just two weeks ago, the PSA Set RegistryTM had 877 sets registered. On March 31st, the number of registered sets passed 1,000. And, today it is sitting at 1,010 sets! Thanks goes out to all registrants who have provided their insight, time, and enthusiasm to make the PSA Set Registry the coolest place to list sportscards on the Internet.
This fall we will recognize those collectors who have registered outstanding sets in the First Annual PSA Set Registry Awards. Click here for details and watch for updates and more information coming soon.
New composites recently added include: T-206 Hall of Fame Players Set, Lou Gehrig Player Set - Weighted, Babe Ruth Player Set - Weighted, Ted Williams Player Set - Weighted, Mickey Mantle Player Set - Weighted, Wade Boggs Player Set, Kobe Bryant Player Set, Terry Bradshaw Player Set, Hockey HOF Player Set, 1960 Leaf Large Portrait Baseball, 1961 Nu-Card Scoops Baseball, 1969 Topps Decal Baseball, 1981 Topps Traded Baseball, 1987 Topps Baseball, 1996-97 Topps Chrome Refractor Basketball, 1949 Leaf Football, 1960 Topps Football, 1964 Philadelphia Football, 1969 Topps 4 in 1 Football, 1910 C56 Hockey, 1963-64 Parkhurst Hockey.
Find out what's happening by visiting the PSA Set Registry News which is updated frequently. To see what new sets are soon to be added, visit the Set Request List. If your set is not listed, send us your request using the Set Request Form.
Hurry! Only two weeks left for the 1970s Set Registry Special. Click here for details.
Get involved with other collectors who are currently participating in the Set Registry program or are just beginning. Click here to chat on PSA Set Registry Message Board.
OUR READERS ASK
Question: What is the difference between a surface wrinkle and a crease when it comes to sportscard grading?
Answer: When it comes to the technical grading standard, there really is no difference between a surface wrinkle and a crease; however, there may be a difference in the severity of the damage. A surface wrinkle is, for the most part, a crease that occurs on the top layer of paper stock. In some cases, a card may appear to be NM-MT at first glance but a wrinkle may be found upon close examination. In most cases, a card will at least be dropped to a PSA EX-MT 6 if the rest of the card appears to be high-grade. Surface wrinkles plague cards from the 1950s; they can appear on the front or back of the cards. In fact, many modern factory set cards (like some of the late-1980s Donruss factory cards) are found with this type of damage due to the way they were packaged. Creases are a little more severe. This is usually caused by the bending of the paper stock which, in turn, creates a crease in the paper. Usually, a full crease will be more noticeable or severe to the naked eye but, once again, both surface wrinkles and creases are similar in the way they can hinder the overall grade of the card.
COLLECTORS SURVEY
What is the greatest record in sports? It's impossible to say, of course, because there are so many factors involved when comparing era vs. era and sport vs. sport. Just for fun, though, here are five magnificent accomplishments -- both individual and team -- to choose from. Which one of these five shines the brightest?
UCLA basketball. Ten national championships in a 12-year span with a constantly changing roster due to graduation. Unbelievable!
The Yankees. A true dynasty. They have been a dominant team in almost every decade, with an incredible five world championships in a row from 1949-53.
Cy Young's 511 wins. Are you kidding? If a pitcher today won 20 games every year for 20 years he'd still be 111 wins short of this remarkable record.
Rocky Marciano. The Rock was the undefeated heavyweight champ with a lifetime record of 49-0. Who can match that? No one!
The Montreal Canadiens. A hockey powerhouse for decades with a zillion Stanley Cup victories (or so it seems).
Click here to answer. Results will be posted in the next Insider.
Results from last survey: 46% rejected our options (the Mariners, Yankees, Diamondbacks, and Braves), and believe that someone else will win it all this baseball season. The Yankees did the best of the teams listed, with 30%. Click here for a complete breakdown.
ANNOUNCEMENTS
Come Meet L.A.'s NBA Basketball Legends & Young Phenoms!
Showtime 1
April 6-7, 2002
Marina Beach Marriott Resort
4100 Admiralty Way
Marina Del Rey, California
Corey Maggette
April 6, 5:30 - 7:30 p.m.
Limited 500
Autographs Available!
Quentin Richardson
April 6, 5:30 - 7:30 p.m.
Limited 500
Autographs Available!
Darius Miles
April 6, 5:30 - 7:30 p.m.
Limited 500
Autographs Available!
James Worthy
April 7, 12 - 2 p.m.
Limited 500
Autographs Available!
Michael Cooper
April 7, 2 - 4 p.m.
Limited 500
Autographs Available!
Bill Walton
April 5, 6 - 8 p.m.

Magic Johnson
April 7, Time TBA
First Public Signing
to inscribe "HOF 2002!"
(Additional Charge)



Tickets are available online at www.sportscentreauthenticated.com
or call: 508-767-0786.

Join us at the Marina Beach Marriott, purchase your autograph
and GET REAL with PSA/DNA!

PSA/DNA is the official authenticator of the show.
---
See PSA in New York!
A Gloria Rothstein Show
April 5 - 7, 2002
Metropolitan Pavilion
125 West 18th Street
New York, NY 10011
212-463-0200
PSA will be accepting cards for all PSA grading levels at the show, with the exception of show walk-throughs, as there is no on-site grading. Cards submitted will be graded by PSA and returned via mail.
James Spence On-Site Sports Autograph Authentication will be available at the PSA booth.
For more information about the Gloria Rothstein show, contact Francine Barbieri at 845-928-1170.
For more information about PSA services, call PSA Customer Service at 800-325-1121.
PSA Saturday
Next event: Saturday, April 6 from 10 a.m. - 2 p.m.!
Submit cards directly to PSA without going to a show or sending your cards through the mail! This event is held on the first Saturday of every month. Next event: Saturday, April 6 from 10 a.m. - 2 p.m.!
Check out our Specials:

$10 PSA Saturday Special. Cards submitted to this service will be ready for pick up at the next PSA Saturday.
$35 PSA Saturday Special. Cards submitted to this service will be ready for pick up the following Tuesday.
We're located off the 55 Freeway at: 1921 E. Alton Avenue, Santa Ana, CA 92705. Exit Dyer (east), right at Redhill, right at Alton, mid-block on the right.