Have your sports autographs authenticated by Jimmy Spence, this country's foremost sports autograph expert. Submission forms are available online at the
PSADNA web site.
Just click here.



Find out what
your cards are
really worth.
Subscribe to the
Sports Market Report and have it delivered to your door every month. Click here.


PSA MARKET REPORT

Big Ticket Items Still Hurting, Set Registry Driving Semi-Stars and Common Values
A slow economy has cooled collector interest in the high-dollar sportscard market, but the low end of the market is heating up thanks to the Set Registry. Collectors cite competition, set building as primary reasons for increased interest in commons and semi-stars. Among the big stars however, Sammy Sosa is a modern favorite, and promises to stay that way.
PSA COLLECTOR PROFILE

A Rosey Collection
Like many collectors, Neal Kane of Wilmington, Delaware has concentrated most of his collecting efforts on a specific player. Neal was watching as this strong slugger broke the National League hitting record at a 1981 Phillies vs. Cardinals game. From that moment on, Neal became a die-hard fan of Pete Rose, and an avid collector of Rose memorabilia. He now has every Rose card from all the major issues, not to mention Rose autographs, ticket stubs from Rose's games, and even a few items not related to Rose -- including a prized homerun ball signed by The Babe.
PSA VINTAGE SET REVIEW

Stars of the 1933 DeLong Baseball Set
The Boston-based DeLong Gum Company issued a short baseball set in 1933. The cards featured black-and-white player photos against a tiny ballpark backdrop, making the players seem larger than life. How appropriate for this set, because out of 24 featured players, 15 became future Hall of Famers! This amazingly high ratio of legendary names makes the 1933 DeLong a small set with big appeal.
SET REGISTRY SPOTLIGHT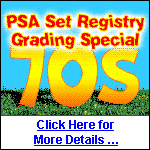 The MINT State Collection - The Number One Finest 1957 Topps Football Set of All Time
The MINT State Collection is 100% complete with a set rating of 8.59, including the checklist graded PSA NM-MT 8 and the Willard Sherman error variation graded PSA MINT 9. In fact, aside from one card graded PSA NM-MT 8 (OC), the set is entirely graded an unqualified PSA 8 or better. A total of 92 cards are graded PSA MINT 9, and the one GEM MT 10 ever assigned to a 1957 Topps football card is in The MINT State Collection. Click here to view the collection online.
The PSA Set RegistryTM now has 785 sets registered. New baseball composites added in the week include: 1935 Goudey Baseball, 1983 Topps Baseball, 1988-89 Fleer Basketball, 1980-81 Topps Basketball, 1970 Topps Super Glossy Football, 1974 Topps Football, 1976 Topps Football, 1978 Topps Football, 1979 Topps Football, 1953-54 Parkhurst Hockey, 1957-58 Topps Hockey, and 1958-59 Topps Hockey.
Get the latest updates by visiting the PSA Set Registry News which is updated frequently. To see what new sets are soon to be added, visit the Set Request List.
A word about weighting. We are in the process of tying weighting of sets to the Sports Market Report pricing. This does require a great deal of preparatory work, but once done, new set composites will go up with weighting already done. We expect to launch this in approximately six weeks. In the meantime, however, should you want to send us weighting for your favorite sets, we will review the weights and add them to your set composites.
Get involved with other collectors who are currently participating in the Set Registry program or are just beginning. Click here to chat on PSA Set Registry Message Board.
OUR READERS ASK
Question: Is there a major problem with counterfeit cards? What types of counterfeit cards does PSA encounter the most?
Answer: With the modern technology applied to currently manufactured cards, counterfeits are very difficult to produce. Holograms, glossy stock, foils, etc. all contribute to the virtual impossibility of current counterfeits. The majority of the counterfeits that we see the are the typical examples like Michael Jordan and Mark McGwire rookie cards. In those cases, the technology wasn't too advanced, so copies or counterfeits could be produced with reasonable accuracy. Today, we see many more altered cards, such as trimmed or re-colored cards, than counterfeits.
COLLECTORS SURVEY
It's March Madness time! This year looks to be one of the most exciting in years, and there are at least 20 teams that have a shot at winning it all. Out of all the surprises in the 2001-02 season, which team is the biggest surprise of them all?
It has to be Texas Tech. Bobby Knight has taken a team that was regarded as less than mediocre and turned them into 20+ game winners and an almost certain berth in the NCAA tourney.
Marquette. The great years when Al McGuire coached them are in the distant past, but they've put together a great season and made it into the Top Ten.
Oregon. To quote from "Butch Cassidy and the Sundance Kid" -- Who are these guys?
Cincinnati. Sure, they've got a great coach, but there seemed to be little chance that this was a Top Ten team at the beginning of the season, let alone a team that would make the Top Five.
Gonzaga. Yes, every year we watch them make it to the Sweet 16, but this time they have a real shot at taking it all.
Click here to answer. Results will be posted in the next Insider.
Results from last survey: 46% would choose Sandy Koufax to pitch the most important game in history, if any pitcher from any era could be selected. Click here for a complete breakdown.
ANNOUNCEMENTS
Superior's Auction Closes March 14th. You Can Bid Now.

Superior Sports is currently offering over 1,000 amazing lots of PSA graded sportscards in their Spring auction! These are some of the finest, highest graded cards available in today's market. Auction bidding can be done on the Internet, by telephone or fax, or by mail. For more information, call 231-922-9862. To receive a catalog for this auction, send a request to [email protected]. To bid now, click here.
Also offered by Superior Sports are the eBay Live Auctions. This is a 60 lot auction that is running concurrently on both Superior's website and on eBay's Live Auctions website. These lots will be available for bidding on Superior's site until 7:00 p.m. PT on March 14, 2002. At 7:30 p.m., the 60 lots will be auctioned off "live" via the telephone and eBay Live Auctions and the hammer will fall on each item in lot number order, closing the lot. Click here to bid now.
Odyssey Auction Offers Sports Autographs & Memorabilia

Bidding ends Thursday, March 7, for Odyssey's current selections. Among the highlights are a signed basketball by Larry Bird and Magic Johnson, a vintage signed baseball from the late legendary Roy Campanella, World Champion 1959 Los Angeles Dodgers Complete Autograph Set, a fabulous content handwritten letter by Jimmie Foxx, exquisite and desirable signed photo, 8 x 10, of the Babe in full swing, and much more. Click here to bid online now, or call 800-996-3977 for more information.




See PSA Next Week in the Chicago area!

PSA On-Site Grading
Chicago Sun Times Show
March 15 - 17, 2002
Donald E. Stephens Convention Center
Rosemont, IL

PSA ON-SITE GRADING SERVICE: Guaranteed Two-Hour Show Service -- $50 per card; Standard Show Service (same or next day at show) -- $35 per card. James Spence On-Site Sports Autograph Authentication is also available at this show.

FREE Expert Pre-Grading Consultation Service

PSA is all about service to the sportscard collecting hobby. So if you have friends who are active collectors or who have collections from long ago, but don't know whether they should have their cards graded, encourage them to bring their cards to the PSA On-Site Grading Shows and get an unbiased expert pre-grading opinion about the condition of their cards absolutely FREE!

For more information about PSA, call our Customer Service department at 800-325-1121. For information about the Chicago Sun Times show, contact George Johnson at: 630-627-1975.




Come and meet your favorite Los Angeles basketball players!

April 6-7, 2002
Marina Beach Marriott Resort
4100 Admiralty Way
Marina Del Rey, California

Sportscentre Authenticated is proud to present "Showtime 1." Featured at this Southern California Basketball Autograph Show on:

Saturday, April 6th
L.A. Clippers Young Guns
Darius Miles
Quentin Richardson
Corey Maggette

Sunday, April 7th
Former L.A. Lakers Greats
Earvin "Magic" Johnson
James Worthy
Michael Cooper

Autographs are available and are LIMITED.

Join us at the Marina Beach Marriott, purchase your autograph and GET REAL with PSA/DNA! PSA/DNA is the official authenticator of the show.

Autographed tickets are available online at www.sportscentreauthenticated.com or call: 508-767-0786.