Have your sports autographs authenticated by Jimmy Spence, this country's foremost sports autograph expert. Submission forms are available online at the
PSADNA web site.
Just click here.



Find out what
your cards are
really worth.
Subscribe to the
Sports Market Report and have it delivered to your door every month. Click here.


PSA MARKET REPORT

The Bidders Have Spoken: Vintage Baseball is Hot, Winter Olympics and Pricey Tiger Products Are Not
Vintage baseball remains strong as Teletrade and MastroNet auction results show. Set building is creating new interest in the hobby, underscoring the difference between the graded and non-graded card markets. Upper Deck Authenticated's high-end Tiger Woods products fail to bring big prices at auction. Winter Olympics autographs sale shows the same results.
PSA COLLECTOR PROFILE

A Knockout Collection
Boxing cards have never enjoyed the same amount of interest as baseball or football cards, but that hasn't stopped Darrin Silverman from collecting them. In this Sports Market Report interview, the Las Vegas television producer reveals how he got his start in boxing cards, and shares some of the highlights of his heavy-hitting collection.
PSA VINTAGE SET REVIEW

The 1912 Plow's Candy Baseball Cards (E300): Taking Rarity to the Limit
For rarity and historical significance, there's no surpassing the 1912 Plow's Candy baseball set. Looking for rarity? No card in the set has a PSA-graded population higher than 2. Looking for big names? This set showcases Wagner, Cobb, Lajoie, and Home Run Baker -- and that barely scratches the surface. The 1912 Plow's cards are so rare that only 56 have ever been graded by PSA, yet a complete set contains an estimated 66 cards. Do the math. A complete 1912 Plow's set has yet to be put together, but would be a dream come true for collectors and baseball fans everywhere.
SET REGISTRY SPOTLIGHT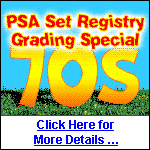 The Skovran Collection - The Number One Finest 1969-70 Topps Basketball Set of All Time
This set has only one Near Mint 7; the rest of the cards are graded NM-MT 8 or better including a MINT 9 Elvin Hayes. But the race is far from over. There are three other sets that are either complete or near completion. Will Skovran retain the number one position? Time will tell. Click here to view the entire set!
The PSA Set RegistryTM now has 673 sets registered. New baseball composites added in the last two weeks include: 1909-11 T206 Ty Cobb Key Card Set (weighted), 1913 National Game, 1967 Topps Test Discs, 1970 Milton Bradley, 1970 Rold Gold Pretzels, 1971 Kellogg's, 1972 Kellogg's, 1972 O-PEE-CHEE, 1973 Kellogg's, 1974 Topps Deckle Edge, 1974 Topps Traded, 1977 Topps Cloth Stickers, 1980 Topps, 1984 Donruss, 1990 Leaf. New basketball composites include: 1977-78 Topps, 1986-87 Fleer Sticker, 1971-72 Topps Trios. New football composites include: 1961 Topps, 1962 Topps, 1968 Topps Stand Up, 1970 Kellogg's, 1970 Topps, 1971 Kellogg's, 1975 Topps, 1977 Topps Mexican, 1996-97 Topps Chrome, 1998 SP Authentic, 1999 Bowman Chrome. New miscellaneous sets include: 1959 Fleer Three Stooges.
Get the latest updates by visiting the PSA Set Registry News which is updated frequently. To see what new sets are soon to be added, visit the Set Request List.
A word about weighting. We are in the process of tying weighting of sets to the Sports Market Report pricing. This does require a great deal of preparatory work, but once done, new set composites will go up with weighting already done. We expect to launch this in approximately six weeks. In the meantime, however, should you want to send us weighting for your favorite sets, we will review the weights and add them to your set composites.
Get involved with other collectors who are currently participating in the Set Registry program or are just beginning. Click here to chat on PSA Set Registry Message Board.
OUR READERS ASK
Question: I have heard conflicting stories about the Babe Ruth B&W Hall of Fame plaque cards. Some people tell me that no known authentic examples exist while others tell me that they have seen real ones. Who's right?
Answer: This is another highly contested topic. According to some experts, the Albertype Company printed them in 1947 and Babe Ruth signed very few items through the mail in 1947-48 due to his rapidly failing health. There does seem to be a window of opportunity for Ruth to sign them but the chances are very, very slim. This is much like the debate as to whether Roger Maris could have signed any Bobby Brown AL baseballs. There was a window, but it was very small. At this point, there is still no true consensus, but we continue to do research here at PSA.
COLLECTORS SURVEY
You are the manager of a baseball team that is playing the greatest (most important) game in history. You have a secret weapon. You can choose any pitcher from any era to take the mound for you for the full nine innings (or longer). No relief pitchers. You take the shot with YOUR man, right or wrong. Whom do you pick to take the hill?
Cy Young. A logical choice. After all, he won more games than any other pitcher in history.
Walter Johnson. "The Big Train" may have been the best of all time, but was/is he tough enough for the biggest game baseball has ever seen?
Lefty Grove. If you compare era versus era, this man is the greatest. It would be difficult to make a better choice.
Sandy Koufax. If you ever saw him pitch it will be hard to choose anyone else.
Jack Morris. What's he doing on this list? If you saw his performance in Game Seven of the 1991 World Series, you'll know what "will to win" really means.
Click here to answer. Results will be posted in the next Insider.
Results from last survey: 43% believe that the Barry Bonds home run #73 ball will bring $1,000,000 or lower when it finally sells. Click here for a complete breakdown.
ANNOUNCEMENTS
Bidding Opens Today for Superior's Spring Renaissance Sale
Superior Sports offers over 1,000 amazing lots of PSA graded sportscards in their Spring auction! These are some of the finest, highest graded cards available in today's market. Auction bidding can be done on the Internet, by telephone or fax, or by mail. For more information, call 231-922-9862. To receive a catalog for this auction, send your request to [email protected]. To bid now, click here.
Also offered by Superior Sports are the eBay Live Auctions. This is a 60 lot auction that is running concurrently on both Superior's website and on eBay's Live Auctions website. These lots will be available for bidding on Superior's site until 7:00 p.m. PT on March 14, 2002. At 7:30 p.m., the 60 lots will be auctioned off "live" via the telephone and eBay Live Auctions and the hammer will fall on each item in lot number order, closing the lot. Click here to bid now.
See PSA this week in Long Beach, California
and next week in the Philadelphia area!
PSA Next Day "Show Service"
Long Beach Coin & Collectibles Show
February 21 - 24, 2002
Long Beach Convention Center
100 S. Pine Avenue
Long Beach, CA
PSA On-Site Grading
78th Philadelphia Sportscard & Memorabilia Show
March 1 - 3, 2002
Ft. Washington Expo Center
1100 Virginia Drive
Ft. Washington, PA
Long Beach: PSA will be accepting cards for "Show Service" at $35 per card. Cards must be submitted by 12 noon on Wednesday and/or Thursday for next day delivery. PSA is also accepting cards at all PSA grading levels at the Long Beach show. Cards submitted at non-show service levels will be graded by PSA and returned via mail. For more information about the Long Beach Coin & Collectibles show, go to: www.longbeachshow.com
For directions to the show, go to: http://www.longbeachcc.com/maps.htm
Ft. Washington: PSA will be accepting cards at their booth for On-Site Grading at the 78th Philadelphia Sportscard & Memorabilia Show. PSA ON-SITE GRADING SERVICE: Guaranteed Two-Hour Show Service -- $50 per card; Standard Show Service (same or next day at show) -- $35 per card. James Spence On-Site Sports Autograph Authentication is also available at the Ft. Washington Show.
FREE Expert Pre-Grading Consultation Service
PSA is all about service to the sportscard collecting hobby. So if you have friends who are active collectors or who have collections from long ago, but don't know whether they should have their cards graded, encourage them to bring their cards to the PSA On-Site Grading Shows and get an unbiased expert pre-grading opinion about the condition of their cards absolutely FREE! For more information about PSA, call our Customer Service department at 800-325-1121.