Have your sports autographs authenticated by Jimmy Spence, this country's foremost sports autograph expert. Submission forms are available online at the
PSADNA web site.
Just click here.


Find out what
your cards are
really worth.
Subscribe to the
Sports Market Report and have it delivered to your door every month. Click here.


Start your holiday shopping now! Authentic NFL collectibles available at NFL Auction.


Set Registry and Solid Gems Drive Superior to $756,000
PSA graded set collecting continues to be a driving force in the hobby, as recent Superior auction results show. Near complete 1962 Topps baseball set in NM-MT 8 brings... read the story! Collectors willing to pay price premiums for any cards necessary to complete sets. Click here for the full report.

Turning Pro: The Early Days of Professional Football
The first pro player received $10 (plus expenses). The oldest pro franchise? Read the story! Curly Lambeau founds the Green Bay Packers. Jim Thorpe -- superstar. The NFL is formed in 1922. Red Grange draws huge crowds as the pro game takes off. Click here to read more.

A Blast From the Past: The 1940 Play Ball Set and its Retro Stars
The 1940 Play Ball set is one of the most overlooked vintage issues in the hobby today. It may not have the flair of the 1941 Play Ball set, but it does contain several key legends in baseball history, coupled with a true difficulty rating. Best of all, the 1940 set offers collectors the chance to pick up some superstar cards without paying superstar prices. Click here to read more.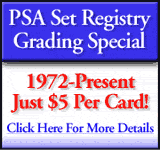 Heifetz - The Number One 1948 Bowman Basketball Set
Heifetz was the recipient of the 2002 Award for Best Vintage Basketball set and for good reason. This set is 100% complete with a GPA of 8.33. Not a single card in the set grades less than a PSA 8! Arguably the most valuable basketball card, #69 George Mikan's rookie card, grades PSA NM-MT 8 with only 4 cards ever graded higher. Click here to view this award-winning set.

GRADING SPECIAL! If you have sportscards dated 1972 to present you are in luck. Get those cards graded for just $5 a card, with a 25 card minimum! This offer expires January 15, 2003. Click here for details.

Visit the Set Registry News page and learn which set composites have been recently added to the Registry and other Set Registry news.

To see what new sets are soon to be added, visit the Set Request List. If your set is not listed, send us your request using the Set Request Form.

New composites recently added include:
2001 Topps Collection Football
2002 Finest Football
Franco Harris Basic Set
Franco Harris Master Set
O.J. Simpson Basic Set
O.J. Simpson Master Set
Roger Staubach Basic Set
Roger Staubach Master Set
1989-90 OPC Hockey
2001-02 Upper Deck Premier Collection Hockey
Fun, informative, and sometimes controversial, the PSA Set Registry Messageboard is the place to get involved with other collectors who are currently participating in the Set Registry program or are just beginning. Click here to chat on the Set Registry Messageboard.

The PSA Set RegistryTM is a work in progress and we invite your comments and ideas. Send your suggestions to [email protected].
Question: I am a collector of 1962 Topps football cards and I am having a really hard time finding examples that will grade PSA 8. Why are these cards so tough?
Answer: The 1962 Topps football cards are surrounded by colored borders and the slightest chip is easily seen with the naked eye. Many of the cards simply don't make the PSA 8 grade due to general wear on the edges and corners. Also, beware of recoloring along the black edges. This is a common practice by card doctors. Keep trying, but these are challenging cards for sure.
Submit cards to PSA* and attend the NFL Experience FOR FREE!
Receive one free adult admission ticket (a $15 value) to the NFL Experience and Topps Super Bowl XXXVII Card Show in San Diego with every five cards submitted at the $6 per card rate (10 day turnaround).
Or receive two free adult admission tickets (a $30 value) for every eight cards submitted at the $6 per card rate.
Maximum: two free admission tickets per person

*Note: This $6 per card rate is only good for submissions at the PSA Super Bowl Saturday on Saturday, January 11.



For more information about the NFL Experience, go to www.nfl.com and click on "America Online Presents the NFL Experience" or click here.



This Holiday season, get something special
for your favorite football fan from NFL Auction!

NFL Auction, the official online auction initiative of the National Football League, is the place to find the best 100% authentic NFL collectibles available anywhere.
With a wide assortment of autographed memorabilia, one-of-a-kind game used items, and once-in-a-lifetime fantasy experiences available you're sure to bring a smile to all your favorite NFL fans. You can share in the joy knowing

that 100% of the net proceeds from your purchase was donated to charity.
To date, NFL Auction has generated over $1,000,000 for charity by auctioning off over 6,000 pieces of NFL memorabilia. Auctions are posted every Thursday and Friday at 10 p.m. EST. Each auction is available for 10 days with bidding ending each Sunday and Monday night. Click here to participate!

See PSA at These Upcoming Shows!
NFL Experience and Topps Super Bowl XXXVII Card Show
S. Embaracadero Marina Park (adjacent to San Diego Convention Center)
San Diego, CA
January 18 - 26, 2003
Topps NFL Experience Hawaii Card Show
Kuroda Field
Waikiki, HI
January 30 - February 2, 2003
PSA will be accepting cards for all PSA grading levels at the above shows. Cards submitted will be graded at PSA and returned via mail.
Bonus at the "NFL Experience and Super Bowl XXXVII Card Show": PSA/DNA will be on site to offer "signed-in-the-presence" authentication.
For more information about PSA services, call PSA Customer Service at (800) 325-1121.

© 1999 - 2005 Collectors Universe Inc. All Rights Reserved.