Have your sports autographs authenticated by Jimmy Spence, this country's foremost sports autograph expert. Submission forms are available online at the
PSADNA web site.
Just click here.


Find out what
your cards are
really worth.
Subscribe to the
Sports Market Report and have it delivered to your door every month. Click here.


Start your holiday shopping now! Authentic NFL collectibles available at NFL Auction.

Market Report: Auction Action
Grey Flannel's sale of items from the estate of "Pistol Pete" Maravich exceeds expectations, pulling in almost $2 million. Ball signed by Babe Ruth, Lou Gehrig and Ty Cobb highlights Mile High's 10th auction. Low population cards from popular sets are in demand. "THE" Bobby Orr Puck is centerpiece of upcoming Lelands.com auction. Click here for the full report.

Angel on the Infield: Former Major League Star Paul Schaal Looks Back at the Angels' Early Days
Forty-one years ago the Angels were an expansion team filled with hope and "wild men." Gene Autry, Dean Chance, Jimmy Piersall, Bo Belinsky -- what a group! Which pitcher and hitter were the best among Schaal's teammates? Who was the best hitter of the era? It's all here in this candid look at baseball in the '60s and the '70s! Click here to read more.

The Equipment Manager: Collecting as an Investment
From time to time, all collectors ponder the investment potential of sports memorabilia. With the recent economic turmoil, sometimes it's hard NOT to collect with an eye toward financial return. In this article, professional collector Mike Heffner offers some tips for putting together a collection that should increase in value over the years. But his strongest advice is to collect what you love, and not to worry too much about its investment potential. Click here to read more.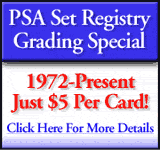 Steve Lucas - The Number One 1928 Fro-Joy Babe Ruth Baseball Set
A recipient of a 2002 Best of the Registry Award for his Fro-Joy set, Steve Lucas's set is 100% complete with the highest possible set rating of 7.13. Card #3 and #4, both PSA 8's, are the best grade for the card and the only cards in that grade! Congratulations to Steve Lucas for putting together the very best set possible. Click here to view.
GRADING SPECIALS! Right now there are two fantastic grading specials available. Take advantage of the Set Registry Grading Special for Non-Sportscards, but HURRY! Your shipment must be postmarked on or before November 30, 2002. Just $5 a card, with a 25 card minimum! Click here for details. Or, if you have sportscards dated 1972 to present you are in luck. Get those cards graded for just $5 a card, with a 25 card minimum! This offer expires January 15, 2003. Click here for details.
Visit the Set Registry News page and learn which set composites have been recently added to the Registry and other Set Registry news.
To see what new sets are soon to be added, visit the Set Request List. If your set is not listed, send us your request using the Set Request Form.
New composites recently added include:
1999 Skybox Impact Basketball
2000 Upper Deck Legends Legendary Game Jerseys Football
2002 Topps Chrome Football
2002 Topps Chrome Black Borders Refractors Football
Randy Moss Basic Set
Randy Moss Master Set
1973-74 O-Pee-Chee Hockey
1973-74 Topps Hockey
1954 Quaker Sports Oddities
1957 Topps Robin Hood
1969 Topps Brady Bunch
2001 SP Authentic Sign of the Times Golf
Fun, informative, and sometimes controversial, the PSA Set Registry Messageboard is the place to get involved with other collectors who are currently participating in the Set Registry program or are just beginning. Click here to chat on the Set Registry Messageboard.

The PSA Set RegistryTM is a work in progress and we invite your comments and ideas. Send your suggestions to [email protected].
Question: I just read about the LSU Pete Maravich jersey selling for over $100,000. How can that be? Why aren't jerseys from players like Wilt Chamberlain or Jerry West worth more?
Answer: That's a very good question. Keep in mind that player popularity is in fact more powerful than any other factor in many cases. Rarity, historical importance and quality all come into play but Pistol Pete was an idol for many and he brought a level of excitement to the game. In other words, a lot of people really liked him. He also happened to be a great basketball player. Some guys, like Wilt, have controversial reputations and that can really hinder the values despite great historical importance.
Two Exciting PSA Set Registry Grading Specials:
Non-Sportscards and Sportscards 1972-Present

Do you have a collection of non-sportscards, or a 1972-present sportscard collection? If so, register your set in the PSA Set RegistryTM. Submit 25 or more of your non-sportscards -- or 25 or more of your sportscards from 1972-present -- for just $5 a card! Your cards will be returned to you within 30 business days.
Here's what you need to do:
Register your non-sportscard or 1972-present sportscard set in the PSA Set Registry. Sets can be validated with as few as one or two PSA-graded cards. The PSA Set Registry is a free service, but you will need to log in. Click here if you need a username and password.
Fill out a submission form and write "Set Registry Special" on the top of the form. Mark "Other" as the type of service. Click here to print out a form.
Send your cards with a check or credit card number to PSA using the shipping instructions on the submission form. Your cards will be returned to you in 30 business days.
When you receive your cards back from PSA, enter them into the registry and submit your set for validation.
The Non-Sportscards special offer expires November 30, 2002. The grading special for 1972-present sportscards expires January 15, 2003. Act now!
Dealer submissions welcomed. Contact Joe Orlando at 800-325-1121 for more information.
Please note: Not all non-sportscard or 1972-present sportscard sets are listed in the registry. If you collect cards for which a composite is not currently available, please fill out a set request form and submit it. Your set composite will be made available as soon as possible. Click here for the Set Request Form.



This Holiday season, get something special
for your favorite football fan from NFL Auction!

NFL Auction, the official online auction initiative of the National Football League, is the place to find the best 100% authentic NFL collectibles available anywhere.
With a wide assortment of autographed memorabilia, one-of-a-kind game used items, and once-in-a-lifetime fantasy experiences available you're sure to bring a smile to all your favorite NFL fans. You can share in the joy knowing

that 100% of the net proceeds from your purchase was donated to charity.
To date, NFL Auction has generated over $1,000,000 for charity by auctioning off over 6,000 pieces of NFL memorabilia. Auctions are posted every Thursday and Friday at 10 p.m. EST. Each auction is available for 10 days with bidding ending each Sunday and Monday night. Click here to participate!

PSA Saturday
Next event: Saturday, December 7 from 10 a.m. - 2 p.m.!
Submit cards directly to PSA without going to a show or sending your cards through the mail! This event is held on the first Saturday of every month. Next event: Saturday, December 7 from 10 a.m. - 2 p.m.!
Check out our Specials:

$10 PSA Saturday Special. Cards submitted to this service will be ready for pick up at the next PSA Saturday.
$20* PSA Saturday Special. Cards submitted to this service will be ready for pick up the following Tuesday after 2 p.m.
*Note: This Super Express Service is usually $35 per card. During the month of December, cards may be submitted for only $20 per card for a turnaround of only two business days!
Upcoming PSA Saturday dates:

January 11** (**Special Event: "Super Bowl Saturday")
We're located off the 55 Freeway at: 1921 E. Alton Avenue, Santa Ana, CA 92705. Exit Dyer (east), right at Redhill, right at Alton, mid-block on the right.

See PSA at These Upcoming Shows!
81st Philadelphia Sports Card Show
Ft. Washington Expo Center
Ft. Washington, PA
December 6 - 8, 2002
NFL Experience and Topps Super Bowl XXXVII Card Show
S. Embaracadero Marina Park (adjacent to San Diego Convention Center)
San Diego, CA
January 18 - 26, 2003
Topps NFL Experience Hawaii Card Show
Kuroda Field
Waikiki, HI
January 30 - February 2, 2003
PSA will be accepting cards for all PSA grading levels at the above shows. Cards submitted will be graded at PSA and returned via mail.
Bonus at the "NFL Experience and Super Bowl XXXVII Card Show": PSA/DNA will be on site to offer "signed-in-the-presence" authentication.
For more information about PSA services, call PSA Customer Service at (800) 325-1121.

© 1999 - 2005 Collectors Universe Inc. All Rights Reserved.