PSA eCollector VOL. 2, Number 9
May 1, 2001
The Market Report
Cap Anson Rarity Stuns Hobby with $66,503 Winning Bid
Rarity has always been at the forefront of our hobby and two of the biggest rarities in the hobby share time in this week's Market Report. How many of you have ever seen an Old Judge Cap Anson (in uniform) before? Well, most collectors don't even know what this card is but, recently, and for the first time in nearly 10 years, an example of this card was offered to the public in an auction format. When the bidding stopped, the card closed at well over $60,000. In addition, there has been a Wagner sighting and not just any Wagner. The famous PSA 8 T206 Honus Wagner card will be on display in sunny Southern California. Do you need directions? All the information is provided. Finally, another major auction closed with over $400,000 in total bids. Check out some of Mile High's highlights from their latest sale.
Click here to read more.

Subscribe to the online PSA Population ReportSM and the PSA Price Guide for as little as $4.95 a month! Updated weekly, get the latest census data on all cards graded by PSA. And get the current prices for your favorite sportscards.
Collector's Corner
The Gospel According to Tiger
Tiger Woods has become the most dominant force in all of sports and the hobby. He is also one of the most recognizable faces in the world. Woods has achieved his success in such a short period of time that it is hard to believe. His power goes well beyond the putting green. Woods has made a huge impact on society and his sportscards have stolen the headlines in the hobby. We take an in-depth look at Tiger's impact as a golfer and a modern hobby icon.
Click here to read more.

The PSA Collectors Club offers free grading and a subscription to the Sports Market Report. Click here for details.
Our Readers Ask
Question: I have a question regarding he value of baseball cards produced by a company called O-Pee-Chee. On the back of cards, there seems to be some information written in French. I am not familiar with this card company, are they a "fly-by-night" organization or a legitimate card company? Are O-Pee-Chee cards worth having graded?

Answer: While O-Pee-Chee cards are more popular in the hockey segment of the industry, the baseball cards, depending on the issue, are certainly worth having graded. O-Pee-Chee has been around for a very long time so they are not a "fly-by-night" company, but the demand for O-Pee-Chee cards depends on the issue and the player. For instance, a Wayne Gretzky O-Pee-Chee rookie card is actually more valuable than his Topps counterpart. On the other hand, most collectors prefer Topps over O-Pee-Chee when it comes to baseball cards because it is, primarily, an American sport. O-Pee-Chee cards are tough whatever the sport so any key stars are probably worth grading especially when you consider how much difficulty affects pricing these days.
--Joe Orlando, Editor Sports Market Report

Do you have a question for our experts? Click here.
The Expert's Corner

Awesome POP REPORT RARITIES for Football, Basketball, and Hockey Cards!
Rookie cards have always been a focus for many collectors but some how, over the last couple of years, these gems seemed to be getting overlooked by the public. Now, with more force than ever, rookie cards are surging back to the top of most wantlists. In this edition of Vintage Card Collector, Chris Porter offers his insight into the top 20 rookie cards of all-time. Read more to see how your list measures up.
Announcements
See PSA at the 75th Philadelphia Sportscard & Memorabilia Show!
Bring your sportscards to the show and have them graded by PSA:
PSA ON-SITE GRADING
75th Philadelphia Sportscard & Memorabilia Show
Fort Washington Expo Center
1100 Virginia Drive #100
Fort Washington, PA
May 4 - 6, 2001

PSA On-Site Grading Show Services
Guaranteed Two-Hour Show Service -- $50 per card
Standard Show Service (same or next day at show) -- $35 per card
Cards may be submitted to all PSA grading levels.
For more information about PSA grading, call PSA Customer Service at 800-325-1121.
For more information about the 75th Philadelphia Spotscard & Memorabilia Show, call Bob Schmier at 215-643-0910.
HAVE YOUR PREVIOUSLY SIGNED SPORTS AUTOGRAPHS AUTHENTICATED BY THE WORLD'S FOREMOST SPORTS AUTOGRAPH EXPERT!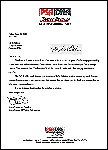 The FBI estimates that 90% of all sports autographs are fake! In this day and age, it's extremely important to have your sports autographs authenticated by a reputable third party authentication service. James Spence is considered the world's foremost sports autograph expert and a James Spence PSA/DNA Letter of Authenticity can significantly affect the resale value of your item.
Submit your sports autographs at the show and have them authenticated by James Spence:
75th Philadelphia Sportscard & Memorabilia Show
Fort Washington Expo Center
1100 Virginia Drive #100
Fort Washington, PA
May 4 - 6, 2001
Cost per item:
$75.........1-10 signatures
$100......10 or more signatures and items signed by Babe Ruth, Lou Gehrig and Christi Mathewson.

For a complete list of sports autographs that may be submitted for authentication by James Spence, go to www.psadna.com and click on "Submission Center."

In addition to authenticating items, James Spence will be selling authenticated sports autographs and buying material. For more information, contact James Spence Autographs at 888-947-7788.
---