PSA eCollector VOL. 2, Number 21
October 16, 2001
The Market Report
Superior Sports Auction Nears $1,000,000 With Latest Offering
During the last couple of weeks, the market has shown a lot of strength as a result of the resiliency exhibited by the American people. Superior Sports provided the collecting public with one of the largest groupings of high-grade sportscards in public auction history. Did the collectors respond? Read more to find out. In addition, the market for Barry Bonds collectibles has been likened to a roller coaster all summer. Bonds hits a homer, his collectibles rise in value. Bonds goes cold at the plate, so do his cards. Now that he is officially the single season record holder with 73 home runs, are collectors putting their stock in Bonds?
Click here to read more.




Set Registry Spotlight
Anthony Fioto - 1953 Topps -
The Number One Finest Set of All Time

100% complete and holding some very impressive cards, Tony's 1953 Topps Collection is going to be tough to beat. His set includes Jackie Robinson and Satchell Paige in Mint 9's. Click here to view and enjoy!
The PSA Set Registry is in full swing with new sets being added every day. Click here to browse.
Composites recently added to the Set Registry are the 1928 Fro-joy and 1963 Topps baseball sets. If your set is not currently listed, please send your request to s[email protected]
Subscribe to the online PSA Population ReportSM and the PSA Price Guide for as little as $4.95 a month! Updated weekly, get the latest census data on all cards graded by PSA. And get the current prices for your favorite sportscards.
Collector's Corner
The Great Hess Clipping Collection
Football collectors have been drawn to various items throughout the years. Some collect sportscards and others collect autographs of their favorite gridiron heroes. Themes are also very popular like famous quarterbacks or great teams but, perhaps, the most unique collection of football-related items might go to one Dale Hess. Dale is the son of noted football artist Erwin Hess and, over the years, he helped his father compile the most comprehensive collection of football clippings ever assembled. Since his father's passing in 1977, Dale has become the guardian of one of the hobby's most unique treasures and, now, he is finally looking to part with the massive hoard.
Click here to read more.

The Gold and Platinum PSA Collectors Club packages offer sportscard grading and subscriptions to the Sports Market Report and the online Price Guide and Population ReportSM. Click here and enjoy huge discounts!
Collector's Survey
Which Barry Bonds achievement is the most impressive?
His record of 73 Home Runs in 2001
3 MVP's(with a record 4th possibly on the way in 2001)
400 Homers/400 Steals (soon to be 500/500)
His record of 177 Walks in 2001
His 8 Gold Glove Awards
Click here to answer. Results will be posted in the next eCollector.

Results from last survey: 41% answered Jordan will have an average year as will his team. Click here for a complete breakdown.
The Expert's Corner

Signature Analysis & Autograph Habits of Baseball Hall of Famer
Red Faber is not exactly the household name that Cy Young or Roger Clemens are, but this Hall of Fame pitcher had quite a career. With an ERA of only 3.15, Faber ranks amongst the all-time greats. The rarity of his autograph, especially on single signed baseballs, has made it difficult for many collectors to complete their Hall of Fame autograph collections. Faber won over 250 games for the Chicago White Sox and was a part of the infamous "Black Sox," although he did not participate during the Fall Classic in 1919 due to injury. Jimmy Spence, one of the country's leading autograph experts, takes a look at the history of Faber's elusive autograph.
Click here to read more.
Our Readers Ask
Question: How can you tell if an autograph is original or a copy?

Answer: That's a great question. With all the modern technology, it's one you have to ask before you buy a signed piece. It doesn't matter if it's modern or vintage; it can be relevant to both. The two keys, especially with vintage items, are pen pressure and/or ink spreading. Now, due to the nature of old writing instruments, you may not always see a solid showing of either because pens would often glide across the surface unlike the ballpoint pens of today. If you have a photo, for instance, take the photo under a light and tilt the item back and forth. What you are trying to accomplish is to catch a reflection of any surface impressions left by the pen. In addition, you can look very closely at the ink to see if the ink has spread during contact with the item. This is easier to do with documents or autographs placed on paper in comparison to photos. With modern autographed photos, make sure that the paper stock is of high quality. I have seen instances where photos have been copied onto inferior paper, the paper has almost no gloss and it feels like cardboard instead of real photo paper. Proper authentication is also a great line of defense. Most top autograph authenticators have some type of sticker, hologram or DNA that helps certify that the piece you are getting is indeed authentic. I hope these techniques help.
--Joe Orlando, Editor Sports Market Report

Do you have a question for our experts? Click here to ask an expert or visit the PSA messageboards. Click here.
Announcements
EXCITING NEWS FROM PSA
Lower Prices! Guaranteed Turnaround! Added Security!
This month PSA introduces several new price and service levels. All standard services are now guaranteed. Regular submission service has been reduced and is now only $15 with a 10 business day guarantee.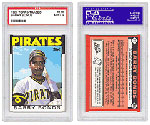 PSA will now be accepting cards directly from the public for all service levels, with absolutely no requirements regarding club membership or registration of any kind.

This Fall, a new security feature will replace the hologram on the reverse side of the PSA holder. The new security technique makes use of an embedded mark, visible only with the use of a special hard plastic PSA DecoderTM. This exclusive patented technology is designed to protect our consumers and ensure that every PSA card on the market is unquestionably genuine.

To learn more about all the new services and the security holder, click here.

SEE PSA AT THE FOLLOWING SHOWS!


Bring your sportscards to the following shows and have them graded by PSA:

PSA ON-SITE GRADING


Tri-Star Collectors Show
October 19 - 21, 2001
Overland Park International Trade Center
Kansas City, KS

Chicago Sun Times
November 16 - 18, 2001
Donald E. Stephens Convention Center
Rosemont, IL



77th Philadelphia Sportscard & Memorabilia Show
November 30 - December 2, 2001
Ft. Washington Expo Center
Ft. Washington, PA

PSA On-Site Grading Show Services

Guaranteed Two-Hour Show Service -- $50 per card
Standard Show Service (same or next day at show) -- $35 per card
(PSA/DNA Signed-in-the Presence and James Spence On-Site Sports Autograph Authentication are also available at these shows.)

PSA SUBMISSION ONLY

Cards submitted at the "PSA Submissions Only" shows will be graded by PSA and returned via mail.


Long Island 110 Classic SportsCard Show


October 27 - 28, 2001
University of Farmingdale
Farmingdale, NY

GBSCC Sports Card & Memorabilia Show
November 2 -4, 2001
Shriner's Auditorium
Wilmington, MA

C&R Sports Card & Memorabilia
November 9-11, 2001
Cow Palace
San Francisco, CA

Tri-Star Collectors Show
November 23 - 25, 2001
Americas Center
St. Louis, MO

FREE Expert Pre-Grading Consultation Service

PSA is all about service to the sportscard collecting hobby. So if you have friends who are active collectors or who have collections from long ago, but don't know whether they should have their cards graded, encourage them to bring their cards to the PSA On-Site Grading Shows and get an unbiased expert pre-grading opinion about the condition of their cards absolutely FREE!

Cards may be submitted to all PSA grading levels at the shows. Cards submitted at the "PSA Submissions Only" shows will be graded by PSA and returned via mail.

For more information about PSA grading at any of these shows, call PSA Customer Service at 800-325-1121.

For a complete PSA Show Schedule, click here.
---