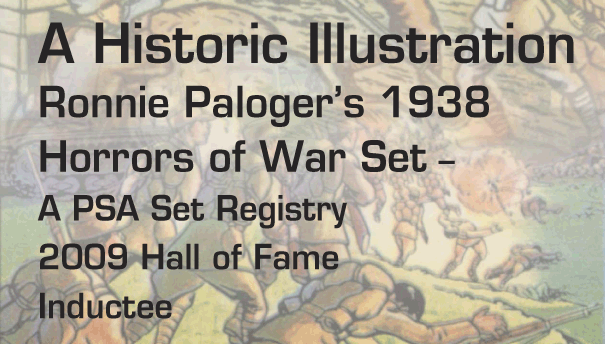 Ask any card collector to show you their most prized possession and the odds are good they will produce a high-grade and slabbed treasure that pictures an artist's rendition of a legendary slugger, a photograph of a favorite quarterback, or an action shot of a dunking center who served as their childhood hero.
Ask that question of Ronnie Paloger of Marina Del Rey, California who collects The Horrors of War cards and he'll produce a card with a very different image. "My favorite card is the number one Marco Polo Bridge card which I have in a PSA Mint 9 – the only one to have ever attained this grade," said Paloger as he produced his treasure that showed the scene of a horrific and bloody battle between the Japanese and Chinese from 1937 in which a soldier's heart is being pierced with a bayonet. "In my opinion, it is currently the most valuable card in The Horrors of War set. It's arguably the Honus Wagner of non-sports cards. It is an extremely difficult card to find in high-grade due to the fact it is the first card in the set which is, of course, prone to excessive wear."
Produced in 1938 by the Philadelphia-based Gum, Inc. (later Bowman), The Horrors of War cards were the brainchild of the company's president Warren Bowman and advertising counsel George Moll who said they created the cards to "Teach peace by exposing the horrors of war."
The Horrors of War cards depict graphic and, in some cases, unspeakable scenes of horror related to wars and conflicts in 1937 and '38 involving the Japanese invasion of China, the Spanish Civil War, the Italian invasion of Ethiopia, the Russian and Japanese conflict in Manchuria, and Germany's annexation of the Sudentenland from Czechoslovakia. In order to chronicle these atrocities, Gum, Inc. became more like a news organization rather than a card and candy manufacturer. They hired a staff of artists, designers, copywriters and researchers who delved deeply into the stories of people who actually witnessed these atrocities firsthand.
First offered in a series of 24 new cards every two weeks, Gum, Inc. produced the cards in what at the time was the state-of-the-art, full-color lithography process. This resulted in the proper reproduction of the brilliance and detail of the original art. Printed in large sheets that contained 240 cards, they were then cut into the 3 1/8 x 2 1/2 inch size in which they were offered.
The first series of 240 cards caught the attention of President Franklin D. Roosevelt who used them to explain the horror of what actually went on in war-ravished countries. The president's use of the cards raised the ire of some United States senators who condemned the Commander-in-Chief for employing what they called: "bubblegum diplomacy." A second series of 48 high-numbered cards, from 241 to 288, were also released in the late summer and fall of 1938 that included three cards that show Adolf Hitler's emergence as a threat to world peace.
Controversial from their first release, The Horrors of War cards have been the subject of vigorous debate that has ranged from their use as anti-war propaganda and social education tools to their racist content. In 1938, the cards were the subject of a story that ran in "Life" magazine in which the author opined that: "Some future historian may trace a cause for a future U.S.–Japanese war to the fact that preadolescents in America received severe anti-Japanese prejudices through its curious liking for blowing bubbles with gum."
Since that time, the cards have continued to be both controversial and educational. They have been endorsed for use by many peace organizations and have been used by numerous teachers, librarians and historians to promote the value of peace.
While today's card collector is still inclined to gravitate towards the genre of sports, vintage television shows or music, The Horrors of War cards have caused a stir and a fascination over recent years, especially with Ronnie Paloger who has been named to the PSA Registry Hall of Fame for compiling the finest set of The Horrors of War cards ever assembled. With a weighted GPA of 8.10, Paloger sits at the top of the non-sports genre, owning one of the greatest non-sports sets ever produced. "Out of 3,713 non-sports sets on the PSA Registry, only four non-sports sets, including this one, have been voted into the Hall of Fame Set Registry," said Paloger.
THE MAN BEHIND THE "HORRIFIC" HALL OF FAME COLLECTION
Growing up in Jackson Heights, Queens, New York, Paloger said he first realized he had the collectors bug in 1955 when, as a six-year old, he began collecting cards. "I still have some Topps Baseball cards from that year," said Paloger. "I also have my Elvis Presley and Davy Crockett cards from 1956."
The thought of his childhood cards brings back vivid memories of meeting up with friends before class at a store that sold cards right across the street from his school. "When I was in fifth and sixth grade, I was a real good flipper," Paloger proudly boasted with his broad grin. "We would take turns flipping usually five to 25 cards at a time. Flipping is all in the fingertips. I can still do it today."
Paloger said that beginning in 1956, he began to become more diverse with his card collecting. "I collected baseball, football, and non-sports cards from 1956 to1961 and then my card collecting stopped on a dime. I was 12-years old and I got hooked on my first real passion – playing basketball. But, I still have all my cards from my youth – about 3,000 of them."
The son of an attorney and a full-time working mother, Paloger attended Calhoun High School in Merrick, Long Island where he was a first team All-Sectional and All-County Basketball Selection. Upon graduation from high school, he went on to college and then graduate school at the Orson Welles Film School in Cambridge, Massachusetts.
"After graduating from college in 1971, I moved to Boston to work as an apprentice at WGBH Television in the film department," said Paloger. "After that, I went on to work for The American Society of Composers, Authors, and Publishers as a field rep. I would go all over New England visiting nightclubs and bars where live music was being played. I would issue licenses for these clubs to hire bands and musicians who could then perform any song copyrighted in the ASCAP repertoire," he explained. "Clubs hated to pay for the license but they were mandated under federal copyright laws. It was a cool job that I really enjoyed until one night when I strolled into the wrong club in Providence, Rhode Island. I'll spare you the details but let's just say I moved to Los Angeles two weeks later."
In California, Paloger landed a job in the garment business. "I was a wholesale sales rep traveling to retail stores throughout Southern California representing what became two of the most popular labels of the 1980s – JAG and NO JEANS. It was during that time that I went to my first card show at the Shrine Auditorium in downtown Los Angeles."
Fascinated with the offerings, Paloger bought Hall of Fame rookie cards, unopened wax packs, baseball bats, and all sorts of sports memorabilia. "That show at the Shrine really got me back into sports collecting," said Paloger.
As the 1980s rolled into the '90s, Paloger became even more involved in sports memorabilia and started traveling to the National conventions. "My life changed at the Atlanta National in 1992," he said. "It was there that I bought a 1974 check signed by Muhammad Ali who had been an idol of mine and my generation. After buying that check, I decided that instead of being so spread out in my collecting, I would concentrate on just collecting Muhammad Ali memorabilia. This set in motion a five-year period that culminated in what is arguably considered to be one of the most famous and publicized sports auctions in the hobby's history."
In 1997, Paloger teamed up with Christies in a single-owner auction to sell what had become an incredible Ali Collection. "It was, and still is, the greatest and most valuable Ali collection ever put together with over 2,000 pieces," said Paloger. "I didn't really want to sell it. What I really wanted to do was to develop a museum honoring Ali and, while both the cities of Las Vegas and Ali's hometown of Louisville, Kentucky showed some interest, I couldn't do the deal. That was when I decided to sell my collection and, luckily for me, I got both Sotheby's and Christies in a bidding war over who would represent it. It was the most exciting time in my life. I met and showed my collection to Ali on three different occasions. I had one week exhibitions in London, New York and Los Angeles before the auction. We got major press from all over the world and I even did the "Today Show" with Matt Lauer. I truly had my fifteen-minutes of fame."
Following the sale of his Ali collection, Paloger returned to the garment business and, in 1998, was offered the opportunity to become the national sales manager for a startup company that had the exclusive rights to manufacture clothing under the "Playboy" brand. "We became a major success and, after ten years of heading up sales, I retired in 2007."
Today, the single father of a 22-year old son, Paloger has picked up the game of golf, a sport he admits to being totally addicted to. "I play four or five days a week and take lessons from John Anselmo who is now 88-years old, still shoots in the 70s, and was Tiger Wood's original coach."
Also an avid tennis player, Paloger shares his Marina Del Rey condo with his dog, an Italian Volpino named Sunny. "My days consist of walking my dog, reading, doing volunteer work, and playing golf or tennis," Paloger said. "I consider myself very fortunate to have both the health and time to pursue what I love to do. I also spend at least an hour or two out of every day working on my collections."
In his museum-like home that includes every copy of the first year's issue of "Playboy," a magnificent set of documents signed by George Washington, Thomas Jefferson, Abraham Lincoln and John F. Kennedy, all sorts of Hollywood memorabilia, Mid-Century modern furniture and Italian glass from the 1950s and '60s, Paloger laughed as he looked around his living room. "I know I'm all over the road with my collecting, but I love it all and, for the past year, my main focus has been on collecting The Horrors of War cards."
Paloger recently invited "Sports Market Report" to his home where surrounded by his treasure trove of eclectic collectibles, he sat with Sunny by his side and talked about the collection that has made him a PSA Registry Hall of Famer.
Sports Market Report: What was it about The Horrors of War cards that first grabbed your attention?
Ronnie Paloger: I was originally attracted to the set because I was looking to do something different. I had already collected sportcards, various types of memorabilia, and had done my Ali thing. Non-sports cards were something I had been aware of since my youth but I had not collected since. Once I saw the images from The Horrors of War set, I was struck by the amazing artwork. The detail was incredible and every card seemed like a little gem of art. I'm a history buff so the accurate historical content of every card made them even more meaningful because I know this stuff really happened.
SMR: So they had an emotional impact on you.
RP: Very much so. Looking through these cards brings a roller coaster of emotions unlike any other card set I have ever seen. From exciting action scenes to graphic gory ones that can make you wince and then to sad, gut-wrenching ones, especially involving children that provokes empathy as to what these people went through. When I look at card number 240, "The Frightful Cost of War", it leaves a lasting impression on me as to how much war costs in terms of lives lost, ruined lives, and also in actual monetary costs. That's an awful lot to get from a trading card – much more than from a card with a picture of a smiling ballplayer. When I first saw these cards, I was totally hooked."
SMR: When did you begin this collection?
RP: I started collecting Horrors of War cards a little over a year ago. My set is 100 % complete with a current G.P.A. of 8.10 for 288 cards( The current highest possible set using the highest grade known for every card today would be an 8.40) I currently have 263 cards or 91% of the set in at least a PSA 8 or better. I own 40 PSA Mint 9's out of a current population of 125 and out of a population of 5 Gem Mint 10's I own 3.I also own 34 PSA NM-MT 8.5's out of a POP of 63. I have 82 cards that are currently the highest graded with a POP of 1 or 2. In the toughest first series of 24 cards, I have 20 in PSA 8 or better and in the last 48 cards of high series I have 43 in at least a PSA 8.Then I have a second set that is almost 98% complete. That set has a G.P.A. currently at 6.61. I have approximately 400 doubles or triples, so in total I have about 1,000 Horrors of War cards that have been graded by PSA.
SMR: As someone who used to collect in the pre-PSA days, how do you define what PSA and the PSA Set Registry have brought to the hobby?
RP: When I started collecting cards again in 1989, before PSA and before the Internet, things were quite different from today. It was difficult to buy cards unless you saw them yourself and felt comfortable with the grade a dealer or collector put on the card. Doing anything by mail and trade publications was strictly a buyer beware situation. The advent of PSA card grading was an idea whose time had come and it is absolutely the driving force in our hobby today. With the Internet and auction houses replacing the need to travel to what are fewer and fewer card shows, buying PSA graded cards from whatever source has taken the drama out of buying raw cards and added tremendous liquidity to the marketplace. 'It is what it is' has been a popular saying over the past few years and that saying is appropriate for PSA graded cards. I see a card, it's graded, I need it, I buy it, I get it, and I'm happy. Case closed.
The PSA Set Registry is great for several reasons. I simply could not have put my set together without the help of other collectors who have their Horrors of War sets listed on the Registry who were willing to either trade with me or sell me cards. A year ago, the names of those guys would have meant nothing to me but, because of the Registry, they became important players in my collection. Seeing your GPA completion percentage and ranking rise on the Registry is exciting and fun. I had never put a set together before The Horrors of War so the ebb and flow of emotions you feel as you change your goals over time can be both intoxicating and sobering. The Population Report is also an invaluable tool in evaluating the supply of any given card as to its relative worth to both buyers and sellers.
SMR: It is evident that you are extremely passionate about all of these cards but do you have any favorites in the set?
RP: My favorite series to collect are cards 1 through 24, which is by far the toughest series to find in high-grade, followed by the last two series of high numbered cards – 241 to 288. As for my favorite cards, I have so many, but the scene from the number 153 "Death Among The Water Lilies" card is one I always find compelling. Also my most valuable cards – the highest graded PSA 9 Mint number one Marco Polo card, my three Gem Mint 10s that are numbers 56, 95 and 225, and my number 286 Hitler card which, in PSA 8.5, is the highest-grade known for this particular card. I also like the last card in the set which is also the scarcest – the number 288 Czech President card of which I also own the original artwork.
SMR: You have put this incredible set together in just one year which is an amazing feat. Can you give us an idea as to the road you took to get to this amazing set?
RP: Well, I believe that in collecting you should go for the best you can find and afford. When you go for the best, you can never go wrong. I learned that by putting together my Ali collection. I would rather be focused and specialize in one great set than have several average sets. That is just my collecting style. I started building this set by first acquiring some high-grade examples at auction and a raw complete set. That gave me a base to work from. After having about half the cards graded, with mostly PSA 6s, 7s and some 8s, I then started doing some internet auctions. This led to some key acquisitions early on that motivated me to keep going. Eventually, I developed some key relationships with other collectors and made more progress. The big decision for me was the GPA I was after. Initially, I thought a complete set over 6.0 would be great. That turned into my desire for a 6.5 and then a 7.0 where things really started getting interesting. People don't realize that going from a 7.0 to a 7.5 is a big jump – you need 144 upgrade points to make that jump. I knew I would have to backtrack and replace a lot of existing cards so I started a second set for my replaced cards. I continued to plug away and eventually got to 7.5. I then was challenged by the prospect that no collector had ever achieved an 8.0 in this set. Going from 7.5 to 8.0 was the real killer. I needed an additional 144 upgrade points. So, when my set was complete at a GPA of 7.50, I converted three PSA 7s into PSA 8s for a total of three upgrade points and my GPA moved .01 to 7.51. That's tough love. The bottom line is I persevered and finally got my 8.0!
SMR: What do you see as the future interest in The Horrors of War set?
RP: I believe that over the next three to five years we will see a huge growth in both prices and new collectors for the overall non-sports market and in particular for The Horrors of War set. The evidence is already mounting as more and more auction houses are featuring non-sports cards in their offerings. There is a constant supply of cards coming to the marketplace in both raw and graded forms. A lot are coming from long-time non-sport collectors who are seeing the huge price differences for raw and graded cards and are looking to cash out. There are hundreds of non-sport sets to choose from and, as a collector, you can choose what kind of condition set you can afford and then proceed accordingly. With The Horrors of War set, there are currently about 8,000 cards that have been graded by PSA. Last year at this time, there were about 6,000. That's a huge increase in one year. I believe this trend will continue and it will bring more collectors in to collect the set and that freshness in supply will also allow current collectors to upgrade their sets and allow speculators to buy and hold individual low-pop and high-grade cards. The fact of the matter is that prices on high-grade Horrors of War cards, the PSA 9s and low-pop PSA 8s, have more than doubled in the past year. I think in three to five years collectors will look at The Horrors of War set in the same way sportscard collectors now look at the 1952 Topps Baseball set. I think it will become one of the greatest and most valuable sets in the hobby (sports or non-sports).
SMR: Putting together your incredible Muhammad Ali collection changed your life and it seems that this collection has brought about yet another change. Is that fair to say?
RP: Absolutely. I want to share this set with others instead of having it just sitting in my safe. That is why I am currently in discussions with the Simon Wiesenthal Museum of Tolerance in Los Angeles on doing an exhibition of my cards and for me to use them in developing a teaching seminar at the museum for young adults. The theme of every card in the set is 'To know the horrors of war is to want peace.' That statement is just as relevant and meaningful today as it was 71 years ago when this set came out. To reach an audience with your collectibles is very rewarding, and The Horrors of War set is, at times, so graphically intense or touchingly moving that I know others will see and feel what I do when they see the set. That is why I love the set. I have a deep emotional connection to the cards that goes way beyond a price tag.