PSA Set Registry
Being "Frank"
Collecting the 1955 to 1969 Kahn's Wieners Baseball Card Sets
by Kevin Glew
Humphrey Bogart once said, "A hot dog at the ball game beats roast beef at The Ritz."
And for the passionate group of collectors that focus on the 1955 to 1969 Kahn's Wieners sets, you could say that a baseball card inserted with hot dog wieners beats one packaged with gum.
Released in select regions, these oversized singles are relatively elusive in any form, let alone in top condition - free of stains or creases from being placed inside hot dog packages.
"They're really difficult to get in high grade," noted Paul Dubbeld, who owns the No. 2 Kahn's Wieners 1955-1969 Mega Set on the PSA Set Registry. "Sometimes Mom would get a hot dog out of the pack, fold the pack using a rubber band [to keep it closed tight], and then put it back in the fridge with the card still in there ... Nobody protected these cards."
Bob Fisk, who has assembled the Registry's top Kahn's Wieners 1955-1969 Mega Set, agrees.
"No one is going around saying they want to complete the Kahn's sets in all PSA [MINT] 9s," explained Fisk. "Maybe for the late 1960s sets, but for some of the 1950s sets, you just want the cards in one piece."
Headquartered in Cincinnati, Kahn's shone the spotlight on Reds players in their first two sets, but as the years passed, they added and subtracted teams and changed card sizes and designs.
1955 and 1956: The Early Years
The first Kahn's set featured black-and-white photos of six Reds players in dress clothes. Like most Kahn's cards until 1963, these 3-1/4" by 4" singles have a short, white panel along the bottom that showcases the text "Compliments of Kahn's Wieners" followed by the company's slogan "The Wiener the World Awaited." The backs are blank.
"These cards have the players in street clothes rather than in uniform, so unless you know your cards, you might not even realize that they are baseball players," said Dubbeld. "They kind of look like they're cowboys or something."
The 1955 cards were reportedly distributed at a Cincinnati amusement park.
"Coney Island was the amusement park in Cincinnati and it was a one-day event," explained Fisk. "Apparently, all the players [featured in the set] were there signing autographs, but I've actually seen very few autographed cards. So part of me wonders whether that's true."
Though it's only comprised of six cards and the biggest name player is Ted Kluszewski, the 1955 set is widely coveted by Kahn's collectors and almost impossible to complete.
"The 1955 cards are on my eBay search list and none have ever come up," said Fisk, who needs one card to finish his Registry set.
Dubbeld has had a similar experience.
"You just can't find them," he said. "There are a few cards scattered throughout the other Kahn's sets that are difficult to obtain, but I've been collecting the 1955s for several years and I'm still missing two of them."
The 1956 cards have a similar design and again highlight the Reds, but they offer black-and-white photos of the players in uniform against a stadium background. The set was expanded to 15 cards and these were the first Kahn's cards to be issued inside the wiener packages (one per pack).
"The 1956 cards are extremely difficult [to acquire] in any sort of nice condition," said Fisk.
The Frank Robinson is the most notable card in this set because it pre-dates his Topps rookie by one year. Just 13 have been submitted and the four PSA EX 5s represent the highest-graded examples.
1957 and 1958: Pirates Come Aboard
Starting with their 1957 series, Kahn's also included cards of Pittsburgh Pirates players. The 1957 singles boast a design that's almost identical to their predecessors, but the players are pictured in front of a generic, light-gray background rather than a stadium setting.
"The 1957 cards seem to be a lot more plentiful than the 1958 cards for some reason," noted Dubbeld.
The 1957 set is significant because it offers the first Roberto Clemente Kahn's card.
"Any of the early Kahn's Clemente cards are huge," said Fisk.
Twenty-nine 1957 Clemente cards have been evaluated and there are three PSA NM 7s.
The 1957 set also offers a card of Hall of Famer Bill Mazeroski in the same year as his Topps rookie. Of the 12 submitted, the sole PSA NM-MT 8 is the highest-graded example to date.
Collectors seem to agree that the 1958 Kahn's set is one of the toughest to complete. These cards flaunt a design similar to the 1957 singles, but the backs are no longer blank, instead offering "My Greatest Thrill in Baseball" stories.
This is Clemente's second Kahn's single, but it's also his most evasive.
"That would have to be the hardest Clemente card to get," said Fisk. "I would love to know how many there are, but if it was more than 50, I guess I'd be surprised ... I have collected for 50 years now and I did not see a 1958 Kahn's Clemente until this last year."
Just six 1958 Clemente singles have been sent into PSA and there has been one PSA EX-MT 6 and two PSA 5s (with no examples grading higher).
The 1958 set also houses the only Philadelphia Phillies card in any of the Kahn's series. Wally Post is featured with the Phillies after he was traded by the Reds to the Phillies on December 16, 1957.
1959 and 1960: Welcoming the Cleveland Indians
The 1959 Kahn's cards look almost exactly like the 1958 singles except that in the white tab below the photo, it reads, "Compliments of Kahn's" rather than "Compliment of Kahn's Wieners." Also, the players shared stories such as "The Toughest Play I Had to Make" or "My Most Difficult Moment in Baseball" on the backs.
With Cleveland Indians players added to the mix, the set size was boosted to 38 cards. The Clemente card is again the most valuable, but a number of the others are widely recognized as short prints, including Richard Brodowski, Rocky Colavito, Harvey Haddix, Woodie Held, Cal McLish, and George Strickland.
"There are several cards from 1959 that I rarely see, and when I do see them, they sometimes have paper torn off the back," explained Gerry Garte, a Cleveland Indians fan who's pursuing the 1959 to 1962 Kahn's sets on the PSA Set Registry. "A long time ago, I decided that if I could average a [PSA] 5 for the 1959 set, I'd be happy."
Dubbeld says the Haddix single is one of the most difficult cards to track down in any of the Kahn's sets.
"The 1959 Harvey Haddix is a blank back card because he was traded from Cincinnati to Pittsburgh [on January 30, 1959]," explained Dubbeld. "They included him in there because he used to be a Red, but he went to Pittsburgh. They probably didn't know what to put on the back."
There has yet to be a Haddix card graded by PSA.
The 1960 cards resemble the 1959 singles, but the backs offer player data and statistics in place of stories. The Clemente is again the priciest card, but this release has players representing the Chicago Cubs (Frank Thomas), Chicago White Sox (Ted Kluszewski), and St. Louis Cardinals (Ron Kline). Dubbeld says this is only because they were traded to these teams by the Reds or Pirates during the production process.
The Harvey Kuenn is another blank back card in this series.
"Harvey Kuenn was traded at the start of the season [April 17, 1960] from Detroit to Cleveland, so he's in the set with a blank back," said Dubbeld.
Of the five Kuenn cards submitted, the PSA VG-EX 4 is the highest-graded example.
1961 and 1962: Factory Sets and Variations
For the first time in 1961, a full set of Kahn's cards could be obtained via mail order as part of a promotional offer. This has made it easier to secure high-grade examples of the 43 cards that comprise this offering.
Shining the spotlight on Reds, Pirates, and Indians players, the 1961 cards were designed in the same basic format as the 1960 singles. The easiest way to discern these from the 1960 cards is to view the last line of statistics on the backs. Clemente, Mazeroski, and Robinson are the set's most valuable cards.
Unless you're a veteran Kahn's collector, you'll also likely need to check the statistics to distinguish the 1962 cards from the 1961 singles. There are 38 base cards in this set, but several notable variations. For example, each of the Indians players has two different backs: one that lists their team as "Cleveland Indians," and another that lists their club as just "Cleveland."
"It seems as if there are fewer graded with 'Cleveland Indians' on the back," said Garte. "And it appears as if more people have been asking for those as opposed to just the 'Cleveland' backs ... the ones with the 'Cleveland Indians' backs are a little bit harder to find."
Garte points out that there are actually three different versions of the 1962 Vic Power card, including both of the Cleveland backs and another that indicates he's with the Minnesota Twins. Power was dealt to the Twins on April 2, 1962. Dubbeld says the Twins back version is very tough to track down. Just six have been graded and the highest-graded example has been a PSA 5.
There's also rumored to be a variation of the Bob Purkey card without a facsimile signature on the front. "I've never seen one and I've never encountered anyone who has seen one," said Fisk.
1963: Bring on the Bronx Bombers
Kahn's implemented their first major design changes for their 30-card, 1963 series. White borders were added above and to the sides of the player photos, and the card size was also adjusted to 3-3/16" by 4-1/4".
The Clemente card headlines this issue, but for the first time, New York Yankees players are included. Unfortunately, collectors had to settle for Tony Kubek and Elston Howard instead of Mickey Mantle and Yogi Berra.
"I have found a lot of good-looking 1963s," said Dubbeld, who has four PSA GEM-MT 10s in his set. "I have a real nice 1963 set; that's one of my favorites."
1964 and 1965: "Rose" Colored Cards
The 31-card, 1964 series was the first to present the players in full-bleed, color photos. Measuring 3" by 3-1/2" each, these smaller cards also offer a facsimile autograph, but the ad slogan was shifted to the back. This set features Indians, Reds, and Pirates players, but the Yankees players disappeared.
This set also houses Pete Rose's Kahn's debut.
"The 1964 Rose was pretty close to his rookie year," noted Fisk. "It's such a sweet-looking card. Whenever people on message boards have one of those threads that says, 'Hey, post your five favorite cards regardless of price,' I mention this one ... To me, that has always been a perfect card."
Of the 116 submitted, there has been one PSA 10 and six PSA 9s.
The 1965 cards were nearly identical, but they can be distinguished from the 1964 singles by reviewing the stats on the backs.
With the addition of Milwaukee Braves players to the usual lineup of Reds, Pirates, and Indians, the set is comprised of 45 cards, which makes it Kahn's largest offering. This set also harbors the first Hank Aaron Kahn's card.
Of the 72 Aaron cards submitted, there have been three PSA 10s and four PSA 9s.
1966 to 1969: Red Rose Logo Cards
In 1966, the Kahn's cards underwent another design change. Measuring 2-3/16" by 4-9/16" each, these cards showcase a color photo bordered by yellow or white vertical stripes. There's a facsimile autograph extending across the photo, and for the first time, the player's name is printed above the photo. Also, a white advertising tab was added at the top that had the word "Kahn's" inside a large, red rose logo above a dashed line. Many youngsters cut this portion of the card off. The backs of these cards were blank.
Dubbeld also points out that starting with this series, the cards were wrapped separately outside the wiener packages. As a result, these can be found in higher grade than the earlier Kahn's cards.
The 1966 to 1969 cards share the same design, so it can be tough to tell them apart.
"You have to know the different poses and which pose goes with each year," said Dubbeld.
The 1967 Kahn's series added New York Mets players to the regular mix of Reds, Pirates, Indians, and Braves cards. Some cards from this series can be found in a smaller size, while others can be found with different colored stripes.
"In 1967, they had both large and small variations with the same picture and a lot of the smaller variations are hard to find," said Dubbeld.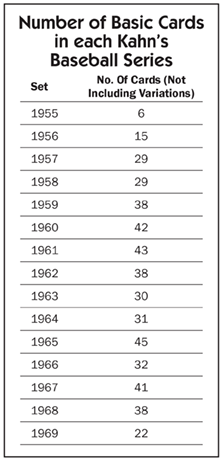 The 1968 set also has stripe color and size variations and is notable because it contains a "John" Bench single in the same year as his Topps rookie.
"I've loved the John Bench card ever since I was a little kid," said Fisk. "I love that they didn't put Johnny on there."
There are three PSA 9s and 11 PSA 8s of the Bench card.
Kahn's final offering was comprised of just 22 basic cards, but it, too, has stripe color and size variations. There were no Clemente, Rose, or Bench cards in this series, but it did offer singles of Hall of Famers, Aaron, Mazeroski, Tony Perez, Ron Santo, Joe Torre, and Billy Williams.
For more information on Baseball Kahn's Wieners card sets, please visit https://www.psacard.com/cardfacts/#13baseball-cards,
---
Please feel free to contact Kevin Glew at [email protected] if you have any additional information or comments. Thank you to Paul Dubbeld for providing the cards to go along with this article. Please note that the Population Report figures quoted and Set Registry rankings reported are those as of October 2017.